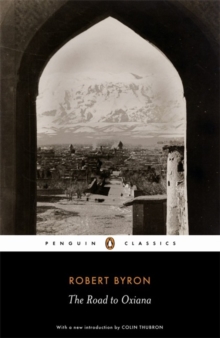 The Road To Oxiana,
Paperback
Description
A real-life adventure that inspired countless travellers in fact and fiction, the Penguin Classics edition of Robert Byron's The Road to Oxiana includes an introduction by Colin Thubron. In 1933 Robert Byron began a journey through the Middle East via Beirut, Jerusalem, Baghdad, and Teheran to Oxiana - the country of the Oxus, the ancient name for the river Amu Darya which forms part of the border between Afghanistan and the Soviet Union.
The Road to Oxiana offers not only a wonderful record of his adventures, but also a rare account of the architectural treasures of a region now inaccessible to most Western travelers.
Robert Byron (1905-41) was born in 1905, and educated at Eton and Merton College, Oxford.
He died during the Second World War, when the ship he was serving on was torpedoed by a U-Boat off Cape Wrath.
Byron's The Road to Oxiana is considered by many modern travel writers to be the first example of great travel writing. If you enjoyed The Road to Oxiana you might like Charles Darwin's The Voyage of the Beagle, also available in Penguin Classics. 'The greatest of all pre-war travel books' William Dalrymple 'What Ulysses is to the novel between the wars, and what 'The Waste Land' is to poetry, The Road to Oxiana is to the travel book' Paul Fussell 'In any list of the great travel books of the 20th century, Robert Byron's account of his travels in Persia and Afghanistan, The Road to Oxiana, must be put somewhere near the very top' Telegraph
Information
Format: Paperback
Pages: 352 pages
Publisher: Penguin Books Ltd
Publication Date: 05/07/2007
Category: Travel writing
ISBN: 9780141442099
Other Formats
Paperback from £7.65
EPUB from £2.99
Free Home Delivery
on all orders
Pick up orders
from local bookshops
Reviews
Showing 1 - 3 of 3 reviews.
Review by hazelk
16/06/2015
Great descriptive prose of places in the Middle East and in the ex-communist states north of that area that I and many others could never now hope to visit. It propelled me to exhibitions like The Turks at the Royal Academy and Babylon at the British Museum. The type of Western acquaintances/hosts he has en route are certainly part of a long-vanished aristocratic world.
Review by thorold
16/06/2015
Like most travellers, Robert Byron spends a good deal of his time in this account of his 1937 journey to Iran and Afghanistan uncomfortable, inconvenienced, and indignant. Byron is irritated in roughly equal measure by the foreignness of foreigners and the Britishness of his compatriots. He finds a great deal to be irritated by in Iran, in particular Reza Shah (whom he calls "Marjoribanks" throughout, as a sort of code-name to protect himself in case someone reads his diary) and his modernisation programme. In Afghanistan he is, if anything, even more uncomfortable, but marginally less irritated, because what he encounters from the Afghan authorities is good honest obstruction and inefficiency, somehow more attractive to him than the political paranoia he finds in Iran. On one level, you do have to wonder why he didn't just stay at home, if he dislikes travel so much, but you're rather glad he didn't: there's a very engaging quality about his artfully spontaneous prose, which really sounds as though it has been taken straight from his diary (he spent about a year selecting and polishing to get this effect). You can't help seeing things fleetingly from his point of view, even though you probably would consider him opinionated, snobbish, self-centred, or just plain arrogant if you had the misfortune to be stuck somewhere remote with him. Theoretically, we are reading the book for his account of the remnants of Timurid architecture that he finds in Herat and northern Afghanistan, but I suspect that most of us skate over the details of this, just revelling in his rare moments of pleasure when he finds a building that satisfies his exacting standards. What we really read the book for, apart from the wonderfully vivid descriptions of upsets and accidents along the way, is the superb irritation, which makes even Dr Johnson and George Borrow (no slouches when it comes to losing their patience with foreigners) look positively mild-mannered. Colin Thubron points out in his introduction (to the current Penguin edition) that there are at least three incidents where Byron resorts to physical violence - remarkably, no-one seems to have had the nerve to hit him back.
Review by rakerman
16/06/2015
I found the unusual style (basically a travel journal) a bit difficult to get into at first, but once I got going I very much enjoyed the author's wit. An amazing adventure across Persia and Afghanistan in 1933, driven by his passion for architecture. Very funny descriptions of his interactions with people and extraordinarily beautiful descriptions of the architectural decorations he admires.