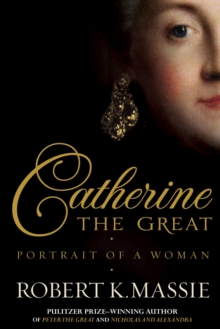 Catherine the Great
Hardback
Description
The extraordinary story of an obscure German princess who became one of the most powerful women in history.
Born into a minor noble family, Catherine transformed herself into empress of Russia by sheer determination.
For thirty-four years, the government, foreign policy, cultural development and welfare of the Russian people were in her hands.
She dealt with domestic rebellion, foreign wars and the tidal wave of political change and violence churned up by the French Revolution.
History offers few stories richer than that of Catherine the Great.
Robert K. Massie brings an eternally fascinating woman together with her family, friends, ministers, generals, lovers and enemies - vividly and triumphantly to life.
Information
Format: Hardback
Pages: 656 pages, 8pp colour plates + 4 b&w maps
Publisher: Head of Zeus
Publication Date: 01/07/2012
ISBN: 9781908800008
Free Home Delivery
on all orders
Pick up orders
from local bookshops
Reviews
Showing 1 - 3 of 3 reviews.
Review by the.ken.petersen
16/06/2015
This book is a strong contender for my book of the year. I am not an historian; I have, or perhaps should say had, no particular interest in Catherine the Great, simply reading this to cover another vast area of my ignorance.I particularly enjoyed the way in which Mr Massie made his cast of characters come alive - they were real people, not cardboard figures moving around a chessboard, or - just as importantly - not soap opera characters. Catherine, born Sophia Augusta Frederika Anhalt-Zerst (well, wouldn't you have changed your name?), must have been an amazing lady to have survived the first thirty-five years of her life: a quarter the trials and tribulations that she suffered would have sufficed to see me off.The author is also very skilled in the way that he fills in the history as to where Russia and the World stood in Catherine's day. This book reads like a novel and yet, is packed with information. Mr Massie is also careful not to pass twenty-first century judgement upon eighteenth century situations.The book is packed with fascinating facts; did you know that Catherine tried to install a bill of rights in Russia several years before the USA had one? Although she failed in this goal, she was a benign autocrat and ruled in favour of her subjects. I could go on boring you with my pallid re-hash of Robert K. Massie's wonderful book, but it would be far better were you to go out and buy a copy: you will not regret it.Oh, and if I haven't made it clear, I like this book - A LOT!!!
Review by melaniehope
16/06/2015
This book has been named one of the best books of the year by numerous newspapers and magazines. After reading all 600 pages of the intriguing and amazing life of Catherine the Great, I agree that this is a great book. I've read many historical fiction, but almost nothing on Russian history.This biography very carefully details Catherine's early life and how she came to Russia from Germany. It was immensely interesting to read of Catherine's unhappy marriage to Peter. The latter half of the book focused on Catherine's thirty-four year reign as Empress of Russia. We learned of Catherine's contributions to Russia, her reforms, the love she had for that country even though she was a foreigner. This book could keep you up at night, reading about Catherine's many lovers, her friendships with Diderot and Voltaire...The book reads like a biography with very little dialogue, but it was a masterful, fascinating look at the life of a female monarch. I would definitely recommend this to anyone interested in a historical biography of power, court drama and intrigue that reads like an epic Russian novel.I really loved that the book included several pages of color illustrations as well.
Review by lanewillson
16/06/2015
I have no idea why I decided to read Catherine the Great: Portrait of a Woman by Robert Massie. There is something about Russian names that my dyslexia can't cope with, and with the exception of a couple of novels I was forced to read in college, I've never been able to finish a Russian work. In addition, the early portion of the book seemed like something out of a Jane Austen novel. I imagine Natasha from Rocky and Bullwinkle bitching about Mr. Darcy. I pray my daughters will forgive me, but I hate Jane Austen! Proof you can't judge a book by it's … um….OK, you can't judge a book by your own previous prejudices. Despite those challenges, I really enjoyed the book. I was very interested in the story of this little girl, and how she became one of the most power women in history. Not that the late 18th century was easy for women in general, but the Russian's pension for orthodoxy seems to make the metamorphosis of this little girl into Catherine the great even more remarkable. Mr. Massie made reading about that transformation captivating.But I still don't like Jane Austen.