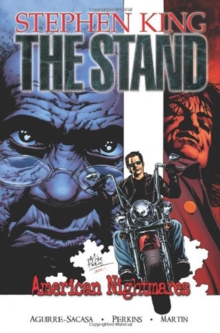 The Stand: American Nightmares
Hardback
Information
Format: Hardback
Pages: 144 pages, 1 Illustrations, unspecified
Publisher: Marvel Comics
Publication Date: 25/11/2009
Category: Comics and Graphic Novels
ISBN: 9780785142744
Free Home Delivery
on all orders
Pick up orders
from local bookshops
Reviews
Showing 1 - 4 of 4 reviews.
Review by eleanor_eader
16/06/2015
'American Nightmares' is the second volume of King's post-apocalyptic saga in graphic-novel form. Not quite as tight or exciting as Vol. 1, but Perkins' and Martin's artwork still hold wonderful, surprising moments of 'Yes! Exactly right!', and the pacing is, if anything, better handled now that the majority of the introductions are out of the way. Mostly, my impressions are of things that didn't quite work for me, and unfortunately many of those things are the depictions of the characters, but the artist is clearly in love with his rendering of Frannie, because her face and manner, and every moment that focuses on her, are exquisite. I don't think, ultimately, that it's fair to judge the series on this second volume, because apart from the introduction of the nightmares, it's doing Vol. 1's leftover work, without King's glorious narrative to keep it alive… still, momentum comes from Larry and Rita's leaving New York, and Stu's escape from Stovington, and drama from Trashy's combustive appearance, so it's by no means stagnant.Vol. 2 is still telling the story in colourful, horrible detail, with some very nice touches, such as Larry's motorcycle crash, and Trashcan Man's beautiful explosions. I don't yet know if I'll be recommending the graphic novel series (hard to tell on the strength of the first two books), but nothing in Vol. 2 makes me want to stop reading them.
Review by SheilaRuth
16/06/2015
Really well done interpretation of Stephen King's <i>The Stand</i> as a graphic novel. Very true to the book, and the Lincoln Tunnel scene still gives me shivers. I enjoyed it quite a bit and am looking forward to the next one.
Review by branimal
16/06/2015
Picking up where part one left off, <i>American Nightmares</i> further showcases the already established characters dealing with the aftermath of Captain Trips while still introducing new players in the story.<br/><br/>Stu Redman contemplates escape from the CDC while Larry Underwood meets up with another woman as they begin their slow trek out of New York City. We're also thrust back into the life of Frannie Goldsmith as she meets up with Harold Lauder, a childhood friend and next door neighbor. Frannie and Harold decide to head to Vermont and the CDC, trying to find answers to the horrific disease ravaging mankind.<br/><br/>Oh, and The Trashcan Man debuts!<br/><br/>Loved the artwork yet again. Mike Perkins nails a lot of the scenery in New York, especially one of the more tense scenes in the story - the journey through the Lincoln Tunnel. I can still remember how tightly wound I was as Larry made his way through it, bypassing bodies and abandoned vehicles.<br/><br/>Randall Flagg lingers is in this issue as he begins assembling his army. His interactions with Lloyd Henreid were spot on and his sporadic appearances in the nightmares of a select few were creepy and unsettling - just the way I like it!<br/><br/>I'm really enjoying this adaptation and feel it's easily doing my all time favorite novel the justice it deserves. Big things are still yet to come but the crucial scenes that have already happened were executed perfectly - I have no reason to doubt the author and illustrator moving forward.
Review by booklove2
16/06/2015
The story continues with the survivors of the super flu. Flagg is haunting some nightmares - if you're good or evil, it doesn't matter. It seems anyone & everyone could be useful to him. I'm happy the trashcan man exists in The Stand since I love how fire looks in graphic novel form.