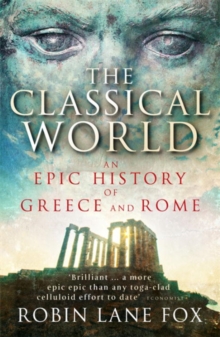 The Classical World,
Paperback
Description
Robin Lane Fox's The Classical World: An Epic History of Greece and Rome is a comprehensive and enthralling introduction to Ancient civilization.
The classical civilizations of Greece and Rome dominated the world for centuries and continue to intrigue and enlighten us with their inventions, whether philosophy, politics, theatre, athletics, celebrity, science or the pleasures of horse racing.
Robin Lane Fox's spellbinding history, spans almost a thousand years of change from the foundation of the world's first democracy in Athens to the Roman Republic and the Empire under Hadrian.
Bringing great figures such as Homer, Socrates, Cicero, Alexander, Antony and Cleopatra, Julius Caesar, Augustus and the first Christian martyrs to life, exploring freedom, justice and luxury, this wonderfully exciting tour brings the turbulent histories of Greece and Rome together in a masterly study. 'Epic in the true sense' The Times Books of the Year 'He writes supremely well ...a keen eye for the telling detail and powerful example ...the humanity of the exercise shines through ...compulsory, and compulsive, reading' Peter Jones, Sunday Telegraph Robin Lane Fox is a Fellow of New College, Oxford, and a University Reader in Ancient History. His other books include Alexander the Great, Pagans and Christians and The Unauthorized Version.
He was historical advisor to Oliver Stone on the making of Stone's film Alexander, for which he waived all his fees on condition that he could take part in the cavalry charge against elephants which Stone staged in the Moroccan desert.
Information
Format: Paperback
Pages: 720 pages
Publisher: Penguin Books Ltd
Publication Date: 06/07/2006
Category: European history
ISBN: 9780141021416
Free Home Delivery
on all orders
Pick up orders
from local bookshops
Reviews
Showing 1 - 5 of 5 reviews.
Review by ginnyday
16/06/2015
Lane Fox's style is racy and pacy. He gives 21st Century readers real insight into these past societies. I like the way he compares and contrasts Greece and Rome at different periods and how he uses Hadrian as a link figure.
Review by thorold
16/06/2015
As others have said, this is a bright and breezy dash through the more interesting bits of the ancient world. RLF is unapologetically selective in what he covers, so it feels a bit superficial when you come to an area of ancient history you already know something about, but it does a good job of showing you how the other bits fit together. I think this would make very useful preparatory reading for someone about to start a high school or undergraduate ancient history course and wanting to get a bit of perspective before plunging into the details. If you're using it in this way, you should be aware that he doesn't cover everything: we don't learn very much about what was going on outside the immediate Greek and Roman area, and the story starts with Homer and ends with the emperor Hadrian. Where the book is really strong is in conveying the author's enthusiasm for the period, and particularly for his heroes — Herodotus, Thucydides, Tacitus and Suetonius are the real stars of this story, not Alexander the Great or Julius Caesar. I finished the book with a feeling that I ought to go back and read these authors (untouched since school) properly: I don't know whether I shall...
Review by tronella
16/06/2015
This took me so long to finish! It was mostly well-written and kept me engaged, although some parts were less interesting than others (e.g. the stuff about the tax system). The best parts for me were the chapters focused on one specific person or other - the numerous Caesars, some of the Greek philosophers, that sort of thing. Plus I now have the chronology of things more clearly in my mind, I guess. On the down side, I found some of his remarks on the sexism and anti-Semitism of the ancient Greeks and Romans to be a little odd, in a kind of "the Greeks only allowed men to [do some thing or other], which some women these days might think is a bit sexist!" way. Possibly I was just in a bad mood when I read those parts, though.
Review by BookMarkMe
16/06/2015
A good read spanning two great civilizations. Well worth it as an introduction to the classical world.
Review by mbmackay
16/06/2015
The sub-title is "An Epic History of Greece and Rome" and so it is - all 600 pages of closely printed text. To be fair, there is quite a bit of history to cover from Homer to Hadrian. The author doesn't set out to tell it all, rather he picks themes on which to focus as he moves forward through time. But the end result is an awful lot of information. I felt at times that I was drowning in information. On balance, I found the result pleasing. My exposure to Greek and Roman history has been more through popular historical fiction than the real thing, and this book helps provide a sound background for the work of the more fanciful and creative authors.So, good stuff, but dense. Read February 2014.