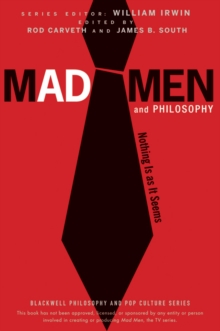 Mad Men and Philosophy : Nothing is as it Seems
Paperback
Description
A look at the philosophical underpinnings of the hit TV show, Mad Men
With its swirling cigarette smoke, martini lunches, skinny ties, and tight pencil skirts, Mad Men is unquestionably one of the most stylish, sexy, and irresistible shows on television. But the series becomes even more absorbing once you dig deeper into its portrayal of the changing social and political mores of 1960s America and explore the philosophical complexities of its key characters and themes. From Socrates, Plato, and Aristotle to John Kenneth Galbraith, Milton Friedman, and Ayn Rand, Mad Men and Philosophy brings the thinking of some of history's most powerful minds to bear on the world of Don Draper and the Sterling Cooper ad agency. You'll gain insights into a host of compelling Mad Men questions and issues, including happiness, freedom, authenticity, feminism, Don Draper's identity, and more. * Takes an unprecedented look at the philosophical issues and themes behind AMC's Emmy Award-winning show, Mad Men * Explores issues ranging from identity to authenticity to feminism, and more * Offers new insights on your favorite Mad Men characters, themes, and storylines
Mad Men and Philosophy will give Mad Men fans everywhere something new to talk about around the water cooler.
Information
Format: Paperback
Pages: 272 pages, Illustrations
Publisher: John Wiley and Sons Ltd
Publication Date: 28/05/2010
Category: Television
ISBN: 9780470603017
Free Home Delivery
on all orders
Pick up orders
from local bookshops
Reviews
Showing 1 - 3 of 3 reviews.
Review by sunjata
16/06/2015
An interesting book, especially the chapter explaining how Pete Campbell will never be happy because he can't forget the small injustices that are an inevitable part of life. Thanks Nietzche. The book is too long, though, and the quality is uneven. Written after just three seasons there isn't enough Mad Men to go round: certain Don Draper quotes are repeated ad nauseum. Enjoyable, though, and certainly worth reading if you have Mad Men withdrawal symptoms.
Review by sarah-e
16/06/2015
From the moment Sally Draper appeared with a plastic dry-cleaning bag over her head, only to be scolded for leaving her mother's clothes on the floor, I was hooked on Mad Men.This book adds another layer to what I enjoy about the show (and it's proof that I'm not the only one who takes the show too seriously). My background in philosophy is one entry-level college course, but frequent references to the series made the book easy to understand. The examples can be a bit repetitive, but the importance of, for example, Betty serving Heineken beer at her dinner party, cannot be overstated.If the editors and contributors have a favorite Mad Men punch line, it's the episode "Guy Walks into an Advertising Agency," probably my favorite punch line, too. So much of this book feels like an inside joke; even the editing was done with a great sense of humor – note the appendix "It's Not a List of Titles and Air Dates; It's an Episode Guide." I highly recommend the show and the book.
Review by knightlight777
16/06/2015
I had not watched the "Mad Men" as it aired over the past five years. Instead I ended up watching it as a compilation of the episodes and I got hooked. The popularity of the series speaks for itself, this book takes it one step further by taking a look at the many life events and drama shown in context of philosophical meaning.An interesting approach that allows one to think and ponder all the myriad issues philosophy brings about. Never easy, for me anyway, I found the philosophical topics raised in relation to the program provided an enjoyable and thought provoking angle. It opened up a vista of insights to its popularity and how our past historically and culturally has shaped where we find ourselves today.
Also in the The Blackwell Philosophy and Pop Culture Series series | View all