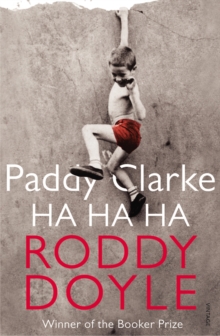 Paddy Clarke Ha Ha Ha : Winner of the Booker Prize 1993
Paperback
Description
Roddy Doyle's Booker Prize-winning novel describes the world of ten-year-old Paddy Clarke, growing up in Barrytown, north Dublin.
From fun and adventure on the streets, boredom in the classroom to increasing isolation at home, "Paddy Clarke Ha Ha Ha" is the story of a boy who sees everything but understands less and less.
Information
Format: Paperback
Pages: 288 pages
Publisher: Vintage Publishing
Publication Date: 01/06/1994
ISBN: 9780749397357
Free Home Delivery
on all orders
Pick up orders
from local bookshops
Reviews
Showing 1 - 4 of 4 reviews.
Review by Noisy
16/06/2015
I blame Umberto Eco. First person narrative by a primary school child growing up in the 1960s. The child lives in an environment that is changing from a semi-rural town on the coast, into an urbanised community. Farms run by the same family for generations are being replaced by new housing developments; corner shops are clinging on, but you can sense that the threat of the supermarket is just around the corner. Aspiration is growing, along with access to consumer goods. Irrelevant. All this is irrelevant. The child's-eye view is self centered; the changes are recognised, but only measured by the impact on <i>my</i> world, <i>my</i> horizons. How can I manipulate this situation to my advantage? Why are they doing this to me? If I do this I get a thrill, and recognition from my peers. There are stirrings of compassion (and experimentation), and fads come and go, along with alliances. And yet, measurements of one's peers are made using a yardstick that is largely based on the family. My da's got a car; his big brother has got this amazing toy; their da let's them play in every room of the house, rather than just the hall and bedroom; those lads come from a council house estate. Of course, such self-centeredness doesn't recognise cruelty, but then memories are short at that time of life. Aren't they? I recognise so much from this tale. I had allotments at the bottom of the garden which stretched for miles until they were eaten up by the by-pass, and the new primary school, and eventually the new houses. I was sent to bed for watching the workmen constructing the by-pass rather than going straight home from school; I can point to the exact spot where my father let go of the back of my bike; I saw alliances made and broken. I'm convinced that some of those experiences changed my life for ever, as they did for Paddy Clarke. Ha ha ha. Roddy Doyle could have been relating a version of my childhood. It's uncanny. Accurate and consistent and poignant. I can understand why it won the Booker Prize. God, I wish I'd started reading real literature like this ages ago, instead of the science fiction and thrillers and detective stories that made up the bulk of my literary exploration. Hold on, I have read a bunch of Graham Greene, and I do remember standing in W. H. Smiths in front of the novel section, and dithering over which of the latest literary masterpieces to buy to start expanding my cultural horizons. Didn't I pick up <i>Foucault's Pendulum</i>? I blame Umberto Eco.
Review by msjoanna
16/06/2015
Roddy Doyle does a tremendous job capturing the inner world of a ten-year-old. Though nothing particularly dramatic happens in this book -- no deaths, no world events, no grave illnesses -- the character's monologue completely enthralled me. The story jumped from anecdote to anecdote without following strict chronology or chapter breaks, but the character's voice was strong enough to carry the narrative forward.
Review by dylanwolf
16/06/2015
Roddy Doyle doing what he does best - evoking place and memory through the incisive rendering of naturalistic dialogue. Here, Doyle gives us the voice of 10-year-old Paddy Clarke, who fills the novel with the sensibilities and experiences of a young boy growing up in Dublin during the 1960s. There are no chapters, but this is no barrier to an enjoyment of this rich, luscious book. Although the novel deals with violence it is a darkness that is well embedded in the every day - all the more frightening perhaps because of our acceptance of it as the normal state of affairs. In the end this is a sad book but far from a sentimental one.
Review by Vivl
16/06/2015
I have a sense, indeed I'm certain, that had this been the first Roddy Doyle I'd ever read I would have given it five stars. Was it the shock of the new that prompted me to award five stars to <i>The Woman Who Walked Into Doors</i>, or is it genuinely the better novel? I find it hard to judge. And is it a <i>bad</i> thing that I find Roddy Doyle's writing so good in general that I can't give top marks to a book that I would nonetheless describe as stunningly good, just because it falls a shade short of some of his other writing? And does it really matter? (I somehow doubt Roddy Doyle is watching my LT reviews with baited breath and becoming downhearted at the missing 1/2 a star.)Through Paddy's wandering child's mind, the reader is drawn into small town/outer suburban late 60s Ireland. It's not a fun place, although fun ("ha ha ha") is to be had from time to time, and Paddy is certainly not a perfect little boy: he's downright horrid a lot of the time, but that's reality for you. I mention his character flaws only because some readers found they did not like this book because of them, but they are, to my mind, an integral part of the no-holds-barred honesty of which Roddy Doyle is a master. He is not a teller of fairy-tales. Despite this darkness, I feel genuine empathy for this strange, funny and sad little boy, desperate for his Ma and Da, both of whom he loves, not to split up. I wish him well.