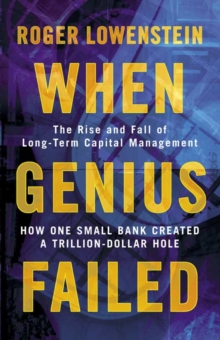 When Genius Failed
Paperback
Description
Picking up where Liar's Poker left off (literally, in the bond dealer's desks of Salomon Brothers) the story of Long-Term Capital Management is of a group of elite investors who believed they could beat the market and, like alchemists, create limitless wealth for themselves and their partners.
Founded by John Meriweather, a notoriously confident bond dealer, along with two Nobel prize winners and a floor of Wall Street's brightest and best, Long-Term Captial Management was from the beginning hailed as a new gold standard in investing.
It was to be the hedge fund to end all other hedge funds: a discreet private investment club limited to those rich enough to pony up millions.
It became the banks' own favourite fund and from its inception achieved a run of dizzyingly spectacular returns.
New investors barged each other aside to get their investment money into LTCM's hands.
But as competitors began to mimic Meriweather's fund, he altered strategy to maintain the fund's performance, leveraging capital with credit on a scale not fully understood and never seen before. When the markets in Indonesia, South America and Russia crashed in 1998 LCTM's investments crashed with them and mountainous debts accumulated.
The fund was in melt-down, and threatening to bring down into its trillion-dollar black hole a host of financial instiutions from New York to Switzerland.
It's a tale of vivid characters, overwheening ambition, and perilous drama told, in Roger Lowenstein's hands, with brilliant style and panache.
Information
Format: Paperback
Pages: 288 pages
Publisher: HarperCollins Publishers
Publication Date: 06/10/2001
Category: Biography: business & industry
ISBN: 9781841155043
Free Home Delivery
on all orders
Pick up orders
from local bookshops
Reviews
Showing 1 - 1 of 1 reviews.
Review by rivkat
16/06/2015
While a better title might be "When Hubris Failed," Lowenstein still tells an engaging and comprehensible story of fools who thought they were too smart to go broke, and turned out to be too big to fail. Indeed, after crashing a multibillion-dollar fund, many though not all of the principals went back to merely gorging themselves like ticks on the body politic, earning outrageous Wall Street salaries and waiting once again for the government to come fix the problems their risk-taking caused. The basic problems were simple: LTCM thought that it could arbitrage irrationalities in the market, but as more and more people figured out those irrationalities, it was required to take more and more risk for less and less profit—aka supply and demand, except that when the demand is for risk and when you can leverage (borrow) to multiply your exposure then things can go very wrong indeed. Moreover, LTCM's model assumed that markets would behave pretty much as they'd done during the period covered by its models, which they then didn't; as Nassim Taleb and others have pointed out, the market can stay "irrational" longer than you can stay solvent—unless of course Uncle Sam rides to your rescue, which poses a pretty serious moral hazard problem of its own. The most awful thing is that this wasn't the last act: LTCM's implosion demonstrated how dangerous derivatives were and how deluded Wall Street had become, and yet neither the government nor the market participants—too enamored of their bonuses and their short-term greed—took action to avoid another disaster. It's as if there was a second Titanic following the first that didn't even bother to change course.
Also by Roger Lowenstein