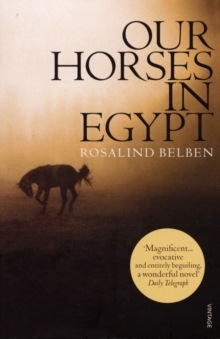 Our Horses in Egypt
Paperback
Description
Philomena is requisitioned from a Dorset field in the summer of 1914, and serves with the yeomanry in Egypt and Palestine until the end of the First World War.
But she doesn't come back to England: thousands of British Army horses are sold off locally.
Faint news of her reaches Griselda Romney, her old owner.
The impulsive Griselda, taking with her little Amabel and, of course, Nanny, sails for Egypt - to find Philomena and bring her home.
Information
Format: Paperback
Pages: 320 pages
Publisher: Vintage Publishing
Publication Date: 03/04/2008
ISBN: 9780099458968
Free Home Delivery
on all orders
Pick up orders
from local bookshops
Reviews
Showing 1 - 2 of 2 reviews.
Review by pollyfrontier
16/06/2015
sorry, those low ratings are mistakes! The graph works backwards. (Please forgive, R Belben) Some third into this book, I'm haunted continuously, can't wait to get back to following the fates of these endearing characters, both human and equine. See pagesturned's so very true review.
Review by Opinionated
16/06/2015
A lot going on here, and it takes a while to get in to. There are two stands of narrative; the experiences of the English horse Philomena plucked from the gentle English countryside and thrown into the full horror of the North African campaign and her former owner Griselda Romney, Egypt bound to try to rescue her from a life of post war servitude. Overall, Philomena's narrative is more engaging, although for a non horse person like myself the language and rituals of horse maintenance took some deciphering (what on earth is tibbin?). Its worth it though; we are used to reading about the privations of soldiers during the First World War, even if the North African front has not been covered in anywhere near as much detail as the Western Front. We are used to reading of the incompetence and callousness of officers to their men. The sufferings of the animals are less well known, and the war from Philomena's POV is revelatory and heart breaking as are her sufferings post warGriselda's narrative is less successful. The narrative voice is clipped and sparse, and it requires some effort from the reader to get into the rhythm of the language. No problem with that, but I was constantly left with the impression that there where things going on "off stage" which the reserved (and no doubt authentic) linguistic style was hiding from me. What is it she'd done in the past that made Maltese society so ill disposed to receiving her? What exactly is she is supposed to have done on board ship the crew that get her removed from the ship to Egypt. Simple conversation? In which case why are her legs described as being "in the air". What exactly is going on in Cairo with Imran? Can she really be as silly and self absorbed as she seems? And why on earth does the faithful Nanny encourage her in her foolishness? Is Griselda really searching for Philomena or searching for something else, in which case what?Despite coming out of the Griselda narrative stream with a faint feeling of dissatisfaction, none the less it is entertaining, funny in parts, and holds your attention. And to be honest Philomena's narrative is enough reason to buy the book on its own
Also by Rosalind Belben