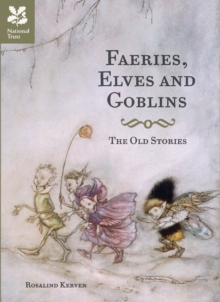 Faeries, Elves and Goblins
Hardback
Description
Faeries, elves, goblins, leprechauns, brownies, spriggans and many other supernatural beings leap vividly off the page in this collection of 25 haunting stories and folklore from the rich narrative heritage of Britain and Ireland, including authentic historical material dating from Anglo-Saxon times, the early Middle Ages and the 17th Century.
Marvel over ancient spells to summon faeries to your house, tremble at the shapeshifting powers of dangerous faery queens, lose yourself amongst the illusions of Faeryland and learn how to protect family members from the terrors of faery abduction.
Interspersed with facts on faery folklore, these tales cover faery morals, elvish misdemeanours, the spells cast by goblins and the sightings of the creatures, as well as their dealings with mortals.
With charming illustrations from favourite illustrators throughout, including Arthur Rackham, this book reminds us of the enduring appeal of folklore and mystery for all generations.
Information
Format: Hardback
Pages: 240 pages
Publisher: Pavilion Books
Publication Date: 15/08/2013
Category: Myth & legend told as fiction
ISBN: 9781907892479
Free Home Delivery
on all orders
Pick up orders
from local bookshops
Reviews
Showing 1 - 2 of 2 reviews.
Review by wakela
16/06/2015
Disclaimer: I received this book free from Anova Books in exchange for an honest review. I did not receive any form of compensation.Not only does this book contain quaint tales from all over Britain, but it contains little tidbits of knowledge as well.It is so hard to determine which story was my favorite. I loved them all. The stories told in this book are all retellings of old stories that had been passed along for ages.As for the tidbits of information, these are all gleaned from the various tellings and lore from around Great Britain. There is a section that lists the various tribes of Faeries, Elves and Goblins as they are known in each area of Great Britain. Such as Tylwyth Teg of Wales or the Ferrishyn of the Isle of Man. Plus by reading the information, you can also learn how to attract the fae folk that you would like while avoiding the more mischievous of the bunch.Not only is this a wonderful book of tales that you can tell the children in your life, but this is a wonderful book for anyone who wants to work with the fae in their magickal dealings.
Review by Jenn.S
16/06/2015
Endearing collection of cherished stories for all ages. For anyone who ever loved a story about these fantasy creatures, you'll love this book. Great to share with those who still have an imagination. I loved the additional information at the back of the book to read separately from the stories. The illustrations were lovely and added to the book. The wealth of additional information and where to find it makes this one shine above the others. Very well done.