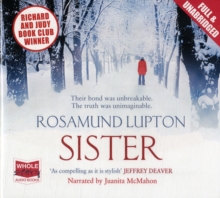 Description
This title is a gripping debut from a stunning new British talent, selected for the new Richard and Judy Book Club.
Their bond was unbreakable. The truth was unimaginable. When Beatrice receives a call to say that her sister, Tess, is missing, she boards the first flight home.
But as she learns about Tess' disappearance, she is stunned to discover how little she actually knows of her sister's life.
Everyone around her accepts they have lost Tess, but Beatrice refuses to give up, embarking on a dangerous journey to discover the shocking truth, whatever the cost...This recording is unabridged.
Typically abridged audiobooks are not more than 60 per cent of the author's work and as low as 30 per cent with characters and plotlines removed.
Information
Format: CD-Audio
Publisher: W F Howes Ltd
Publication Date: 01/01/2011
Category: Crime & mystery
ISBN: 9781407471167
Free Home Delivery
on all orders
Pick up orders
from local bookshops
Reviews
Showing 1 - 1 of 1 reviews.
Review by bsquaredinoz
16/06/2015
Sister is narrated by Beatrice, a twenty-something woman who has flown home to London from her life in New York because her younger sister, twenty-one year old Tess, has gone missing. Beatrice, or Bee as Tess would call her, writes a letter to her sister which in part describes the events surrounding her disappearance and in part is a memoir of their sisterhood, warts and all.<br/><br/>The book is basically a love letter from one sister to another and in that context it is a superb piece of writing. It delves into all the nuances of the relationship; the shared memories (good and bad), the slights (real and imagined), the words that were said and those that would have been taken back should the universe allow. It is a marvellous portrait of both the bond between the two sisters and the grief one feels at the unexpected disappearance of the other.<br/><br/>Where Tess is fun-loving, gregarious and artistic, Beatrice is reserved, seeks security and does not normally stand up for herself but over the course of the story Beatrice goes through a fairly fundamental shift in her personality which is, again, credibly drawn out. We also see Beatrice develop a deeper understanding of her mother's motivations for various actions and behaviour and this relationship too is an interesting one to watch as it develops into one of adult equals more than parent and child.<br/><br/>I must admit I found the whodunnit element of the book less successful. It was so clunky in a couple of places I actually wondered someone (author or publisher) had pushed to squeeze the manuscript more deeply into a genre (I thought the prominently positioned pull quote from Jeffrey Deaver on the edition I read was serving the same, somewhat misguided, purpose). I'm out of touch with what's hot in publishing circles right now but I think this would have been just as good a book, perhaps an even better one, without this somewhat clumsy element.<br/><br/>Nevertheless I enjoyed the book as a whole because the relationship of the sisters is depicted with a finesse and thoughtfulness you rarely see, particularly from a début author. I also had the added bonus of an outstanding narration of the audio book by Juanita McMahon. I'd read the first chapter or so of the book in print form (on someone else's kindle) before reaching the top of the library's audio queue (long before I was ever going to get near the top of the print queue). McMahon's depiction of Bee was just as I had imagined.<br/><br/>My rating 3.5 stars