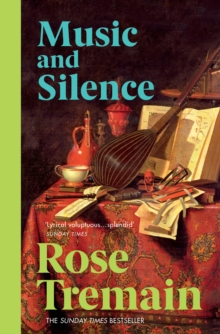 Music and Silence : Winner of the Whitbread Novel Award 1999
Paperback
Description
In the year 1629, a young English lutenist named Peter Claire arrives at the Danish Court to join King Christian IV's Royal Orchestra.
From the moment when he realises that the musicians perform in a freezing cellar underneath the royal apartments, Peter Claire understands that he's come to a place where the opposing states of light and dark, good and evil, are waging war to the death.
Designated the King's 'Angel' because of his good looks, he finds himself falling in love with the young woman who is the companion of the King's adulterous and estranged wife, Kirsten.
With his loyalties fatally divided between duty and passion, how can Peter Claire find the path that will realise his hopes and save his soul?
Information
Format: Paperback
Pages: 464 pages
Publisher: Vintage Publishing
Publication Date: 01/03/2000
Category: Historical fiction
ISBN: 9780099268550
Free Home Delivery
on all orders
Pick up orders
from local bookshops
Reviews
Showing 1 - 4 of 4 reviews.
Review by dylanwolf
16/06/2015
A multi-layered, sumptuous must-read book. You are introduced, along with English lutenist Peter Claire, to the winter room in the Danish court of Christian IV below which in a freezing subterranean chamber an orchestra of musicians perform to amaze the royal guests with a 17C version of surround-sound. The book is threaded with an excrutiatingly unfulfilled romance between said lutenist and Emilia, one of the Queen's servants. The Queen herself, Kirsten, is a tremendously ruthless villainess, while the King frets over the parlous financial state of his kingdom.
Review by ascapola
16/06/2015
I found this on the train and have had it in the house nearly 3 years, as it didn't look like my thing. But what a superb book, set in the Denmark of Christian IV, it vividly captures life in the C17th and is a book of contrasts with music and silence as a metaphor for other contrasts - dark and light, love and hate, ambition and acceptance.Peter Claire, an English lutenist, finds himself in the role of 'angel' to the King and strives to find meaning and destiny whilst being loyal.
Review by Tess22
16/06/2015
A review on the cover claims that this story is 'the greatest thing to come out of Denmark since Hamlet'. I cannot agree with statement on account of LEGO (and Hans Christian Andersen) but it is a lovely and compelling book, following English lutist Peter Claire as he joins the Danish royal court and falls in love with a lady in waiting. Tremain knows how to build an atmosphere, and here evokes 17th century Denmark in vivid scenes, from the winter magic of a royal skating party to the freezing cellars where the orchestra plays. One weak point is the central love story - two idealised characters in a love at first site scenario which is never sufficiently filled out. Far more involving is a minor subplot of Peter's sister and her fiancee - two seemingly ordinary people who see and bring out the extraordinary in each other. King Christian is also strongly drawn, a man disappointed by life and beginning to despair of rebuilding his kingdom. The real star though is the King's thoroughly disturbed and disturbing wife Kirsten, who is full of manipulation, seduction and despair, and is the keeper of a very amusing diary.
Review by Ayling
16/06/2015
Music and Silence takes you, dream-like, through 17th Century Denmark during the time of King Christian IV. I'm not sure how historically accurate this book is yet, I thought I would look it up after reading it.Tremain chose a rather unusual method of storytelling. It was written in little episodes from the perspectives of multiple characters that all played some small part, that reflected both music and silence - the real, the unreal, the magical the unmagical. I think it will take a little while to really sink in and think about the meaning. It tells a story of Peter Claire, a beautiful lutanist from England who comes to Denmark to be in the king's renowned orchestra - who play in the cellars of Rosenborg castle where music filters up through pipes into a room. The music can be heard though not seen.King Christian is a fascinating character, a nice man though rather obsessed by perfection and ideals - rather then what can actually happen in reality. His wife, Kirsten is vain, materialistic and adulterous. His life and health are in a turmoil and when Peter Claire arrives he makes him his 'angel'.Peter Claire is a peculiar man whom I do not feel you really get to know at all throughout. You seem to find out more about his sister and the other characters then you do him. He falls in love with the maid of Kirsten Munk and finds himself in the middle of a battle between the King and his wife. These different perspectives and different people you read about are like bubbles in time. You float through the narrative within these little bubbles, you float through the lives of these people and you occasionally pass them by only to float past them again.Tremain's style is lyrical, ethereal and delicate - gently guiding you through, tempting you onwards to read more. I found it a light read, one that I could pick up and put down again and relax to. I did not feel the need tor race through it but just to float along and enjoy it.It is not a historical saga which tells the life of King Christian IV from start to finish, it is only a short period in his life. I do not usually read novels about real people so this was an exception. I enjoyed it and would very much like to read Restoration by Tremain now.