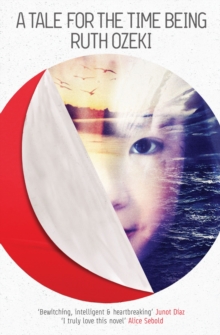 A Tale for the Time Being
Paperback
Description
Shortlisted for the Man Booker Prize 2013 'Hi! My name is Nao, and I am a time being. Do you know what a time being is? Well, if you give me a moment, I will tell you.' Ruth discovers a Hello Kitty lunchbox washed up on the shore of her beach home.
Within it lies a diary that expresses the hopes and dreams of a young girl.
She suspects it might have arrived on a drift of debris from the 2011 tsunami.
With every turn of the page, she is sucked deeper into an enchanting mystery.
In a small cafe in Tokyo, sixteen-year-old Nao Yasutani is navigating the challenges thrown up by modern life.
In the face of cyberbullying, the mysteries of a 104-year-old Buddhist nun and great-grandmother, and the joy and heartbreak of family, Nao is trying to find her own place - and voice - through a diary she hopes will find a reader and friend who finally understands her.
Weaving across continents and decades, and exploring the relationship between reader and writer, fact and fiction, A Tale for the Time Being is an extraordinary novel about our shared humanity and the search for home.
Information
Format: Paperback
Pages: 432 pages
Publisher: Canongate Books Ltd
Publication Date: 01/03/2013
ISBN: 9780857867971
Other Formats
Hardback from £15.25
EPUB from £5.39
Free Home Delivery
on all orders
Pick up orders
from local bookshops
Reviews
Showing 1 - 4 of 4 reviews.
Review by missizicks
23/09/2015
"Fiction had its own time and logic. That was its power." So says the character Ruth in writer Ruth Ozeki's novel about loneliness, outsidership, time and memory. She is describing the way, as a writer (because character Ruth is also a writer), she can lose all sense of time when she is crafting a fictional world. As a reader, it's a feeling I recognise. It can be easy to be swallowed up by a book, to become immersed in its fictions, to believe them to be real, and to feel as though you are surfacing from a dream or deep water when you put the book down and re-enter the actual world. It's a feeling I recognise as an historian, when I read personal accounts of lives lived long ago. True accounts that start to feel like fiction as I embroider and fill in the gaps with imagination and supposition.A Tale for the Time Being is one of those rare things - a fictional history threaded through with enough historical fact to feel real. Like character Ruth, I felt as though diarist Nao's experiences were happening in real time. Diarist Nao, whose Japanese name is pronounced the same as the English word 'now'. Perhaps it's a cause and effect thing - hearing 'now' when reading Nao somehow putting me in the moment.It's a sad story for most of the book. Nao's world is full of bullies, exploitation and tension. Character Ruth's world is full of frustration, dementia and drift. It's a story of how cruel people can be, how vicious, from the officers who bullied young men into becoming soldiers during WW2, and the tech company bosses who punished an employee for having a conscience, to the school children who bullied their classmate into flunking out, and the maid café hostess who coerced a schoolgirl into a life of prostitution. It's a tale of how the world's indifference and outright opposition to what we believe in and how that defines us can make us feel inadequate and sometimes worthless. Another character in the book asks, "How can there be so much pain in the world?" The unspoken answer is that nature is cruel and humanity defenceless before it.In some ways, the book felt like more of the same, similar in feeling and style to other contemporary writers, but it also crept up on me through its lightweight veneer to become something deeper, something more profound than just another book about the strangeness of Japanese culture to the Western mind and the way time is more the quantum tangle of string than the linear chronology we experience.
Review by freelancer_frank
16/06/2015
This is a book about Zen, power and the Japanese experience. Ozeki neatly connects the notion of communication through time to Zen Buddhism and the act of writing/reading by setting up a three-way discussion between her two main characters and the books reader. The discussion ranges over space and time so that the story takes on a meditative and expansive feel, much like meditation. Internally, there are insights into coding, World War II, dreams, island life and bullying. The work stands poised over the twin poles of cruelty and illumination.
Review by lozbeth1
16/06/2015
This book was an ok read, not my favourite however. I felt it was slow to get going and did not really grab my interest.
Review by Feastsandfestivals
16/06/2015
A deeply satisfying and meaty read. The sort of book that touches on everything from manga to the meaning if life. Beautifully written and a page turner, mysterious and touching. I loved it.