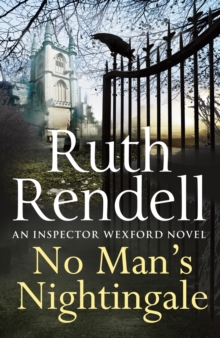 No Man's Nightingale : (A Wexford Case)
Hardback
Part of the Wexford series
Description
No Man's Nightingale: the eagerly anticipated twenty-fourth title in Ruth Rendell's bestselling Detective Chief Inspector Wexford series.
Sarah Hussain was not popular with many people in the community of Kingsmarkham.
She was born of mixed parentage - a white Irishwoman and an immigrant Indian Hindu.
She was also the Reverend of St Peter's Church. But it comes as a profound shock to everyone when she is found strangled in the Vicarage.
A garrulous cleaner, Maxine, also shared by the Wexfords, discovers the body.
In his comparatively recent retirement, the former Detective Chief Inspector is devoting much time to reading, and is deep into Edward Gibbon's The Decline and Fall of the Roman Empire. He has little patience with Maxine's prattle. But when his old friend Mike Burden asks if he might like to assist on this case as Crime Solutions Adviser (unpaid), Wexford is obliged to pay more precise attention to all available information.
The old instincts have not been blunted by a life where he and Dora divide their time between London and Kingsmarkham.
Wexford retains a relish for solving puzzles and a curiosity about people which is invaluable in detective work. For all his experience and sophistication, Burden tends to jump to conclusions.
But he is wise enough to listen to the man whose office he inherited, and whose experience makes him a most formidable ally.
Information
Format: Hardback
Pages: 288 pages
Publisher: Cornerstone
Publication Date: 15/08/2013
Category: Crime & mystery
ISBN: 9780091953843
Free Home Delivery
on all orders
Pick up orders
from local bookshops
Reviews
Showing 1 - 1 of 1 reviews.
Review by smik
16/06/2015
Nearly 40 years on since he emerged in FROM DOON WITH DEATH (1964) Reg Wexford, now retired after a lifetime as Chief Inspector Wexford, is happily reading his way through The Decline and Fall of the Roman Empire. Retirement is suiting him better now than it did in THE VAULT where he took up Detective Superintendent Tom Ede's offer of being an unpaid serious crimes adviser. But he still likes to feel needed, doing something important.This time it is former colleague and friend Mike Burden who asks him if he would interested in a bit of unpaid consultancy following the murder of a local vicar.Most of NO MAN'S NIGHTINGALE is written from Wexford's point of view. Wexford finds for example that Burden is running the the investigation differently to the way he would have done. In his opinion Burden has too many conferences and Wexford finds that in his consultancy capacity he is really not able to voice his opinions freely. Nor can he prevent his friend from making some disastrous errors. Because the murder has taken place in the community in which he lives Wexford finds he at times has to tread a very narrow line. For example, as a private person he learns information that he wouldn't come across as a policeman, and he is not sure whether he is still duty bound to report it to the police.I think Rendell has taken great pains to present us with an aging Wexford, whose brain is still very much alive and alert, but no longer quite as agile as it used to be. But his powers of observation and deduction are still strong.So, an aging person myself, that assured my feeling of empathy with Wexford.And what about Rendell, now 83. How is her writing going? Well, I don't think this is her best book, but it still puts her at the forefront of today's writers. Fans will enjoy Wexford's latest outing.