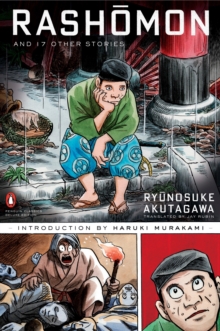 Rashomon And Seventeen Other Stories
Paperback
Description
Ryunosuke Akutagawa (1892-1927) is one of Japan's foremost stylists - a modernist master whose short stories are marked by highly original imagery, cynicism, beauty and wild humour. 'Rashomon' and 'In a Bamboo Grove' inspired Kurosawa's magnificent film and depict a past in which morality is turned upside down, while tales such as 'The Nose', 'O-Gin' and 'Loyalty' paint a rich and imaginative picture of a medieval Japan peopled by Shoguns and priests, vagrants and peasants. And in later works such as 'Death Register', 'The Life of a Stupid Man' and 'Spinning Gears', Akutagawa drew from his own life to devastating effect, revealing his intense melancholy and terror of madness in exquisitely moving impressionistic stories.
Information
Format: Paperback
Pages: 320 pages
Publisher: Penguin Books Ltd
Publication Date: 01/11/2006
ISBN: 9780143039846
Other Formats
Paperback from £7.79
EPUB from £3.99
Free Home Delivery
on all orders
Pick up orders
from local bookshops
Reviews
Showing 1 - 5 of 6 reviews.
Previous | Next
Review by figre
16/06/2015
My voyage into Japanese fiction began with the works of Haruki Murakami. (If you have not read his work, do so.) So, when I saw he wrote the introduction to this collection of stories by Ryunosuke Akutagawa, I was intrigued. Akutagawa wrote in the early 20th century and set the tone for much of the Japanese fiction that was to follow. Within this collection is an engrossing set of stories and tales that capture the reader quickly and consistently. The opening stories, set farther back in Japanese history, have a fable-like quality. As the stories move forward in historical setting, the fables transcend to studies of people and the lives they lead. The final six stories are more autobiographical, and suffer some from this. Yet, even these slightly over-introspective pieces force a different perspective on the reader. Within this collection, the stories range from an unemployed man exploring where the bodies are buried in a city gate, to a monk who predicts a dragon will emerge from a pond, to an artist who places art above the lives needed to create that art, to a man who is forced to use horses legs, to the artist's life as a collection of paragraphs. In them all there is a magic that is real or perceived, and each causes the reader to stop and think about what was read and what it means to that reader.My voyage into Japanese fiction is really just beginning. This book was the first of such I've read beyond Murakami's work. But it is reason enough to propel me into a reading much more.
Review by StevenTX
16/06/2015
Akutagawa Ryunosuke--to put his name in proper Japanese order--lived from 1892 to 1926. He was born into poverty, but nonetheless achieved a high level of education, mastering both English and Chinese. His maturation as a writer came during Japan's Taisho Era, 1912-1926, a brief episode of cultural openness and artistic flowering. His writing reflects, on the one hand, the bright but fragile temper of the time, and on the other his own troubled and divided soul.The stories of Akutagawa are divided thematically in this collection into four groups. The first section, "A World in Decay," includes his most famous story, Rashomon. These are dark and magical tales of Japan's past that, at the same time, reflect a confidence in the power of a writer's artistic vision. The most memorable of these stories is "Hell Screen," in which an artist commissioned to paint a picture of Hell compulsively, but knowingly, draws himself into the very Hell he is painting.The second group of stories, subtitled "Under the Sword," continues the historical setting, but in a starkly realistic mode. The theme here is faith and loyalty against a background of religious or political change. Akutagawa's writings were heavily influenced by Christianity, and several of his stories feature Japanese Christians being persecuted for their beliefs. These were written at a time when Japan was politically divided over the issue of Western cultural influence.Next is a short selection of stories called "Modern Tragicomedy," in which we see Akutagawa at his most cheerful and playful, writing satirically of Japanese life in the 1920s. In "Horse Legs" a clerical error on the part of some bureaucratic divine authority has killed a man before his allotted time. He is brought back to life with apologies, but since his legs had already begun to decompose he is given a pair of horse's legs instead. In "Green Onions" the focus of the story isn't the plot itself, but the author's need to finish it before his deadline.The final segment is a series of autobiographical stories Akutagawa wrote in his final months, some of which were not published until after his death. These are grim and troubled stories reflecting the author's tragic life. His mother was insane, an insanity he always feared he had inherited. He was raised by foster parents, having little contact with his natural father, and as a sickly child in a society prizing martial virtues he was ostracized by his teachers as well as his fellow students. Yet his early love for literature and his intellectual accomplishments made him contemptuous of others even as he was hurt by their rejection of him. Similar internal conflicts developed over religion and sex, as he flirted with Christianity and had several extra-marital affairs. Akutagawa's final story, "Slipping Gears," reads like an extended suicide note. He felt himself slipping into madness--parts of the story itself seem deranged--and finished: "--I don't have the strength to keep writing this. To go on living with this feeling is painful beyond description. Isn't there someone kind enough to strangle me in my sleep?" On 24 July, 1927, Akutagawa took an overdose of sedative and died in his sleep.Akutagawa read widely in the Western classics, and his works are sprinkled with references to authors such as Shakespeare, Dostoevsky, and Flaubert, just as to the Japanese and Chinese classics. This, plus his association with Christianity, makes his stories particularly approachable by Western readers. The Penguin edition is abundantly footnoted to provide the necessary background material on Japanese history and Asian literature. This collection is an excellent introduction to modern Japanese literature.
Review by TheDivineOomba
16/06/2015
I picked this book up on a whim from the Library Book Sale because of the cover. I randomly grabbed this book from when I needed something to read one evening. And, this book exceeds all expectations.I read and watch a lot of Anime and Manga. Usually the sort that is easily available, the ones with teens at boarding school with very little family. This has skewed my perception of Japanese Culture. The stories in this book, written in the early 1910's, changed all that. These stories are very modern in tone, even being written at the turn of the century. Even the stories based of Japanese Fairy Tales are modern. I like that they show a much different side of Japanese Culture. The characters here keep in touch with family, even extended. The stories show the whole human spectrum of emotion - from Hope to Hate. From Happiness to Depression.My favorite story in this collection is "Dragon: The Old Potters Tale". Its a simple story that runs deeply. A few of them are not as good as others but as a whole, I loved these stories.
Review by TJWilson
16/06/2015
An eerie read through a short career. I went from delight at Akutagawa's morbid but funny early short stories to horrible dread at feeling brought on by the hopelessly inclined prose of his last two posthumous essays concerning his own life. A simply compelling and unique read.
Review by missizicks
16/06/2015
I enjoyed this introduction to the works of Akutagawa Ryunosuke. The biographical chronology at the beginning was a useful introduction to the man. Haruki Murakami's introduction made me smile - how keen he was to say that Akutagawa isn't his favourite of Japan's "National Writers", before offering an opinion on where Akutagawa had gone wrong as a writer and, perhaps, in life. I enjoyed rereading The Nose, which I'd studied for A Level Japanese, and Dragon: The Old Potter's Tale was fun, but my favourites are Hell Screen and Loyalty, perhaps because they are longer stories that explore human behaviour more fully, and Horse Legs, because it made me think of Kafka's Metamorphosis. The final story included in the collection is Spinning Gears, which was published after Akutagawa's death. It is an affecting piece of writing, as Akutagawa documents his inner feelings, particularly his fears of madness. It's a sad note to end the book on, both in the sense that Akutagawa took his own life as this story hints might happen and in the sense that his writing was moving in a new direction but was cut short.