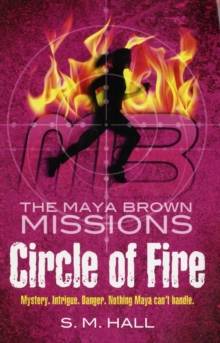 Description
Maya Brown is bored with being cooped up in her nan's house over the summer, and dying to get involved in her mum's intelligence operation against a group of would-be terrorists.
But when her mum is kidnapped by the criminals, Maya is suddenly plunged headlong into a world of intrigue and danger.
Can Maya find out what the terrorist cell are plotting in time, and without putting her mother's life at risk? And is the mysterious Khaled luring her into a trap, or is he a secret ally?
A fast-paced thriller by an established author of teenage fiction, with a fiesty and appealing heroine.
Follow all Maya Brown's adventures at www.mayabrownmissions.co.uk
Information
Format: Paperback
Pages: 320 pages
Publisher: Frances Lincoln Publishers Ltd
Publication Date: 03/02/2011
Category: Thrillers (Children's/YA)
ISBN: 9781847801210
Free Home Delivery
on all orders
Pick up orders
from local bookshops
Reviews
Showing 1 - 5 of 10 reviews.
Previous | Next
Review by nlsobon
16/06/2015
I received "Circle of Fire" from Library Thing in exchange for a review: While on a run with her mother, Pam, Maya notices a strange man lurking by a BMW. She thinks it's odd, but doesn't say anything knowing that they have guards following them. What Maya doesn't realize is that that the strange man has people waiting to kidnap her mother further down the trail. From that moment on, the story is full of twists and turns. I enjoyed "Circle of Fire", but I don't know if I'll rush into reading the next book in the series ("Breaking the Circle"). The characters, aside from the bad guys, were well written. To me, the bad guys, especially Omar, seemed like every other bad guy out there. The whole seeking respect thing, it didn't work for me. On the plus side, Maya and Khaled, who you're never really sure is trust worthy until the end, are both interesting, strong characters. I enjoyed watching them work together, between Maya's stubbornness and Khaled's deception; it makes for a fun read.As for the ending: I think while it was wrapped up somewhat nicely, I still had a ton of questions - enough to interest the reader in the next book. There's even a portion of the first chapter of "Breaking the Circle" included at the end. If you're looking for a story with a strong female main character that's quick and interesting, you'll probably enjoy "Circle of Fire". I did like it, but I didn't love it.
Review by sleahey
16/06/2015
This fast-paced thriller deals with terrorism, a mother-daughter relationship, an adoptee's quest for identity, espionage, and Muslim immigrant culture. The plot is implausible, with the 15-year-old heroine surviving her somewhat absurd risk-taking and bringing down a sophisticated terrorist cell in London. Teens looking for a page-turner about current issues with a spunky girl may enjoy this first of a series. There is some British slang and terminology, but nothing to really interfere with a teen's understanding.
Review by Missamo
16/06/2015
Very fast-paced and gripping from the start, cant understand previous review about it getting a bit lost? Good story and character development and background that's all! The only trouble is read it all in about three sittings because I could not put it down!
Review by highvoltagegrrl
16/06/2015
The story was well written and well laid out plot wise. For a story that is grounded in our reality, I would think none of it would happen the way it does in the book, but if you put that aside you've got a fun story. With all of the running around and trying to get out of trouble while getting into trouble, I expected it to have more heart pumping action, but it didn't. It started off quickly with the action up to speed, but just as quickly the action seems lost their luster and were just words on the page.I knew the book was about terrorists kidnapping the mom, but didn't realize that there was so much about the Muslim culture and stereotypes filling the pages. While the book does mention some of the political reasoning's for terrorist attacks and how people tend to lump all of one culture together, it didn't feel like the book itself had a political agenda and I was thankful for that.Reviewed by Jessica for Book Sake.
Review by Allizabeth
16/06/2015
Circle of Fire:The Maya Brown Missions was a great volume in a series that could really go somewhere, but for as action-packed and fast paced as it was at times, it did have its slow moments where I wanted to jump ahead to a more exciting chapter, (which I didn't do because I believe in reading the whole book). The plot was very exciting and well-thought-out, especially the espionage, terrorism, and cultural aspects which were very well-written and researched. Teen heroine Maya Brown is a DIY kind of girl with a spunky and smart attitude, even if she gets herself in a bad situation she manages to think her way out of it. Both guys and gals will appreciate and enjoy the overall tone and dialogue; there's even a little bit of slang/violence for those teens who like a slightly "edgier" read. I can't complain about anything other than those few slow moments, most of the time I was hooked and couldn't put it down. I will read future S. M. Hall Maya Brown Mission books in the series, and I would recommend it to anyone who wants a high charged, fully-fueled read that will last them a sit-down or two.
Also in the The Maya Brown Missions series