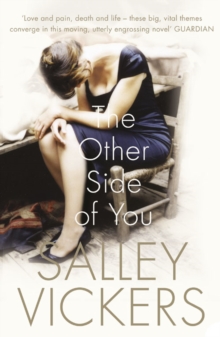 The Other Side Of You
Paperback
Description
The brilliant new novel from the bestselling author of 'Mr Golightly's Holiday' and 'Miss Garnet's Angel'. 'There is no cure for being alive.' Thus speaks Dr David McBride, a psychiatrist for whom death exerts an unusual draw.
As a young child he witnessed the death of his six-year-old brother and it is this traumatic event which has shaped his own personality and choice of profession.
One day a failed suicide, Elizabeth Cruikshank, is admitted to his hospital.
She is unusually reticent and it is not until he recalls a painting by Caravaggio that she finally yields up her story.
We learn of Elizabeth Cruikshank's dereliction of trust, and the man she has lost, through David's narration.
As her story unfolds, David finds his own life being touched by a sense that the 'other side' of his elusive patient has a strange resonance for him, too.
Set partly in Rome, 'The Other Side of You' explores the theme of redemption through love and art, which has become a hallmark of Salley Vickers's acclaimed work, which includes 'Mr Golightly's Holiday' and 'Miss Garnet's Angel'.
Information
Format: Paperback
Pages: 320 pages
Publisher: HarperCollins Publishers
Publication Date: 01/03/2007
ISBN: 9780007165452
Free Home Delivery
on all orders
Pick up orders
from local bookshops
Reviews
Showing 1 - 3 of 3 reviews.
Review by silvercowrie
16/06/2015
Pushing therapeutic boundaries, Dr David Cruickshank sits up half the night with a patient who has recently attempted suicide. He mentions a painting by Caravaggio which proves to be the opening for her to tell him her story. Both Dr and patient are in a period of crisis in their lives and as she reveals her life he finds his own past becomes ever more present. This is an intense, sad, powerful novel about love and loss.
Review by ungoliant
16/06/2015
I absolutely loved this. I'm not really that interested in art but it was such a fascinating story, and so well written. As soon as I finished it I was so tempted to flip back to the first page and start it all over again, which is pretty rare for me. Deeply moving and engrossing.
Review by readingwithtea
16/06/2015
"After so devastating a disappointment it would make sense to turn to a Neil"I read one of Vickers' previous novels in my pre-blogging days, Miss Garnet's Angel, and remember that it was mostly about a painting of Tobit or Tobias or Toblerone or some such personage. I did remember enjoying it though. And thus I seemed to be stepping into very familiar territory with The Other Side of You, which has a simple enough narrative structure – a few days in the life of psychologist and analyst Davey McBride, in which he treats some patients and interacts with colleagues and tries to figure out why his wife is being a bit strange.One patient proves particularly challenging, a suicide outside the normal mood of desperation and cries for help; rather a woman who had no wish to continue living. Our protagonist feels a deep affinity with Mrs Cruikshank, but she takes a frustratingly long time to open up to him. What she does yield is a passion for Caravaggio, one shared by the doctor's mentor. And this is where Vickers shines – her narrative is a pleasant enough construct for an emotional response to a series of Caravaggio's artworks; Dr McBride returns to the National Gallery at one point and falls in love with Caravaggio's The Last Supper.The novel is religious without being proselytising – Vickers engrosses us in the culture of faith, not the practice. McBride makes numerous references to the men on the road to Emmaus, a story I've never understood well (what is its point? That Jesus chose to reveal Himself resurrected away from the crowd? That He wanted to test their loyalty first?) and delves into the tragedy of the men who have just lost their friend and leader, rather than the joy of reunion.*minor spoiler alert* I'm so bored with infidelity. It seems to be in every book. It's always the slightly controversial story on the side. That's all I'm going to say here – Vickers takes the adultery storyline quite a lot further than most, with it being the focus of both Elizabeth and Olivia's stories. Is there no other source of drama in adult interaction? *end spoilers*Clever writing, fascinating characters and a bridge into the art world. I want to take the book with me back to all those Roman churches The Book Accumulator dragged me around when I was 14.