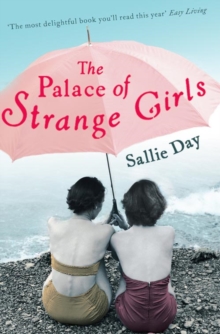 The Palace Of Strange Girls
Paperback
Description
I-SPY AT THE SEASIDE Hello, children! Welcome to your very own I-Spy Book. In these pages you'll be able to look for all kinds of secret, exciting things that are found only by the sea.
Blackpool, 1959. The Singleton family is on holiday. For seven-year-old Beth, just out of hospital, this means struggling to fill in her 'I-Spy' book and avoiding her mother Ruth's eagle-eyed supervision.
Her sixteen-year-old sister Helen, meanwhile, has befriended a waitress whose fun-loving ways hint at a life beyond Ruth's strict rules.
But times are changing. As foreman of the local cotton mill, Ruth's husband Jack is caught between unions and owners whose cost-cutting measures threaten an entire way of life. And his job isn't the only thing at risk. When a letter arrives from Crete, a secret re-emerges from the rubble of Jack's wartime past that could destroy his marriage.
As Helen is tempted outside the safe confines of her mother's stern edicts, with dramatic consequences, an unexpected encounter inspires Beth to forge her own path. Over the holiday week, all four Singletons must struggle to find their place in a shifting world of promenade amusements, illicit sex and stilted afternoon teas, in this touching and extraordinarily evocative novel.
Information
Format: Paperback
Pages: 304 pages
Publisher: HarperCollins Publishers
Publication Date: 01/02/2009
ISBN: 9780007276073
Free Home Delivery
on all orders
Pick up orders
from local bookshops
Reviews
Showing 1 - 2 of 2 reviews.
Review by CloggieDownunder
16/06/2015
It's summer, 1959, and we join the Singleton family for their annual week-long holiday at The Belvedere in Blackpool. On the surface, all seems well with Jack, Ruth and their daughters, seven year-old Beth and sixteen year-old Helen. But despite appearances, none of them is truly happy. Beth, not long out of hospital, just wanting to fill in her I-Spy book and fit in, is being smothered by an overprotective Ruth. Helen is basically a good girl but really longs for a bit of freedom: deceit may be her only option while Ruth holds the reins tight. Ruth's burning ambition is a new semi-detached house on Boundary Drive, but Jack doesn't want to be saddled with a mortgage. And Jack is weighing up job offers against a sense of responsibility to his family and co-workers as well as mulling over a letter from Crete, a potential threat to his marriage if the secret from his wartime past is revealed.Sallie Day's stirring descriptions of the town and its associated attractions and distractions take us back to that time with consummate ease. Her characters have real depth and she conveys their emotions and feelings so well that their joys, fears, insecurities, frustrations and guilt are palpable. This story will resonate with anyone who grew up in the late fifties. If they did that growing up in England, the mention of the various household names from that time will evoke the sights, sounds, tastes and smells of their childhood. This expertly crafted story takes some unexpected turns and keeps the reader captivated. The excerpts from I-Spy at the Seaside which head each chapter are echoed in that chapter: a delightful touch. Altogether a brilliant read!
Review by nocto
16/06/2015
The Singleton family from Blackburn spend their 1959 Wakes Week, the local shutdown holiday, in Blackpool, along with plenty of others from their hometown. This story is a week in the company of upwardly mobile housewife Ruth, her husband Jack who is harbouring his own secrets and ambitions, sixteen year old Helen who is impatient to become a youth of the sixties, and seven year old Beth who is recovering from a serious illness and is being very coddled against her will as a result. I loved it. I found the story absorbing and interesting, full of period colour. The characters are fabulous and I really cared about them. I liked the way the flashbacks were separated completely from the 1959 story. And the integration of I-Spy books (a staple of my 1970s childhood too, and still going strong for my daughter except Big Chief I-Spy of Wigwam-by-the-water has been replaced by Michelin's Bibendum) is completely brilliant. I rarely read the little chapter heading quotes in books, this book is very much the exception, the I-Spy quotes really made the book. There are places where the author's knowledge of Lancashire cotton mills becomes a bit too "look how well I've done my research" and there's an epilogue which was nice but I thought it might have been a stronger book if the future beyond the summer holiday had been left to the reader's imagination, it would have had less "feel good"-ness about it then though.I found the book via Goodreads recommendations and will be looking them up again!