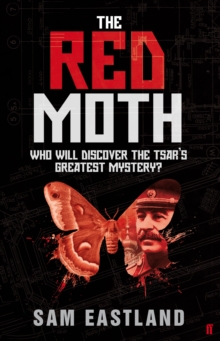 Description
As Hitler's forces smash into Soviet territory, annihilating the Red Army divisions in its path, a lone German scout plane is forced down.
Contained within the briefcase of its passenger is the seemingly inconsequential painting of a hyalophoria cecropia, otherwise known as a red moth.
Military Intelligence dismisses the picture as insignificant, but in the state of emergency Stalin suspects a German plot.
He summons his old adversary, Inspector Pekkala - the elusive Finn who was once Tsar Nicholas II's personal detective - to discover the real significance of this strange wartime cargo.
As the storm gathers around them, Pekkala, together with his assistant from the shadowy Bureau of Special Operations, soon find themselves on the path of the most formidable art thieves in history.
Those real target is a secret and prized possession of the Romanovs, once considered to be the eighth wonder of the world.
But as the Soviet Union crumbles in the face of the advancing cataclysm, and the chaos of war is everywhere, Pekkala realizes that to protect the Tsar's treasure he must break through enemy lines. His desperate mission is to outfox the German invaders, or face the wrath of Stalin himself.
Information
Format: Paperback
Pages: 384 pages
Publisher: Faber & Faber
Publication Date: 07/02/2013
Category: Crime & mystery
ISBN: 9780571278459
Free Home Delivery
on all orders
Pick up orders
from local bookshops
Reviews
Showing 1 - 3 of 3 reviews.
Review by adpaton
16/06/2015
Set during the Nazi invasion during the Second World War, The Red Moth is the fourth in the series featuring Inspector Pekkala, former confidante of the Tsar and now Stalin's special investigator. Pekkala is sent behind enemy lines to Tsarskoye Selo, where he grew up, to rescue the famous Amber Room from the Catherine Palace before the rampaging Germans can steal it for Hitler's enormous looted art collection. The horrors of war and the down-the-rabbit-hole qualities of Stalinist Russia with its paranoid uncertainly are well described by Eastland in an exciting and fascinating take on one of the unsolved mysteries of the art world.
Review by john257hopper
27/08/2015
This fourth novel in the Inspector Pekkala series contains the same flaws as its predecessors. The main characters and overall situation just fail to convince and these are not well written novels. The central plot around the loss of the artistic masterpiece of the Amber Room is based on real events, but given the overwhelming existential threat posed by the Nazi invasion of the Soviet Union, it is difficult to see events around its capture playing the central role they do here. A bit of a shock ending though, which is probably enough to drag me onto reading the next one, more or less against my will. Heigh ho. 2/5
Review by labdaddy4
16/06/2015
I have read all of Eastland's inspector Pekkala books and this was my favorite. This was not nearly as dark and gloomy as each of the previous works. The addition of so much history adds to the story for me. This was more like a "straight-up" mystery novel using the backdrop of WWII & the Soviet Union under Stalin. I have always enjoyed a mystery/thriller novel that uses accurate historical fact as the backbone. The author leaves the story without a firm conclusion and obviously calls for another Pekkala novel. This is a rather trite and overused device but since I like the author and his characters - I guess it is OK :)
Also in the Inspector Pekkala series | View all