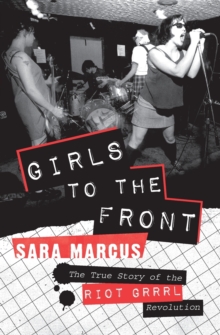 Girls to The Front: The True Story of the Riot Grrrl Revolution
Paperback
Description
At the beginning of the 1990s, the Senate didn't believe Anita Hill, Rush Limbaugh compared feminists to Nazis, and a study found that girls tended to start hating themselves during adolescence.
It was a hard time to be a young woman, to be growing up on promises of equal rights that didn't square with reality.
Sexual assault rates reached record highs; harassment was rife in the schools; and, boys still would be boys, and girls still had to watch what they wore and where they walked.
It was enough to make a girl want to scream. Riot Grrrl roared into the spotlight in 1991: an uncompromising movement of pissed-off girls who had no patience for sexism, no stomach for double standards, and no intention of keeping quiet.
Incendiary punk bands - like Bratmobile, Heavens to Betsy, and above all Bikini Kill, fronted by the magnetic, prophetic Kathleen Hanna - spread the word.
Thousands of riot grrrls published handmade magazines, founded local groups, and organised conventions.
The movement spread from its birthplaces of Washington, D.C. and Olympia, Washington, to the Midwest, Canada, Europe, and beyond. "Girls to the Front", the first-ever history of Riot Grrrl, is a gripping narrative with a sound track: a lyrical, punk-infused chronicle of a group of extraordinary young women coming of age angrily, collectively, and publicly.
It's the story of a time when America thought feminism was dead, and feminism seemed to buy into the slacker myths of Generation X, but a generation of noisy girls rose up to prove everybody wrong.
Above all, it's a story about looking for your place in the world - and finally creating it yourself.
Information
Format: Paperback
Pages: 384 pages
Publisher: HarperCollins Publishers Inc
Publication Date: 28/09/2010
Category: Punk, New Wave & Indie
ISBN: 9780061806360
Free Home Delivery
on all orders
Pick up orders
from local bookshops
Reviews
Showing 1 - 3 of 3 reviews.
Review by superblue
16/06/2015
This book, as the title indicates, is a history of the Riot Grrrl movement from its roots to its influence that continues to drive many young women, women musicians, and women working within the DIY arena.I have never read a book that is so absolutely relevant to my life, that tells MY story. But that is what this book does. It describes the movement, putting it into context, offering the confluence of many cultural conditions that came to bear on the formation of a small, disorganized group of artists, musicians, activists, students, and others which came to be called Riot Grrrl. There are interviews with some of the main players of the riot grrrl movement, indie record label execs, zine writers, and many many more about their memories of the movement, lessons learned, shortcomings of the movement, positives that emerged, and so much more. Marcus's writing voice is clear, articulate and never wrapped in complicated academic jargon. She is the perfect narrator, pulling everything together in a way that is not overly confusing nor interested in idolizing the figures involved. She writes not just the facts, but is able to extrapolate the meanings and messages behind the media's twisted and inaccurate portrait that spun the tiny movement much the same ways as the women's rights movement of the 1970s.As I wrote, this book was specifically meaningful to me as someone who was peripherally involved in riot grrrl, writing zines, going to see bands, putting together DIY projects, and discovering a way to talk about the world I experienced it as a young woman coming of age in the 90s. Will it be interesting to someone who was not involved? I have to say that if you have any interest in social movements, the history of underground music and printing, feminism, creativity, art, and what it takes to be a female musician, then yes, this book will interest you.
Review by allison.sivak
16/06/2015
This read in a real 'multi-voiced' way. I liked how Marcus showed numerous viewpoints and had a light touch about having to 'persuade' this reader that one of them was right.
Review by eenee
16/06/2015
interesting topic marred by totally cheesy writing.