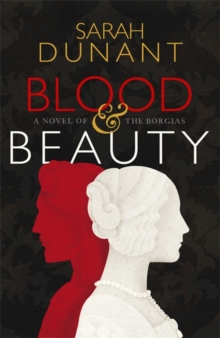 Blood and Beauty
Hardback
Description
Acclaimed novelist of the Italian Renaissance Sarah Dunant now takes on the era's most infamous family: the Borgias.
By the end of the fifteenth century, the beauty and creativity of Italy is matched by its brutality and corruption, nowhere more than in Rome and in the Church.
When Cardinal Rodrigo Borgia buys his way into the papacy as Alexander VI, he is defined not just by his wealth or his passionate love for his illegitimate children, but by his blood: he is a Spanish Pope in a city run by Italians.
If the Borgias are to triumph, this charismatic, consummate politician with a huge appetite for life, women and power must use papacy and family to succeed.
His eldest son Cesare, a dazzlingly cold intelligence and an even colder soul, is his greatest - though increasingly unstable - weapon.
Later immortalised in Machiavelli's The Prince, he provides the energy and the muscle.
His daughter Lucrezia, beloved by both men, is the prime dynastic tool.
Twelve years old when the novel opens, hers is a journey through three marriages: from childish innocence to painful experience, from pawn to political player. Stripping away the myths around the Borgias, Blood & Beauty is a majestic novel that breathes life into this astonishing family and celebrates the raw power of history itself: compelling, complex and relentless.
Information
Format: Hardback
Pages: 544 pages
Publisher: Little, Brown Book Group
Publication Date: 02/05/2013
Category: Historical fiction
ISBN: 9781844087426
Free Home Delivery
on all orders
Pick up orders
from local bookshops
Reviews
Showing 1 - 1 of 1 reviews.
Review by tandah
16/06/2015
I was given this book by the organisers of the Sydney Writer's Festval in 2013, as part of the gift bag they gave their volunteers. I need to say at the outset, this is the type of book I tend to steer clear of - I prefer contemporary (or at least C20) and I font like BIG books because they're uncomfortable to hold in bed and I tend to get bored with them half way through. However, I heard a Sarah Dunant interview on ABC RN, she is a very good promoter of her books and I got caught up in wondering who the. Borgia's were - especially Lucrezia, and so I dove in.This is what I liked - learning about the nature of the times: the lifestyle, clothes, colours and smells. The power and political intrigues of the families and church - it's difficult to draw comparisons with anything but the mafia. Actually , it's like the strongest family ends up running the church (though Christendom at this time ~1500, seems to be centred around Italy, Spain and France. I like how historical facts are swept into the story - syphillis and, sorry to put them in the same sentence, Michangelo and DaVinci.I liked the story - the Borgia', they have a reputation that doesn't seem to line up with the times, and what they actually did. I got pulled into the story though everything was signalled before it happened, I just kept hoping it wouldn't happen. I cheered our heroine and booed the baddie (Cesare was a sociopath) and found the godfather! I mean Pope Alexander a big lump of fatherly love (cept he only really loved his immediate family and mistress, everyone else was either a pawn or the enemy). Forgot to forget, there was open papal fornication during this period, just no wives.What I didn't like ... 528p too long - the middle section groaned, but fortunately picked up a pace the last 150 pages. Also, sometimes the language was so contemporary it was jarring, just didn't fit the times - whilst none of the characters ever actually said 'awesome', sometimes their words had the same effect.Whilst it's unlikely I'll read any of Sarah Dunants other books, if she writes a sequel (and I think the ending of this book points to one) I'll read it because the research is amazing and I want to find out more about Lucrezia (as well as reading hopefully that Cesare had extended periods of pain and misery before his death).