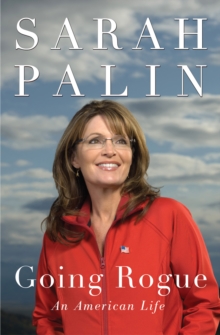 Going Rogue: An American Life
Hardback
Description
From her humble beginnings to her time in the spotlight as the first female Republican Vice Presidential candidate, Sarah Palin has led an extraordinary life. "Going Rogue" will recount her political experiences, her time as Mayor of Wasilla and as the first female governor of Alaska, as well as her rapid rise on the national stage during the 2008 campaign.
Additionally, she'll share insights into the personal challenges she's faced including balancing her time as a working mother, recognising the war's impact with her son serving combat in Iraq, having a child with a disability and supporting her teenage daughter through an unplanned pregnancy.
Palin has received much attention through the media, but never before has her complete story been told in her own words.
The memoir will be both a personal and political chronicle of her life.
Information
Format: Hardback
Pages: 432 pages
Publisher: HarperCollins Publishers Inc
Publication Date: 17/11/2009
Category: Memoirs
ISBN: 9780061939891
Other Formats
Paperback from £8.65
eAudiobook MP3 from £8.39
EPUB from £5.49
Free Home Delivery
on all orders
Pick up orders
from local bookshops
Reviews
Showing 1 - 5 of 17 reviews.
Previous | Next
Review by Tommie1
16/06/2015
I am not big on reading about other peoples lives, however there are some interesting things that handcuffed Sara during her campaign for VP. She raises good points about protocol, or this is the way we do it.
Review by hermit
16/06/2015
This seemed to be more of a memoir than an autobiography but it gives us a quick introduction to Sarah Palins' life in Alaska growing up, how she met her husband. She seems to be very open about her family and friends. You can tell by the writing style that Mrs. Palin wrote the book herself as the structure is in her conversational tone and not that of a professional biographer that many use and claim as their own writing. I found this rather refreshing. She shared with us those who had influenced her and assisted her in personal and political life. An interesting story of an American that saw a job that needed to be done and accepted the challenge.Sarah Palin shares her drive to help her community that first got her into local politics that would eventually take her into the Governor's mansion of Alaska and then the campaign trail as candidate for the Vice President of the United States on the McCain/Palin ticket. Her competitive no non-sense spirit and practical view of life is one many Americans can relate too. Her record as Mayor and Governor speak for themselves and she does write about how she was able to move through some of her policies for the benefit of the people she governed. But for a quick synopsis of her accomplishments as Governor she allows a rather forthright letter written by an Alaskan Citizen to itemize her gubernatorial accomplishments.Besides the focus on her family and her ethics what I found very interesting about this book was the behind the scenes look at the national political scene and what transpires to those even when they think they are out of the lime light. The affects on Palins' political and family life that a national election can elicit were amazing. It is not that the reader is not already aware of how the media and certain individuals are not ethical and only know how to destroy persons instead of debate policy; but we see all the affects on a person who is doing all she can to help.The false allegations that were used to attack her on the campaign trial and when it was over and she tried to return to governing the state. The unethical attacks on her in an ever mounting filing of ethic violations that would cost her more in legal fees than she had ever earned in public office to defend. And to me what makes it worse is that not one filing was a valid complaint, she was found to be free of all wrongdoing and it was she that promoted the ethics procedures. Which as we read apply in Alaska only to the executive branch with no punishment for those who file false claims.I thoroughly enjoyed reading the book and found that she was just another hard working faith-filled American. But the greater truth of the book in my opinion is it shows why good people will not run for political office. It is amazing that people like Sarah Palin and Bobby Jindal, Governor of Louisiana, are willing to go through all these unjust attacks and false allegations for the good of their constituents. It is a tribute to their strength and sense of duty even if that includes knowing when to step down.
Review by DeaconBernie
16/06/2015
Well, an idiot she is not. Indeed, it is astonishing to recollect in just a few days while reading this book, the mud that was flung at Sarah Palin.Baffling to me, especially after reading her book, was why she took the crap, both from the opposition as well as her own "headquarters." It just seems so out of character. Certainly, there is room for a Woodward and Bernstein investigation of "headquarters." It seems almost as if there was an intentional undermining of the qualities this candidate could put forth.At best, this book is an attempt to answer so many things that went unanswered between her nomination August 29 and the election. Yes, it is self-serving, but since nobody else has come forth to tell her side of the story, I'm glad she did.One cannot fail to ask is she an anomoly or is she the beginning of the future? I believe many would hope the latter but so far she is alone. I can understand why the GOP has had little to say and I can understand while the Democrats and the Liberals continue to vilify her, but it seems to me that there ought to be more of a groundswell behind her and her thinking. It may be that she will continue to be in politics and may even attain additional elective office; it may also be that by 2012, she will have left the national scene. One thing is clear, she needs help from us ordinary citizens.
Review by aarrott
16/06/2015
As this book abundantly shows, Palin continues an oft-repeated American story: The authentic leader rejected as country bumpkin by entrenched gatekeepers of a prevailing social-political order. Her story is so reminiscent of Andrew Jackson, Abraham Lincoln, and Ronald Reagan that one wonders what greatness lies ahead for both her and the country she serves. (If you are of the inclination to judge people by their choice of quotations of others, the quotes in this book alone indicate that Sarah Palin's mind is well-centered, incisive, and no-nonsense. )
Review by NightHawk777
16/06/2015
This was a good read. It started a little slow, beginning in her early childhood. Once she gets on a town council, then it gets interesting. When the last presidential campaigns were going on, and she entered the stage, it was a moment to remember. Ever after that, I wondered, what happened to the Sarah Palin from that first time when she accepted to run as VP? When you get to the sections regarding the 2008 campaign, you will see. There are also a lot of responses to what I consider an unbelievable amount of garbage being thrown at Sarah, and even worst, her family, kids, grandkids.I believe this is where a lot of sympathy comes from for Sarah Palin. She doesn't seem to complain about it. But we all see it. Really now, didn't Pres. Obama have his kids out there? Didn't McCain? What about Joe Biden? But I don't recall the press going after these others kids. It's really inexcusable, imo. I could see this book irritating both die hard Republicans and Democrats. I thoroughly enjoyed it.