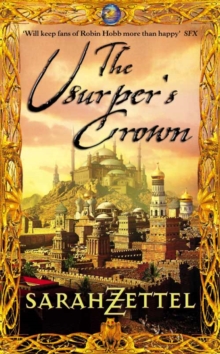 The Usurper's Crown
Paperback
Description
The second volume in a stunning fantasy trilogy set partly on the shores of Lake Superior in the 19th century. When Ingrid Loftfield follows her sister out of the house in order to discover the reason for her nighttime excursions, she has no idea that this short walk to the beach will lead her to another world entirely.
As the daughter of a fisherman on the shores of Lake Superior, her life has so far been unremarkable -- the most difficult problem she has faced is whether or not to marry the dependable but unexciting Everett Lederle. But when a stranger releases her sister, Grace, from an enchantment by a dead sailor, Ingrid is initiated into a world of magic and intrigue she never could have imagined.
For the stranger, Avanasy, is a native of Isavalta, a world which can only be reached by crossing the land of Death and Spirit.
He has been exiled by his ruler, and erstwhile student, the young Empress Medeoan.
But Avanasy remains loyal to his Empress, and only he is aware of the grave threat she faces from within her own court.
If she needs his assistance he will return to her side without a moment's hesitation -- and Ingrid will go with him.
Information
Format: Paperback
Pages: 640 pages
Publisher: HarperCollins Publishers
Publication Date: 05/01/2004
Category: Science fiction
ISBN: 9780007114023
Free Home Delivery
on all orders
Pick up orders
from local bookshops
Reviews
Showing 1 - 3 of 3 reviews.
Review by Lman
16/06/2015
In this second instalment of the <i>Isavalta</i> trilogy the reader now travels back to the events alluded to in the first book and which formed the basis of that story. <i> The Usurper's Crown</i> responds to, and answers, many of these issues constantly touched upon but not resolved satisfactorily, to my mind at least, in <i>A Sorcerer's Treason.</i> The storyline alternates between events in the kingdom of Isavalta and the shores of Sand Island, Wisconsin; in the former the sorcerer Avanasy has been banished by the High Princess Medeoan and thus exiles himself to the relative safety of the latter. As the conspiracies in the affairs of the court in Isavalta develop, at the same time we are introduced to Ingrid Loftfield and her family, a world away. Ingrid's life, as the oldest daughter of a fisherman's family in Eastbay, is fairly unremarkable and her only concern has been whether to accept a neighbour, Everett Lederle, as her husband. When her sister Grace becomes under thrall to a ghost and is rescued by Avan, the new man in the community, Ingrid's sensibilities are upturned and her life forever changed, as she ties herself irrevocably to the destiny of this man she comes to love. Despite both Ingrid and Avanasy desiring nothing more than to build a simple life together as a married couple, consequences in both worlds conspire against them, and result in Ingrid accompanying Avanasy back to Isavalta in a desperate bid to save Medeoan and her empire.The interesting thing I found about this book was that, even though I already knew what was to occur – disclosed in the first book – I still needed to know more as the story unfolded. I wanted the particulars; I required causes and consequences be enlarged, despite already knowing the upshot, and I still hoped that maybe the final outcome could change from what was first revealed. I found I was muttering to myself as I read: 'ooh-ing and ah-ing' as my suspicions were confirmed and important details of the story finally clarified. Nevertheless there is more to unveil. Now enlightened and up-to-date with the origins of Bridget's life, and to her plight at the end of the first book, there are many more questions still needing to be answered – and no more foretelling with which to tantalise and torment. Except for Baba Yaga, and the Vixen, and…so many more. Sarah Zettel again creates a clever, interesting and vibrant world of fantasy. The dramatic descriptions of the powers and sorceries availed in this world offer a unique viewpoint and an alluring stance in this rich and flamboyant tale. Quite exceptional and decidedly distinctive; I look forward immensely to the last book.
Review by shanaqui
16/06/2015
Interesting, but I couldn't have as much sympathy for some of the characters, given the events of A Sorcerer's Treason.
Review by LemurKat
16/06/2015
I read the first book in this series a goodly many years ago, and the second and third have been sitting on my shelf ever since. The second is set before the first, giving the backstory behind Bridget, the protagonist in book one: The Sorcerer's Treason (which I am re-reading now) as such it seems a strange book to have as number #2 in the series. Ultimately, reading them around the other way makes more sense - although perhaps it spoils a few of the twists in the first one? I cannot remember, I shall let you know when I review #1 at a later date.<br/><br/>Usurper's Crown is a massive book - vastly dwarfing the relatively slender book three. All have beautiful covers and are written in deliciously evocative prose. The characters are well described and well developed. The politics are intricate and interesting and the plot seems to be very well thought out. All in all, an excellent piece of political fantasy, which sits well with the likes of Robin Hobb.
Also in the Isavalta Trilogy series