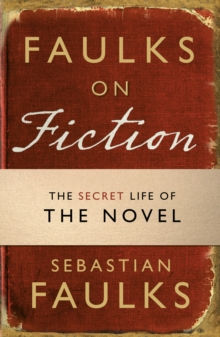 Faulks on Fiction
Hardback
Description
The publication of "Robinson Crusoe" in London in 1719 marked the arrival of a revolutionary art form: the novel.
British writers were prominent in shaping the new type of storytelling - one which reflected the experiences of ordinary people, with characters in whom readers could find not only an escape, but a deeper understanding of their own lives.
But the novel was more than just a reflection of British life.
As Sebastian Faulks explains in this engaging literary and social history, it also helped invent the British.
By focusing not on writers but on the people they gave us, Faulks not only celebrates the recently neglected act of novelistic creation but shows how the most enduring fictional characters over the centuries have helped map the British psyche - through heroes from Tom Jones to Sherlock Holmes, lovers from Mr Darcy to Lady Chatterley, villains from Fagin to Barbara Covett and snobs from Emma Woodhouse to James Bond.
Accompanying a major BBC series, "Faulks on Fiction" is a compelling and personal take on the story of how the dazzling creations of novelists helped shape the world we live in. Characters included in the book are: Heroes - Robinson Crusoe, Tom Jones, Becky Sharp, Sherlock Holmes, Winston Smith ("1984"), Jim Dixon ("Lucky Jim"), John Self ("Money"); Lovers - Mr. Darcy, Heathcliff, Tess of the D'Urbervilles, Lady Chatterley, Maurice Bendrix ("End of the Affair"), Anna Wulf ("The Golden Notebook"), Nick Guest ("The Line of Beauty") Snobs - Emma Woodhouse, Pip ("Great Expectations"), Charles Pooter ("Diary of a Nobody"), Jeeves, Jean Brodie, James Bond, Chanu ("Brick Lane"); and, Villains - Richard Lovelace ("Clarissa"), Fagin, Count Fosco ("The Woman in White"), Steerpike ("Gormenghast Trilogy"), Ronald Merrick ("The Raj Quartet"), Jack Merridew ("Lord of the Flies"), and Barbara Covett ("Notes on a Scandal").
Information
Format: Hardback
Pages: 384 pages, Illustrations
Publisher: Ebury Publishing
Publication Date: 27/01/2011
ISBN: 9781846079597
Free Home Delivery
on all orders
Pick up orders
from local bookshops
Reviews
Showing 1 - 1 of 1 reviews.
Review by AdonisGuilfoyle
16/06/2015
Even though I have only read one novel by Sebastian Faulks - the overrated and cliche-ridden <i>Birdsong</i> - I did enjoy watching <i>Faulks on Fiction</i>, the television doumentary on British novels and characters that he presented for the BBC a while back. Not only did he feature some of my favourite novels, including two by Jane Austen and Thackeray's <i>Vanity Fair</i>, but I was also influenced to read two new and very different titles - <i>The End of the Affair</i> by Graham Greene and <i>Tess of the D'Urbervilles</i> by Thomas Hardy. I didn't enjoy either, but I have Sebastian Faulks' enthusiastic discussion of both to thank for prompting me to look Greene and Hardy up in the first place!The book of the series is less encouraging, in that Faulks presents more negative than positive aspects of his chosen stories, and also completely gives away the plots, or the most dramatic events, of each. For the novels I have read, however, I thoroughly enjoyed and agreed with Faulks' interpretation. Primarily, his essay on Austen's <i>Emma</i> is a thoughtful, positive, emotional and utterly personal defence and recommendation of what he calls a 'close to perfect' novel and the lively, intelligent heroine at its heart. (He is a bit rough on poor Knightley, but then, he also calls Mr Darcy a depressive, so his judgement seems fair!) I think I shall photocopy the chapter on <i>Emma</i> from the 'Snobs' section, and quote liberally in response to future reviews which slate the wealthy Miss Woodhouse for looking down her nose at Robert Martin. Social status <i>does</i> matter, as Faulks points out, and Emma also has many generous characteristics to balance her youthful, narrow view of society. Then there is the building romantic tension between Emma and 'crusty' Mr Knightley - Faulks' insight into both heroine and hero made my heart flutter on occasion. 'Emma is a cleverer and more interesting person than Knightley, with access to a dynamic range of thought and feeling beyond his scope,' the lovestruck lecturer gushes at one point; 'when she is his age, she will be as wise as he is, but more engaged with life.' Knightley will need to 'catch her when she has just grown into him, but before she grows out of him'. Faulks also describes Knightley's honest and spontaneous declaration of love as 'the most moving scene that Jane Austen ever wrote, and it is Mr Knightley's humble recognition of his own failings as well as of Emma's life-giving qualities that make it so'. For that contribution, and that alone, Sebastian Faulks won me over.The rest of the character studies were hit and miss for me (probably because I have only read one each of the chosen 'heroes' and 'villains' novels , four out of seven of the 'lovers', and three of the selected 'snobs'). I share the same fears for Lizzie's future with Darcy in <i>Pride and Prejudice</i>, can read <i>Wuthering Heights</i> for what it is, not what people think it is, and admire Becky Sharp of <i>Vanity Fair</i> without necessarily liking her. I once had a massive literary crush on the slightly sinister 'gentleman's gentleman' Jeeves, and I still think that Pip's display of snobbery in <i>Great Expectations</i> is far more painful to read that Emma Woodhouse forgetting herself for a moment on Box Hill. But as for the rest? Faulks has probably dissuaded me from ever opening the cover of <i>Lady Chatterley's Lover</i>, <i>Clarissa</i>, or <i>The Raj Quartet</i>, and once is enough for <i>The Woman in White</i>, too.The accompanying book to Sebastian Faulks' entertaining documentary is subjective, yet intelligent and accurate (apart from when he is plugging his own sequel to Fleming's James Bond novels). I am of the same mind about reading too much of the author into works of fiction, and also object to being told which character I am supposed to like or hate. Faulks made me laugh when describing the 'strange snorting noises' he found himself making at the end of <i>David Copperfield</i>, and his childish reading of Dr Watson's frequent 'ejaculations' in Conan Doyle's Sherlock Holmes elicited a snort or two of my own (oh, come on, admit it). But reader beware - don't come late to Faulks' one-man book club if you haven't done your homework. He is reviewing, not recommending, the titles on the list.