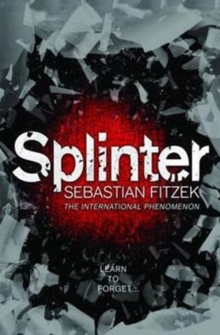 Splinter : A Gripping, Chilling Psychological Thriller
Paperback
Description
Marc Lucas had it all, and lost it all. He is only slowly putting his life back together after the car crash that killed his pregnant wife, when things start to go strangely wrong for him.
Nothing too sinister to begin with: his credit cards stop working.
But then his key no longer fits his door, and he discovers someone else working in his office.
Much worse is to come: he comes home to find himself face to face with his once-dead wife, and she doesn't have a clue who he is.
The next day, there is no trace of her. Could this have anything to do with the clinic? They wanted to test their ability to remove traumatic memories from live subjects.
Marc had met them, just once, but declined their experimental technology.
He now fears they may have begun their tests illicitly...Can he discover just what is happening to him before the waking nightmare he finds himself living overwhelms his sanity?
Information
Format: Paperback
Pages: 320 pages
Publisher: Atlantic Books
Publication Date: 01/04/2011
Category: Thriller / suspense
ISBN: 9781848876958
Free Home Delivery
on all orders
Pick up orders
from local bookshops
Reviews
Showing 1 - 2 of 2 reviews.
Review by bibliobeck
16/06/2015
This book had me gripped from chapter to chapter as each ended in a cliffhanger. I was dying to find out what was happening as reality appeared to jump forward and backward and morph all around. The ride felt exhilarating for a while, but as we got to the end... I've never felt so let down! I didn't understand the level of deception once the motive was revealed. It felt like the author had a great concept for a book, a mystery memory experiment, but was too lazy to think of a reason for the experiment. Very disappointing. The two stars are for keeping me gripped along the way, but oh that ending...such a disapointment.
Review by AlexDraven
16/06/2015
Bewildering, disorienting, but a page turner. The narration from POV of character who doesn't remember, and the author seems to deliberately blur what's real and what's perception, so it's fairly confusing, but very effective at pulling you in. The ending though - complete disappointment, bleeding out all the tension and interest. (Translation seems clunky to me – one step below 'plain' thriller prose. "Ironical" – really?! ) Overall, quite sad, bleak ( think the epilogue is supposed to make it less bleak, along with the newspaper cuttings used to wrap up the loose ends, but – didn't really do it for me, especially after that reveal!