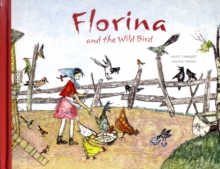 Florina and the Wild Bird
Hardback
Description
Florina lives in a valley in the Swiss Alps with her mother, father and brother Ursli.
One day, while walking in the mountains, she finds a tiny bird who has lost its mother and takes it home to care for it.
Florina and the wild bird soon become best friends -- she makes food for it using her dolly tea-set and gives it a special basket to sleep in. When the bird grows up, its wings get bigger and it wants to fly.
Florina must decide whether to keep the bird with her or release it back into the mountains. This is another beloved Swiss children's story from the illustrator of A Bell for Ursli.
Information
Format: Hardback
Pages: 32 pages, colour illustrations
Publisher: Floris Books
Publication Date: 22/01/2009
Category: Picture storybooks
ISBN: 9780863156816
Free Home Delivery
on all orders
Pick up orders
from local bookshops
Reviews
Showing 1 - 2 of 2 reviews.
Review by gundulabaehre
16/06/2015
At the beginning of summer, Florina, her brother Ursli and their parents leave their village home in the Engadine valley of Switzerland to spend the summer months at their alpine chalet on the mountain meadows. They take along their entire household, including goats and chickens, so that the livestock can feast on the succulent alpine grasses and herbs; the village is home in fall and winter, but the entire summer is usually spent on the mountain. One day, Florina rescues a young black grouse from a hungry fox (the fox manages to grab the mother grouse, but Florina rescues her chick). Although the bird soon becomes attached to Florina (who not only feeds it, but also protects it from danger, such as hawks), it soon becomes apparent that, as a wild bird, the grouse misses its freedom, that it is unhappy being confined. Will Florina be able to do the right thing and set it free?Both emotionally engaging and evocatively illustrated by Alois Carigiet, <u>Florina and the Wild Bird</u> is not only a sweet, loving tale of a friendship between a little girl and the wild bird she rescues (as well as the difficult choice Florina must make when it becomes apparent that her bird is better suited for life in the wild), the story is also an informative account of what summer used to be like in the mountain valleys of Switzerland (how Swiss farmers, Swiss goatherds would spend their summers on the mountain meadows with their animals, and then descend into the valley villages for the fall and winter seasons). While the text is poetical and rhythmic, the rhyme scheme, the cadence, even the choice of words used are (unfortunately) rather halting, stilted and slightly off-kilter at times (to the point of distraction even). This is likely due to the fact that <u>Florina and the Wild Bird</u> is a translation of the German <u>Flurina und das Wildvöglein</u> and translating poetry is often notoriously difficult, sometimes even nigh impossible. However, <u>Florina and the Wild Bird</u> is actually a translation of a translation, for the German version is, in fact, a translation of the original Romansch text (I believe that the Romansch text was translated into German by author Selina Chönz herself, but I am by no means certain of that, as I have not been able to locate a copy of the original Romansch version of the book). And even the German text often reads awkwardly, with the rhyme scheme feeling decidedly artificial at times (and some of the vocabulary used appears very old-fashioned, very dated, I am actually wondering if some of the words might even be considered Swiss German dialect). Thus I am not at all surprised by the fact that the English translation has seemingly augmented these problems, that much of the English text feels even more disjointed and halting than the German text. Be that as it may, <u>Florina and the Wild Bird</u> is still an enchanting, poetical experience, albeit one that does tend to be somewhat jarring on one's sense of cadence and rhythm.Another minor issue I have with <u>Florina and the Wild Bird</u> is more content-based, and probably rather a personal issue. I honestly do not like how the author (and by extension the translators) describe the fox that attacks and snatches the mother grouse as somehow malevolent, even monstrous. A fox is a carnivore, it snatches birds not out of maliciousness, but in order to eat. There is nothing problematic or evil about that, it is simply a law of nature. The fox is thus not, as Florina screams "a horrible wretch" but simply a carnivorous animal hunting for its meal. Perhaps I am being somewhat too analytical and critical here, but foxes do tend to have a rather sinister reputation in Western European culture, and the description and even the illustration of the fox as sly and malicious (although do I realise that this is tradition) does tend to rub me the wrong way. However, <u>Florina and the Wild Bird</u> is still a delightful picture book story, and one I would not hesitate to recommend to children who enjoy illustrated animal stories or who are interested in Switzerland (or more specifically, what Swiss farming life used to be like in the Engadine valley and other areas of the country).
Review by AbigailAdams26
16/06/2015
The second of three Alpine picture-books to combine the verse of Romansch-Swiss poet Selina Chönz, and artist Alois Carigiet - the first being <u>A Bell for Ursli</u>, the third <u>The Snowstorm</u> - <u>Florina and the Wild Bird</u> follows the story of a young girl, sister to Ursli, who rescues and cares for a wild bird, when its mother is killed by a fox. Determined to keep her charge safe, Florina takes great care, ensuring that it is well fed, and safe from predators. But soon her protection becomes stifling, and the bird begins to long for its freedom. Will Florina be willing to let it go...?Although I appreciated the story itself, with its incorporation of the theme of letting wild creatures live free, the actual text of <u>Florina and the Wild Bird</u> was painfully awkward, with a rhyming scheme that didn't always work, and more than a few stumbling points, in its rhythm. Although I gave this three stars, like its predecessor, <u>A Bell for Ursli</u>, I think that, overall, I enjoyed it less than the earlier book. The notable exception to this (and the reason I opted for three stars, rather than two) would be Alois Carigiet's illustrations, which seemed more colorful here, and far more appealing. Definitely one that fans of the artist should check out, as well as any young reader with an interest in Swiss children's stories.