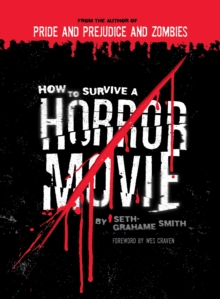 How to Survive a Horror Movie
Paperback
Description
This is an illustrated guide to surviving every kind of horror movie obstacle, from axe-wielding psychopaths to haunted Japanese VHS tapes.
With information covering every major horror movie of the past three decades, it deals with ghosts, serial killers, haunted cars, killer pets, creepy Japanese children, snakes on a plane, and more!
This book shows you how to survive a horror movie which will appeal to horror fans of all ages.
Information
Format: Paperback
Pages: 176 pages, 30 two-colour
Publisher: Quirk Books
Publication Date: 23/05/2007
Category: Films, cinema
ISBN: 9781594741791
Free Home Delivery
on all orders
Pick up orders
from local bookshops
Reviews
Showing 1 - 5 of 5 reviews.
Review by TeenBookReviews
16/06/2015
Do the teachers at your school seem mysteriously unemotional? Do werewolves and zombies plague your nights? Has a murderous mental patient escaped the local maximum security sanitarium? If so, you might be stuck horror movie. Now what do you do? Find this book and read it. The rules to follow for maximum survivability in any horror genre are presented in a simple, amusing format. So grab a pen and get ready to take notes. One of the most amusing books I've read in a very long time. Anyone who enjoys horror films should be entertained and informed by this book and I would highly recommend it for readers who enjoy the horror genre. Anyone looking for an entertaining read on surviving the Terrorverse pick up this book. Recommended for older readers (this book is most amusing if you have actually seen some horror movies).
Review by rampaginglibrarian
16/06/2015
Fun book about what to do in those stock horror movie situations (how to tell if you are actually in a horror movie, how to stall a psychopathic serial killer, distract a vampire, outrun a zombie, etc.) One caveat--it must be a horror movie you find yourself in and not an encounter with a real fright night creature.
Review by nocturnewytche
16/06/2015
A fun book to read. It really ties in the ideas of some amazing horror movies and makes you laugh. It has some fun information and is tied together neatly. If you're a fan of horror movies you'll get such a kick out of this that you may find yourself referencing it as well. For me, it was a great read that made me laugh and share it with others! Fun fun fun!
Review by LibraryCin
27/01/2016
What would you do if you ever found yourself trapped in a horror movie? First, you must determine that you ARE in a horror movie, then determine what subgenre of horror it is (and Grahame-Smith helps with all of this). Then, he has all kinds of tips that will help you make it all the way to the end credits (then you just have to hope you don't end up in a sequel!). This was hilarious!!! I found myself smiling, giggling, laughing, and even nodding in agreement! It's a quick read. I was reading the ebook ; there were a few cartoon illustrations here and there, and I would be curious to know if they are in colour in the print book. It would have been nice to see them a bit larger, as well, but it didn't take away from the hilarity of the rest of the book! So much fun!!
Review by MashaK99
16/06/2015
Great fun all around. I'm not a horror movie fan, but have seen/heard enough to appreciate all the references. One warning: this is a PG13 rated book, with references to sex and an occasional dirty word, so use discretion when giving it to your kids to read. The only reason I'm not giving it 5 stars is because it's really too easy to make fun of the genre. When rating humor, I reserve highest rating for writers who make fun of things that are not normally funny (P.J. O'Rourke is a stellar example, and to a lesser extent Dave Barry).