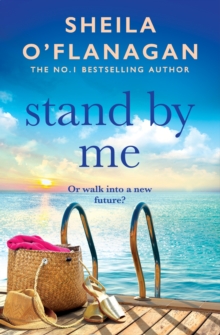 Description
When her husband vanishes, Dominique Delahaye could crumble - or she could start to enjoy a whole new life...An unputdownable read from No. 1 bestselling author Sheila O'Flanagan. Dominique ('Domino') lives a charmed existence as wife to one of Ireland's most successful businesssmen, Brendan Delahaye - until the day Brendan disappears, leaving his company in disarray and Domino and their daughter alone to face the music.
STAND BY ME is the story of Domino's recovery and her journey from obliging and dependent wife to a stronger and happier woman, with a new man ready to step into the gap left by her deserting husband. And that's when Brendan comes home, handsome and charismatic as ever, expecting life to carry on just as it was before...
Information
Format: Paperback
Pages: 608 pages
Publisher: Headline Publishing Group
Publication Date: 14/04/2011
ISBN: 9780755343843
Free Home Delivery
on all orders
Pick up orders
from local bookshops
Reviews
Showing 1 - 1 of 1 reviews.
Review by jolzyn
16/06/2015
If I were to use one word to describe this book, it will be "smooth". The story was told in a rather smooth way. It is about Dominique or domino from young till she married Brendan up to his betrayal. It was rather unusual though that from the synopsis, one would think that the story will focus on the after-math after Brendan went missing without any new but it was not so. The story started with the story of Dominique since young, her first meeting with Brendan, married and the life of her and her family after their shotgun married.There are some other interesting characters: Gabriel, Emma and Greg who is Brendan's brother and June and Barry. The love triangle between Gabriel, Emma and Greg are very interesting and the author manage to keep the suspend on bay as to the state of their relationship.I dislikes June's character at all. She is a selfish people who after Brendan leave abruptly has taken the liberty to blame Dominique for the state that they are in with I find it very unreasonable and would wish there was not as much scene of her in the rest of the book! :)It was towards the last quarter of the book that the conflict unveil itself. I hate to see that everyone is able to embrace him back after his abrupt disappearance and the way both Dominique and Kelly accepted him back make me feel so unfair for them.This book indeed a well scripted book that is easy to read and meaningful to those who struggle with low self esteem.