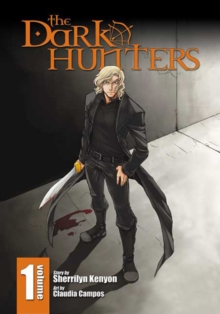 Dark-Hunter : Dark-Hunters v. 1
Paperback
Description
In the war against vampires, mankind has only one hope: The Dark-Hunters.
Ancient warriors who died of brutal betrayal, the Dark-Hunters have sworn themselves into the service of the goddess Artemis to protect us.
It's a pact with pretty good perks. Immortality, power, psychic abilities, wealth and a cool wardrobe.
But it comes with a few drawbacks: fatal sun poisoning and a new, irreparable dental problem.
But aside from the fangs and nocturnal lifestyle, it's not so bad.
Until Kyrian meets the most frightening thing imaginable.
An accountant who's being hunted by one of the most lethal vampires out there.
If Amanda Devereaux goes down, so does he and no offense, he doesn't want to die (hence the whole immortality thing). And he doesn't want humanity dead either which is a good thing for us since he and Amanda are all that stands between us and oblivion.
Let's hope they win.
Information
Format: Paperback
Pages: 208 pages, chiefly Illustrations
Publisher: Griffin Publishing
Publication Date: 31/07/2009
Category: Manga
ISBN: 9780312376871
Free Home Delivery
on all orders
Pick up orders
from local bookshops
Reviews
Showing 1 - 5 of 5 reviews.
Review by jshillingford
16/06/2015
WOW - I have to say I was astonished at how well done this manga is. I love Kenyon's Dark Hunter series of novels, and I was excited but hesitant about the prospect of them being adapted as manga (and not comics as many other bestselling series are, such as Anita Blake). Thought I love the full-color that comics come in, the black and white manga seems to flow better and allow the story to be equal to the art. First, this was an excellent adapatation. I had only intended to glance through it when it arrived yesterday, but instead found myself reading straight to the end! The Dark Hunter series has a lot of underlying mythology that is important to the storyline - in particular, Kenyon's twist on vampires. The manga managed to capture the key parts without losing the richness of the original novels. It also retained the humor found throughout the series. This volume adapts the first half of "Night Pleasures," and even though I already know how it ends, I can hardly wait for volume 2. This manga has a more noticeable amount of text due to the necessary backround information, but it was presented in a good way. Second, Kenyon was careful to stay true to manga's Japanese origins. The manga reads right to left, and according to her website the artist is Japanese, and subsequently so is the art style. The quality of the paper and printing is very high. I didn't notice any typos, and the text was clear even in the wordy sections. The art is fantastic. I love how the artist rendered the characters, especially Tabitha (goth chick). The characters have the quality many describe as anime (big eyes, expressive faces, teenage-looking). Though I liked it, it took some getting used to after reading the books and imagining them differently. I do wish the cover was a little more flashy (as volume 2's cover looks to be). Fans of the novels should really enjoy the manga, but newcomers unfamiliar with the series can also enjoy it. Though I recommend reading the books as well (because they are just so good!), the manga can stand alone and be enjoyed without the books. Highly recommended!
Review by Ieatbooks538
16/06/2015
interesting take on a very common and used plot line. I am a big fan og ancient greek myths and am a mythology minor student, it was really refresing to see some one incorperate these alrealy lovable char. into a new twist, =D refexshing, but a bit jumpy and fast paced char. proceed through plote quickly with out too much extra details all in all an interesting read, Ps some pretty funny one linneres and refferences to other moder books, and storys =D
Review by Cathy_Keaton
16/06/2015
I'll just say that I think Amanda is funny and there's more to her than meets the eye. She has a good reason for choosing to lead a normal, dull life. And, at first, I thought Hunter/Kyrian was just a bit too annoying as he tried to act so cool, saying "babe" every other page, but he seemed to stop that about halfway through the volume, thank goodness. In fact, he becomes far more likable in the second half when his past is revealed as to what drove him to become a Dark-Hunter.There is a lot of information crammed into this volume about the Greek gods and goddesses and the ancient Greeks and Romans. It all relates to these people who are gods living amongst us modern day humans. That concept is pretty cool, and the origin of these vampires is very unique. It might interest anyone into vamps just to discover how it all works in this series. But, all that info was overwhelming to me. It's probably easier to digest when reading the novel, since there's more room to go into.Still, I thought this manga was enjoyable and funny in many places. It was very romantic comedy-like, but with a dangerous edge. Hunter kisses Amanda several times (it can get SO corny), but they don't go beyond that. The art is splendid (drawn by Claudia Campos), so if you enjoy manga-style art, you'll get a feast for the eyes. If you love bishounen (Japanese for "beautiful boys"), you'll no doubt find a few to ogle other than Hunter/Kyrian, although, he happens to be the most ogle-licious one.My score: 3.5 out of 5 stars
Review by District13
16/06/2015
This is the graphic novel version of Sherrilyn Kenyon's book "Night Pleasures." I love the graphic novel concept of this book. Getting to see the characters in a more visual format is very intriguing. However, this is a very abridged, and incomplete version of the original book. It even starts the series at book 2, skipping completely over "Fantasy Lover," which was a big disappointment for me. The series itself also works the books in small bits, so Volume 1, is only about half of the original book, with Volume 2 possibly continuing the storyline. Overall, I would recommend the original books over the manga, even though it is definitely worth checking out the artist's rendering of the characters.
Review by vonze
16/06/2015
I really enjoyed this "sort-of" vampire graphic novel. I haven't read any of Sherrilyn Kenyon's novels prior to this, so from what I gather, her vampires are actually the soul-less servants of a Greek goddess? Four stars because the explanations of the vampire creation/backstory/mechanics was a little confusing for me as a first time Dark-Hunter reader. However, it probably doesn't help that I'm not big into Greek and Roman mythology. Someone who has read or studied a lot of mythology might understand better than I did.<br/><br/>Otherwise, the artwork and storyline was great. I'm on board to read the other Dark-Hunter graphics novel and the actual novels in the future. This volume had a lot of humor in it and good chemistry/witty banter between the hero and heroine. Unlike many graphic novels adapted from novels out there, I think this one stands on its own very well. The dialogue and action scenes were spot on for moving the story and pace along. I feel that the author and illustrator didn't assume that I have already read all the Dark-Hunter novels before, which I appreciate. I feel that's the way adapted graphic novels should be.