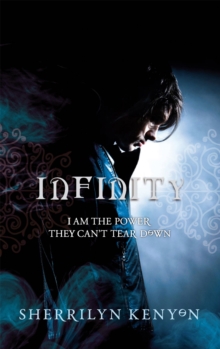 Infinity : Number 1 in series
Paperback
Description
Teenager Nick Gautier thinks he knows everything. Streetwise, tough and savvy, his quick sarcasm is renowned.
But his whole world is suddenly turned upside down on the night his best friends try to kill him.
Saved by a mysterious warrior, Nick is sucked into the realm of the Dark-Hunters - immortal vampire-slayers who risk everything to save humanity - and he quickly learns that the human world is only a veil for a much larger and more dangerous one that's filled with all kinds of evil.
However, before he can even learn the rules of this new world, his fellow students start turning into flesh-eating members of the undead.
Nick knows he's in real danger and he soon has a lot more to deal with than starting high school: he's under pressure to hide his new friends from his mother and his chainsaw from the principal while trying to impress the girl he has a crush on - all without getting grounded, suspended...or killed.***Also available as a manga adaptation***
Information
Format: Paperback
Pages: 320 pages
Publisher: Little, Brown Book Group
Publication Date: 01/02/2011
Category: Fantasy
ISBN: 9781907410222
Free Home Delivery
on all orders
Pick up orders
from local bookshops
Reviews
Showing 1 - 2 of 2 reviews.
Review by wyvernfriend
16/06/2015
In certain ways this is an alternative time-line for the Darkhunters and in other ways it's an interesting look into Nick Gautier who appears as a pivotal character in the Dark Hunter stories. Nick is a scholarship boy dealing with some of the snobs in his school with scarcasm, mostly. To his mother he is everything and her sacrafices are to ensure he has a good future. He's a teenager and dealing with subtle rebellions. However the one that has him with some of his school-mates trying to mug some older tourists wasn't really the original plan, intervening means that he's rescued by the Dark-Hunter Kyrian, who sees something in him and feels a need to change his path. There are other forces out to make sure his life changes as well, for good and for ill.Then one of his school mates creates a video game that turns some of the bullies into Zombies and Nick finds himself learning about more of the hidden world of New Orleans than he ever realised was there.It's a fun read, made me want to revisit some of the older books and re-read them. I should know better about starting to read books like this late at night, Kenyon kept me reading until I was finished, couple of chapters, yeah sure.
Review by ArkhamReviews
16/06/2015
Although I went into this story wanting to like it it, I was unfortunately disappointed overall. Although there were aspects of the plot that did make me smile - witty lines, a couple of entertaining characters, curiosity about what event Ambrose was trying to prevent - it unfortunately just failed to captivate me on many levels.Firstly, I have never read another of Kenyon's novels and found myself a little lost while reading. Despite the fact that this novel is supposed to be a prequel to her Dark Hunter series, very little was explained. Many characters appeared and disappeared rapidly with no explanation as to who or what they were and different demonic races were name dropped without telling the reader what they were or what they were capable of.Characters within the story were very flat and received no development. Although Nick was likable and spoke like a realistic teenager, I did not ever feel like I could empathise with any of the rest. Nekoda was by far the worst offender, set up as the love interest with mysterious motivation but not appearing frequently enough to build up any mystique.The overall story was also clumsily written, full of expository text and written in a style that made it feel more like a middle grade novel than teen fiction. Action sequences were especially weak, often only being resolved by the appearance of a random ally and never feeling tense or exciting.All in all I was very disappointed. I do intend to read the next novel at some point to see if the series improved but this isn't one that I'd recommend to someone who is not already fan of the Dark Hunter series
Also in the Chronicles of Nick series | View all