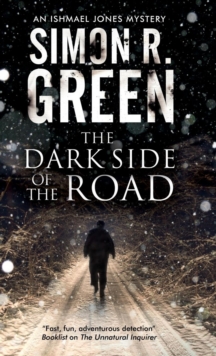 The Dark Side of The Road : A country house murder mystery with a supernatural twist
Hardback
Description
Ishmael Jones is someone who can't afford to be noticed, someone who lives under the radar, who drives on the dark side of the road.
He's employed to search out secrets, investigate mysteries and shine a light in dark places.
Sometimes he kills people. Invited by his employer, the enigmatic Colonel, to join him and his family for Christmas, Ishmael arrives at the grand but isolated Belcourt Manor in the midst of a blizzard to find that the Colonel has mysteriously disappeared.
As he questions his fellow guests, Ishmael concludes that at least one of them - not least Ishmael himself - is harbouring a dangerous secret, and that beneath the veneer of festive cheer lurk passion, jealousy, resentment and betrayal.
As a storm sets in, sealing off the Manor from the rest of the world, Ishmael must unmask a ruthless murderer before they strike again.
Information
Format: Hardback
Pages: 224 pages
Publisher: Severn House Publishers Ltd
Publication Date: 30/01/2015
Category: Crime & mystery
ISBN: 9780727883889
Other Formats
Hardback from £22.75
EPUB from £12.95
Free Home Delivery
on all orders
Pick up orders
from local bookshops
Reviews
Showing 1 - 1 of 1 reviews.
Review by lostinalibrary
27/08/2015
Ishmael Jones is someone who lives his life on the dark side of the road. He works for the enigmatic Colonel and together they work to uncover the secrets and horrors that lurk in this dark. Thing is, Ishmael has secrets of his own that must be kept buried which means he tries to remain unseen and unknown. But when he receives a strange invitation from the Colonel to join him and his family for Christmas at their remote mansion, he doesn't hesitate because there must be something terribly wrong for the Colonel to summon him. Despite a raging snowstorm, he rushes to the manse but when he arrives, the Colonel has disappeared. As the storm worsens preventing anyone from leaving, it becomes clear that there is someone or something trapped here with them and it's very very hungry.The Dark Side of the Road is the latest by author Simon R Green and introduces his new character Ishmael Jones. It has been compared to Agatha Christie's very British closed room country tea cosies but with supernatural elements. This comparison is, in many ways, a fair one what with the setting in a remote country manor; a dinner party among the gentry; everyone trapped inside by a snowstorm; a rising body count; the fact that Ishmael is not a native of Britain albeit from a bit further than Belgium; and the gathering of suspects in the drawing room to unmask the evil-doer; well, and there's that subtitle, A country house murder mystery with a supernatural twist which, if you'll pardon the pun, is kind of a dead give-away.Despite the 'whodunnit' quality, Dark Side is pure Simon R Green. The tale is told by Jones in a first person narrative and, because of his need for secrecy, the reader can't always be sure he's reliable. Nor is he much of a detective, depending more on an extremely good sense of smell, strength and hearing rather than any 'little grey cells'. He is, however, like all of Green's heroes, wittily sardonic, making this a whole lot of fun to read. Definitely for fans of Green's other series or urban fantasies in general.3.5