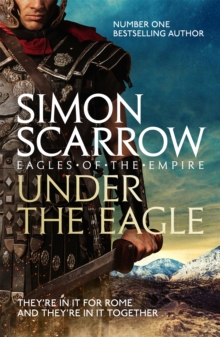 Under the Eagle (Eagles of the Empire 1)
Paperback
Part of the Eagle series
Description
IF YOU DON'T KNOW SIMON SCARROW, YOU DON'T KNOW ROME!UNDER THE EAGLE is the gripping first novel in Simon Scarrow's bestselling EAGLES OF THE EMPIRE series.
A must read for fans of Bernard Cornwell and Conn Iggulden.
Praise for Simon Scarrow's compelling novels: 'Gripping and moving' The TimesAD 42, Germany.
Tough, brutal and unforgiving. That's how new recruit Cato is finding life in the Roman Second Legion.
He may have contacts in high places, but he could really use a friend amongst his fellow soldiers right now.Cato has been promoted above his comrades at the order of the Emperor and is deeply resented by the other men. But he quickly earns the respect of his Centurion, Macro, a battle-hardened veteran as rough and ready as Cato is quick-witted and well-educated.
They are poles apart, but soon realise they have a lot to learn from one another.On a campaign to Britannia - a land of utter barbarity - an enduring friendship begins.
But as they undertake a special mission to thwart a conspiracy against the Emperor they rapidly find themselves in a desperate fight to survive...
Information
Format: Paperback
Pages: 448 pages, Maps
Publisher: Headline Publishing Group
Publication Date: 07/08/2008
ISBN: 9780755349708
Free Home Delivery
on all orders
Pick up orders
from local bookshops
Reviews
Showing 1 - 3 of 3 reviews.
Review by Zare
16/06/2015
Interesting crime story set into the period when Romans (under emperor Claudius) are preparing for second invasion of British Isles.We follow Cato, intellectual of sorts, from the time he enters the Second Legion, becomes sergeant under centurion Macro and finally ends up involved into court machinations and plots.Interesting read, very fast-paced action but nevertheless it is obvious this one is intended to be the first in series of books – ending is somewhat undefined.Recommended.
Review by turtlesleap
16/06/2015
A well-researched look at Roman military operations during the invasion of Britain in the First Century. Scarrow has done a very effective job of painting a realistic picture of warfare as it might have been fought in this time and place, and spiced the package liberally with political intrigue. His character development is uneven, although when it is good, it is very good indeed. The ending is inconclusive and unsatisfying; probably intended to be a precursor to a sequel. Solid entertainment though.
Review by nicky_too
16/06/2015
This is a page turner.Granted, Simon Scarrow is not the best writer in the world, but he's definitely good enough. His writing is entertaining, he is great in coming up with good intriges and tells a good tale. What he is really good at is creating characters. When I read this book I could almost touch Macro and Cato. Wonderfully done and they also develop as the story goes on. A true pleasure to read.I like the fact that Simon Scarrow know so much about the Romans and their army/battles. He mixes fiction with history and comes up with quite an interesting mix. It reads like a novel (which of course it is), but you learn something at the same time.Where I used to find Romans incredibly boring, I am now enjoing reading about them and I'm seriously thinking about buying the entire Eagle series.I like the style of the book as well. It's straight and to the point. A real no nonsense approach. As I said in the beginning, it's a page turner. You can't really go wrong with this.