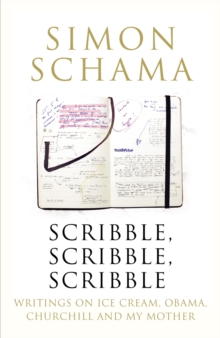 Scribble, Scribble, Scribble : Writing on Ice Cream, Obama, Churchill and My Mother
Hardback
Description
'Wednesday brought a pungent sheepy smell emanating from the greyish lamb and barley soup my mother optimistically called 'Taste of the Garden of Eden'.
Expel me, please. Haddock in the air? That would be Thursday. The faintest whiff of roasting garlic? That would be what my sister and I uncharitably dubbed 'Friday Night Memorial Chicken'; a venerable object smeared on the breasts with a dab of marmite meant to cheer the bird up as it emerged defeated from the oven.
Rattling inside the brittle cavity was that one solitary clove of garlic; the exotic knobble that my mother conceded as a romantic touch amid the iron regimen of her unvarying weekly routine'.
Cookery is not necessarily a subject one immediately associates with Simon Schama - one of Britain's most distinguished historians and commentators.
But this selection of his occasional writings is a treasure trove of surprises.
Passionate, provocative, entertaining and informative, "Scribble, Scribble, Scribble" ranges far and wide: from cookery and family to Barack Obama, from preaching and Shakespeare to Victorian sages, from Charlotte Rampling and Hurricane Katrina to 'The Fate of Eloquence in the Age of The Osbournes'. Never predictable, always stimulating, "Scribble, Scribble, Scribble" allows us to view the world, in all its diversity, through the eyes of one of its most original inhabitants.
Information
Format: Hardback
Pages: 464 pages, Illustrations (chiefly col.), ports. (some col.)
Publisher: Vintage Publishing
Publication Date: 05/08/2010
Category: Prose: non-fiction
ISBN: 9781847921314
Free Home Delivery
on all orders
Pick up orders
from local bookshops
Reviews
Showing 1 - 2 of 2 reviews.
Review by dsc73277
16/06/2015
Two things are on display here in abundance: the breadth of Schama's range of interests and his lively prose.
Review by pierthinker
27/08/2015
Schama is one of our celebrities, respected both in academia and as a populariser of history and art in books, television and other media. This book consists 50 essays, articles and speeches from various sources published, with a handful of exceptions, between 2000 and 2009. The pieces are grouped under a number of themes covering traditional historical and art subjects through current affairs, views on life in America (where Schama lived) and cooking.All are interesting and only a few have lost their relevance through their original publication as 'current' affairs (I am thinking here of the pieces on Bush and Obama, particularly). A few of the newspaper articles are too short to properly develop and discuss his ideas and themes. On the other hand, the longer pieces were written for specific academic symposia or for inclusion in art catalogues and assume a level of background knowledge sadly lacking in this reader. So, what is the purpose of this collection (forgetting the obvious opportunity to generate additional revenue with little effort by reusing the source material)? Schama is intelligent, erudite and rarely talks down to his audience. He often comes at his subject from unexpected angles, reveals new insights and relationships between facts and says what he thinks. He uses language with the same intelligence and unorthodox approach.This does not make him an easy read, but always a worthwhile one.