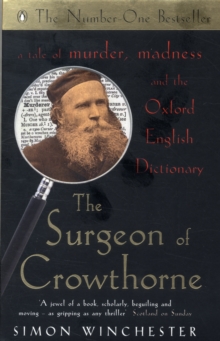 The Surgeon Of Crowthorne,
Paperback
Description
The making of the Oxford English Dictionary was a monumental 50 year task requiring thousands of volunteers.
One of the keenest volunteers was a W C Minor who astonished everyone by refusing to come to Oxford to receive his congratulations.
In the end, James Murray, the OED's editor, went to Crowthorne in Berkshire to meet him.
What he found was incredible - Minor was a millionaire American civil war surgeon turned lunatic, imprisoned in Broadmoor Asylum for murder and yet who dedicated his entire cell-bound life to work on the English language.
Information
Format: Paperback
Pages: 224 pages
Publisher: Penguin Books Ltd
Publication Date: 01/12/1998
ISBN: 9780140271287
Free Home Delivery
on all orders
Pick up orders
from local bookshops
Reviews
Showing 1 - 5 of 9 reviews.
Previous | Next
Review by ablueidol
16/06/2015
Explored the Interesting and curious fact that a major contributor to the Oxford English Dictionary was both an American and criminally insane who was based at Broadmoor for 50-60 years. And that the editor came from a poor working call background, with no degree but a deep interest in the subject that led him via a national society to take on the role for 50-60 years.However, more really an essay on their separate and related histories then a detailed history
Review by 30oddyearsofzan
16/06/2015
What the two men whose friendship it documents would have called 'a slim volume', and no less entertaining for that. The editor of the first Oxford English Dictionary, and its most prolific (and notorious) contributor are interesting enough in their own right, but Winchester uses their story as a frame on which to hang discourses on the American Civil War, the history of lexicography and even mental health treatment. Packed with colourful supporting characters such as Churchill, Alexander Graham Bell's father and the man who was the inspiration for Wind in the Willows' Water Rat, this book could tempt the most recalcitrant logophobe to take up the OED for something other than checking spelling (or looking up rude words).
Review by eleanor_eader
16/06/2015
There's a fascinating story here, but it's a little over-told for the sake of adding drama and pathos to the history of the OED; it's a compelling enough tale without the 'omg, and THEN guess what' that the author tries -needlessly - to inject into the writing. Winchester's real strength is delivering history and biography in an accessible manner, having a keen sense for important detail and rich seems of interest; where he lets the reader down is in assuming we will not realise these things for ourselves, but must be pointed at them repeatedly.That said, for anyone who does not already know the stories that are intertwined with the collaboration and creation of the largest, most authoritative, and first <i>complete</i> collection of English words (and who has any interest in lexicography at all) will find this a very interesting read.
Review by emmakendon
16/06/2015
This was recommended to me but with not much information about why. It is an interesting read and insight into the life of Dr William Minor, a major contributor to the OED. There are quite a few negative reviews of this book because it repeats swathes of another, but I hadn't read the other, so I didn't suffer from that. Some little gem moments in it like: a newcomer arriving at Broadmoor and being asked about his crime, which was killing his wife and children. He told the superintendent: 'I don't know why I am telling you all of this. It's none of your business. As a matter of fact it was none of the judge's business either. It was purely a family affair.'Lovely.I also personally enjoyed the strange little story of fellow contributor Dr Fitzedward Hall, an American in England like Minor, and 'mad' like Minor: "notorious as an ill-tempered misanthrope", Dr Hall, who ended up living hermit-like in Suffolk. But that's partly because mid-reading this book I was given some mad letters written by another, totally unrelated, misanthropic Dr Hall from Suffolk. The synergy made me chuckle.
Review by KayCliff
16/06/2015
I would have given this superbly compiled, beautifully written book full five stars were it not for the deplorable lack of an index!