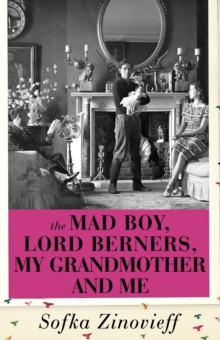 The Mad Boy, Lord Berners, My Grandmother and Me
Hardback
Description
Faringdon House in Oxfordshire was the home of Lord Berners, composer, writer, painter, friend of Stravinsky and Gertrude Stein, a man renowned for his eccentricity - masks, practical jokes, a flock of multi-coloured doves - and his homosexuality.
Before the war he made Faringdon an aesthete's paradise, where exquisite food was served to many of the great minds, beauties and wits of the day.
Since the early thirties his companion there was Robert Heber-Percy, twenty-eight years his junior, wildly physical, unscholarly, a hothead who rode naked through the grounds, loved cocktails and nightclubs, and was known to all as the Mad Boy.
If the two men made an unlikely couple, at a time when homosexuality was illegal, the addition to the household in 1942 of a pregnant Jennifer Fry, a high society girl known to be 'fast', as Robert's wife was simply astounding.
After Victoria was born the marriage soon foundered (Jennifer later married Alan Ross).
Berners died in 1950, leaving Robert in charge of Faringdon, aided by a ferocious Austrian housekeeper who strove to keep the same culinary standards in a more austere age. This was the world Sofka Zinovieff, Victoria's daughter, a typical child of the sixties, first encountered at the age of seventeen.
Eight years later, to her astonishment, Robert told her he was leaving her Faringdon House.
Her book about Faringdon and its people is marvellously witty and full of insight, bringing to life a vanished world and the almost fantastical people who lived in it.
Information
Format: Hardback
Pages: 448 pages
Publisher: Vintage Publishing
Publication Date: 16/10/2014
Category: Autobiography: general
ISBN: 9780224096591
Free Home Delivery
on all orders
Pick up orders
from local bookshops
Reviews
Showing 1 - 1 of 1 reviews.
Review by atticusfinch1048
16/06/2015
The Mad Boy, Lord Berners, My Grandmother and MeThe 'Me' in Mad Boy, Lord Berners, My Grandmother and Me is Sofka Zinovieff the author of this wonderfully intriguing book about the occupants of an Oxfordshire Manor House in the twentieth century. This is a fun read written in a wonderful and easy to read style packed with some fantastic photographs.Besides writing about herself Sofka introduces us to the cast her grandmother Jennifer Fry the heir to the Fry Chocolate dynasty and the only daughter of Geoffrey Fry; the mad boy is Robert Heber-Percy who may or may not be the grandfather of the author; Lord Berners is the gay lover and benefactor of Robert, who happens to be eccentric as well as a composer, writer and artist; and the manor house is Farringdon.Lord Berners throughout the 1930s entertained the fashionable and well connected in society London of the time. Farringdon is where they could come and play not having to worry about what others thought so we get a star studded cast all the way through the book; with people such as The Mitford sisters, HG Wells and Igor Stravinsky the list is endless.This book enlightens us to Lord Berners and how he became involved in the much younger bisexual Robert. We also get to look inside the world of Jennifer Fry who never does reveal the name of the biological father of Sofka's mother. If this were today the red top papers would be filling their pages with the gossip of what was happening at Farringdon.This book is a well presented well written book which lovingly tells us of all the eccentrics and eccentricities that took place at Farringdon. This is a pleasure to read and takes us back to a world that has since died whatever some people say.