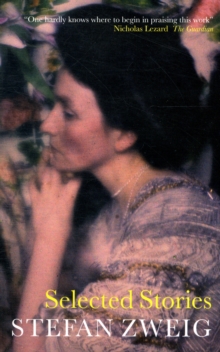 Selected Stories
Paperback
Description
Contains: *Fantastic Night *Letter from an Unknown Woman *The Fowler Snared *The invisible collection *Buchmendel *24 Hours in the Life of a Woman Fantastic Night is the story of one transforming evening in the life of a rich and bored young man.
He spends a day at the races and an evening in the seedy but thrilling company of the dregs of society.
His experiences jolt him out of his languor and give him a newfound relish for life, which is then cut short by the Great War.
The Invisible Collection and Buchmendel, two of Zweig's most powerful works, explore lives led in the single minded pursuit of art and literature against a backdrop of poverty and corruption.
Letter from an Unknown Woman, is a poignant and heartbreaking tale of the strength and madness of unrequited love.
This story was made into a film by Max Ophuls starring Joan Fontaine (1948).
In The Fowler Snared, it is the man whose passion remains unrequited.
Twenty-Four Hours in the Life of a Woman is the story of a middle-aged English widow who travels to escape loneliness and boredom. One evening while enjoying the elegant atmosphere of the Monte Carlo Casino, she becomes mesmerised by the obsessive gambling of a young Polish aristocrat.
This fateful encounter leads to passion, despair and death, changing their lives forever. Translated from the German by Eden and Cedar Paul, Stefan Zweig's Selected Stories is published by Pushkin Press. Stefan Zweig (1881-1942)was born in Vienna, a member of a wealthy Austrian-Jewish family.
He studied in Berlin and Vienna and was first known as a poet and translator, then as a biographer.
Zweig travelled widely, living in Salzburg between the wars, and enjoyed literary fame.
His stories and novellas were collected in 1934. In the same year, with the rise of Nazism, he briefly moved to London, taking British citizenship.
After a short period in New York, he settled in Brazil where in 1942 he and his wife were found dead in bed in an apparent double suicide.
Information
Format: Paperback
Pages: 256 pages, frontispiece
Publisher: Pushkin Press
Publication Date: 29/10/2009
Category: Classic fiction (pre c 1945)
ISBN: 9781906548223
Free Home Delivery
on all orders
Pick up orders
from local bookshops
Reviews
Showing 1 - 3 of 3 reviews.
Review by kidzdoc
16/06/2015
This new collection of four novellas and two short stories was published by Pushkin Press last year, and most were previously released by the publisher in other editions.The novellas are:<i>Fantastic Night</i> (1922): An account of a bored and emotionally impotent Viennese man of leisure who is transformed by a series of incredible circumstances that allows him to experience live fully (4 stars).<i>Letter from an Unknown Woman</i> (1922): The highlight of the book, in which a noted author and man about town receives a mysterious letter from a woman who has loved him since childhood, unbeknownst to him. This was the most heartbreaking story I've read in a long time, and I was wiping away tears at several points during the woman's description of her tragic life (5 stars, and at least one box of facial tissues).<i>Buchmendel</i> (1929): A story about a Russian Jew, Jacob Mendel, a second hand book dealer who holds court in a café until he falls afoul of the police during the Great War (4-1/2 stars).<i>Twenty-four Hours in the Life of a Woman</i> (1927): An English woman shares her story of her attempt to save the life of a handsome young man who is consumed by gambling, and is contemplating suicide (4 stars)The short stories are:<i>The Fowler Snared</i> (1906): An older man at a beach resort notices a young girl, and writes letters of love to her in the voice of a young man from a neighboring village (3-1/2 stars).<i>The Invisible Collection</i> (1925): A Berlin art-dealer visits an old client after the Great War, who has become blind. He lives with his wife and daughter, who have managed to disguise the family's destitute situation from him, as inflation has plunged them into poverty. The client wants to show the art-dealer his most valued possession, a prized collection that he can touch but no longer see, one that means the world to him (4 stars).Overall, this was a very good and definitely recommended selection of stories, although only <i>Letter from an Unknown Woman</i> compares favorably to my other favorite Zweig novellas, <i>Amok</i>, <i>Chess Story</i> and <i>Journey into the Past</i>.
Review by DRFP
16/06/2015
Although I haven't yet gotten around to reading his novels I can say this based off of these <i>Selected Stories</i>: that Zweig is definitely adept at the short form. He reminds me most of Balzac. Yet if Balzac was a masterful observer of the physical world Zweig has an astounding perception of human psychologies. Each of these stories features an incredibly deep portrait of a human mind lost down its own particular path. Like Balzac Zweig's in depth descriptions are never boring either but only serve to pull you in and immerse yourself in the world of his creations. These stories aren't light reads but never do they feel heavy or plodding.Every story is incredibly worthwhile and <i>The Invisible Collection</i> struck me as one of the saddest little stories I've read in a long time (admittedly, it does feature elements that easily evoke sympathy but the tale was still precisely written and moving). This was an excellent selection of stories and it comes highly recommended as an introduction to Zweig's great talent.
Review by charlie68
16/06/2015
I was turned to Mr. Zweig from the movie The Grand Budapest Hotel, which is dedicated to him or based on one of his stories. This collection while not whimsical or funny is still very good, lots of deep themes and references to other works.