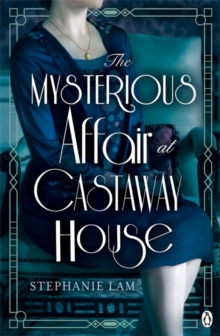 The Mysterious Affair At Castaway House,
Paperback
Description
Stephanie Lam's stunning debut novel, The Mysterious Affair at Castaway House, is a gripping read laced with mystery, secrets and love. It's 1965 and eighteen year-old Rosie Churchill has run away to the beautiful but run-down Castaway House in the seaside town of Helmstone.
But when she uncovers a scandal locked away in the walls of the old house, she soon comes to realise that neither her own troubled past nor that of the house will stay buried for long...In 1924 fresh-faced Robert Carver comes to Castaway House to spend a languid summer in the company of his much wealthier cousin, Alec Bray.
But the Brays are a damaged family, with damaging secrets. And little does Robert know that his world is about to change for ever. As Rosie begins to learn more about Robert, the further she is drawn into the mysterious history of the house, and their stories, old and new, entwine. The Mysterious Affair at Castaway House by Stephanie Lam is an intriguing mystery that will appeal to fans of The Suspicions of Mr Whicher. Stephanie Lam was born and raised in London. She now lives in Brighton, close to the sea. The Mysterious Affair at Castaway House is her first novel.
Information
Format: Paperback
Pages: 512 pages
Publisher: Penguin Books Ltd
Publication Date: 28/08/2014
ISBN: 9781405917001
Free Home Delivery
on all orders
Pick up orders
from local bookshops
Reviews
Showing 1 - 2 of 2 reviews.
Review by AdonisGuilfoyle
27/08/2015
Over two summers, forty one years apart, the secrets of Castaway House draw two generations of residents together. In 1924, hapless student Robert Carver moves in with his cousin Alec and Alec's enigmatic new wife, Clara, and in 1965, runaway teen Rosie Churchill befriends a beautiful neighbour and a mysterious old man calling himself Dockie. While trying to help Dockie regain his memory, Rosie's imagination is piqued by a self-portrait and a message carved into a windowsill in her room - 'Robert Carver is innocent'. But who was Robert Carver and what connection did he have with Castaway House?I admire Stephanie Lam - she has an eye for imagery, describing the ordinary in witty terms ('Beside the armchair was a stately looking cooker with encrusted rings, its grill pan thrusting forward like an Edwardian lady's bosom'), and a talent for taut pacing. I was hooked by both narratives, and felt she gave sappy Robert in 1924 and naive Rosie in 1965 distinctive voices, while neatly binding the two threads of the story together. However, the soap opera synchronicity of past and 'present' was taken just that one step two far for me, ruining an otherwise clever novel. Rosie and 'Star' both happen to be bound by blood connections to Castaway House, displaying 'family' characteristics? And I didn't like how two subplots - Gina the maid and Rosie's stepfather - were tritely dealt with in a line or two of dialogue. I expected more for <i>all</i> of the characters, not just the main three women. In fact, the ending as a whole seemed rather rushed, but I enjoyed the 450 page build-up anyway. Only Clara really maintained any depth throughout, bringing <i>Rebecca</i> to mind, but the change in Castaway House over forty years was both atmospheric and evocative - again, very Du Maurier! I'm not sure the 'haunting' was necessary, however!A well-plotted mystery with a weak ending - borrow rather than buy.
Review by Dream24
27/01/2016
I received a free copy through Goodreads.<br/>---<br/>I would give it 3.5 stars.<br/><br/>I wasn't sure what to expect when I read the first few chapters. But it quickly intrigued me as we slowly dived towards the mysteries involving Castaway House, the previous occupants and the current occupants. There seems to be something about Castaway House that seems to breed scandal and illicit behaviour, or maybe it's just the rich having their fun. <br/><br/>I rather enjoyed reading about Clara, Alec and Robert and how their relationships changed over a short period of time (so much happened over the course of the summer!). To have ultimately find out what happened at the end of that particular summer, where bits and pieces were slowly unravelled to us readers and somewhat driving me mad with obsession, was absolutely worth it.<br/><br/>While Rosie, Star and the others are interesting in the present time, I wasn't as interested in them as I was about the former group. <br/><br/>While it was obvious fairly early on who Dockie was, there twist and turns at the climax were certainly unexpected, which I am glad for because it made it less predictable. <spoiler> Like Rosie being the illegitimate granddaughter of Alec, Star being the illegitimate granddaughter of Robert </spoiler> So much mysteries, so little time.<br/><br/>I like how the ending was left fairly opened ended and for us to make our own conclusion as to what ultimately happens to all of the primary characters.
Also by Stephanie Lam