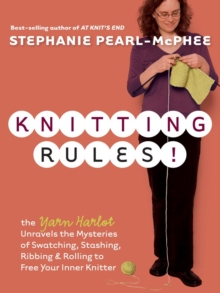 Knitting Rules!
Paperback
Description
Both a celebration of knitting and a source- book for practical information, this book is a collection of useful advice and emotional sup- port for the knitter.
Pearl-McPhee examines essential truisms of knitting, side by side with tongue- in-cheek warnings, realities, and fantasies about the act of knitting and the people who do it.
In chapters on everything from yarn needles, gauge, and knitting bag essentials to hats, socks, shawls, and sweaters, Pearl-McPhee unravels the mysteries of what it is that makes knitting click, from the inside out.
She dares to question long- standing rules and uncover the true essence of what makes a hat a hat, a sock a sock, and so on.
Insights into why certain techniques work encourage knitters to take control and knit in the way that works best for them.
As she says, "There are no knitting police." The result is an illuminating, liberating (and hilarious!) look at knitting that will comfort the experienced knitter, surprise the mainstream one, and entice the beginner.
Information
Format: Paperback
Pages: 160 pages, illustrated throughout
Publisher: Storey Books
Publication Date: 25/08/2006
Category: Knitting & crochet
ISBN: 9781580178341
Free Home Delivery
on all orders
Pick up orders
from local bookshops
Reviews
Showing 1 - 5 of 23 reviews.
Previous | Next
Review by Crowyhead
16/06/2015
This is a funny, readable book that combines humor with knitting tips and patterns. The patterns are really more like jumping-off-places rather than full-on patterns, which could be either freeing or frustrating, depending on what kind of knitter you are.
Review by sanguinity
16/06/2015
Eh. The last half of the book has useful information. However, spending the first half of the book on "Hey! We knit! Like, a LOT!" jokes is a waste of space, and the endless whining that arithmetic is haaaaaaard sets my teeth on edge.
Review by knittingchick
16/06/2015
Even if you already know most or all of the techniques and tips in this book, read this book just for the witty dialogue. If you need to build a new wing in your home just for your stash, or carry your knitting everywhere, or find yourself talking spontaneously about knitting when it isn't really the topic at hand, read this book.The Yarn Harlot knows exactly how knitters feel about all of the above, and knows how to write about it.
Review by edie19
16/06/2015
an absolute hoot - plus lots of helpful hints.
Review by Domic
16/06/2015
Well, if I was only allowed one knitting book on a lonley island, it would probably NOT be this one- but its funny writing style and a lot of not-so-common-tricks and hints makes it a nice addition to every knitting-adict library shelf - and I loooove the "what kind of knitter are you" test in it!
Also by Stephanie Pearl-McPhee | View all