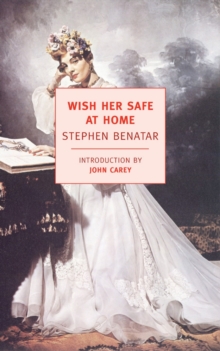 Wish Her Safe At Home
Paperback
Information
Format: Paperback
Pages: 240 pages
Publisher: The New York Review of Books, Inc
Publication Date: 19/01/2010
ISBN: 9781590173350
Free Home Delivery
on all orders
Pick up orders
from local bookshops
Reviews
Showing 1 - 5 of 13 reviews.
Previous | Next
Review by gwendolyndawson
16/06/2015
This wonderfully original novel examines the happy side of madness. Rachel Waring, a middle-aged spinster living in London with a cantankerous flat-mate and a dead-end job, unexpectedly inherits from a forgotten aunt a beautiful but dilapidated Georgian mansion in Bristol. As a result of her unforeseen good fortune, Rachel decides to remake her life. She quits her job and moves to Bristol where she lovingly refurbishes the house and, in the process, becomes obsessed with a former occupant from the 18th century.This book's genius is its close first-person point of view. The reader witnesses everything from Rachel's increasingly unbalanced perspective. Determined to always look at the bright side, Rachel slowly descends into a gleeful kind of madness, but we're never quite certain whether Rachel is truly insane or merely optimistic. By turns, we're charmed by her and embarrassed for her. We laugh at her numerous follies and cringe at her missteps, all the while wishing her the very best. Wish Her Safe at Home is a remarkable achievement in characterization and a refreshing examination of the brighter aspects of madness. Thanks to NYRB Classics for reviving this novel, which was first published in 1982.
Review by zibilee
16/06/2015
Rachel Waring is a middle aged woman working at a dead end job and living with a caustic and slovenly roommate. When her estranged aunt dies leaving her a beautiful but rundown mansion in Bristol, Rachel decides to pack up her life, quit her job and move in. As she sets about repairing and replenishing the house using her small savings, Rachel's outlook is one of hopefulness and vigor. Soon she is interacting with the small community, making friends and considering a literary project. As the days turn into weeks in Rachel's new home, she strangely begins to lose touch with reality, becoming increasingly odd in both her personal habits and in the eyes of her friends. Rachel has a plan, it's just not a very realistic or plausible plan, and as she slides further and further into a jolly type of madness, those around her can't help but notice and become fearful for her. Both frightening and at times funny, Wish Her Safe at Home documents one woman's tragic spiral into the unknown recesses of madness.My awesome friend Aarti, from the wonderful blog Booklust, has been raving about this book for a really long time, and since I trust her opinion on books implicitly, I went right out and bought a copy after reading her review. I am pretty sure that it was one of her best reads of the year, and after reading it, I can certainly see why!Rachel is your typical downtrodden woman. Living with a roommate she barely tolerates and working at a job where she is almost invisible, she has become very morose and unhappy. Though she ties to put on a brave face, she can't help feeling a bit resentful at the turns her life has taken, and though she does not know how to escape her situation, she longs for a better life for herself. The past has not been kind to Rachel and it was easy for me to see just why she wanted to escape it and move on to better things. When the news of her inheritance comes to her, her attitude shifts completely and she begins to anticipate the life she will now be able to move on to. I felt a little sorry for her in the beginning of the book because she seemed like a really good person who had been dealt a raw hand at life, and I was really excited that she would be able to leave her confining life for something more fruitful and advantageous.But almost from the minute she steps off the train in Bristol, Rachel begins acting in strange ways. First of all, she seems to take liberties in her conversations with others, peppering her speech with unlikely asides and seemingly personal revelations. The strangers she meets are good humored about these conversational faux pas, but while I was reading, I became a bit uncomfortable for her and wondered if all these unlikely things that were running through her mind were running out of her mouth as well. It was embarrassing and heart-wrenching to watch her cast about with conversational weirdness and see the reactions that this brought. As a reader, I sympathized with her and thought that maybe her new and exiting life had somehow made her a bit more exuberant and forthcoming and chalked up her behavior as eccentricity. I thought that perhaps Rachel was so excited about her new life that she felt she had to share her joy with others. I really felt like she was a kind and convivial woman, and that perhaps others just didn't understand her jovial attitude.As Rachel begins to settle into her new home, she decides to begin working on a novel charting the life of a mysterious man who once lived in the very house that she now owns. She makes a ritual of her writing and also begins a long slide into mental uncertainty. Though her new friends at first don't seem to notice the oddness that overtakes her, she harbors secret delusions about the subject of her novel and at times her madness seems to have a deep sexual component. Soon it is evident that there is something not right about Rachel and the others around her begin to wonder about her mental faculties. She begins to create a new past for herself, one where she is both recognized and loved and where it is safe for her to dream and hope. Rachel is not troubled in the least about herself, for hers is a frivolous and joyous type of madness that always leaves her heart and spirit buoyed.As the book reaches it's stunning conclusion, Rachel, once the master of her own destiny, is now at the mercy of others and forced into a horrible situation by her friends. I wasn't sure what to make of these friends and was very uncertain about their motives. Oh, it all seemed on the up and up, but I couldn't help but have ominous feelings about them and their plans. Rachel, at once lost, afraid and alone, is left to fend for herself, a situation that tore at my heart and made me very uncomfortable, for I had grown fond of this lovable and unpredictable woman. I felt that for all her instability, she deserved to be recompensed in a better way than she had been.I think that Benetar did a wonderful job in the creation of Rachel and her story. Not only was she a very sympathetic character that I could relate to, she had the ability to draw me close and dream for her. Her life was not what she wanted it to be, so she altered it, and really, is there any harm in that? Though it cost her a great deal to be unerringly positive and brave, she was all these things and more, and it was humbling to watch her fall. It was troubling to me to see Rachel scared and confused and at the mercy of those with questionable motives, all her carefree whimsy gone. I kept hoping for a different end for Rachel, and although I saw her careening towards destruction, I was not prepared for it when it happened.I am so thankful to have had this book recommended to me, for I feel that it was a reading experience quite unlike any other I have had. I think that others who are led to this story really have a great ride ahead of them and I recommend this book heartily for not only it's particularly dogged heroine, but also for Benetar's wonderful portrayal of what it must be like to slowly go mad. A brilliant read and one that will end up in my permanent collection.
Review by bookmagic
16/06/2015
Rachel Waring lives in London, works at a boring job and has a roommate she doesn't like very much. When her great-aunt leaves Rachel a Georgian mansion in Bristol, Rachel decides to move there and start a new life. But she invents stories and creates a history for herself that isn't true and imagines relationships that aren't there. Her increased mania leads to complete madness.my review: I put Wish Her Safe at Home on my tbr list after seeing a plea from Aarti at Booklust for people to read this amazing book. Then I decided it would be perfect to review for Spotlight Series on NYBR Classics.This book was an excellent choice, I knew I could trust Aarti! I loved Rachel almost from the beginning. She is 47 years old but you would never know it from her behavior. I enjoyed her manic and crazy conversations probably more than I was supposed to.When Rachel moves to Bristol, she becomes infatuated with Horatio Gavin, a man that once lived in her house in the late 18th century. She buys a painting of him, decides to write a fictional account of his life and generally acts as if he is her secret lover. Until she tries to make it real.Her conversations with the townspeople were fascinating as she lies to them and imagines unreal rebuffs.Here she is at the chemist buying soap, very early in the novel: ...That, to, seemed an unnecessary scrap of information. I definitely wouldn't be returning here. "Then maybe we'll be seeing something of you. Nice" It was almost what he'd said before. This time I wasn't fooled. They could make a dupe out of you once... But in their arrogance they supposed they could go on doing it, time after time after time. She also assumes that a friendly conversation with a vicar has turned and that he is addressing his entire sermon to her. She becomes more manic as the book goes on and becomes friendly with a local gardener and his wife. I loved that you could not always tell what was real and what was Rachel's imagination and I felt pulled into her world. And it really is her own world, she has no idea of what is happening around her. Rachel seemed ageless and though the book takes place in 1981, the time period seemed irrelevant. This book is brilliant and British and Rachel is a fantastic protagonist. She will stay in your mind long after you finish. I also thought this cover was perfect for this book. Highly recommended!my rating 5/5
Review by JoanieS
16/06/2015
I nearly quit reading this book more than once. What really could have been a compelling storyline, came across as a mishmash of broken thoughts.It probably was intentionally written that way,but it did not make for a good read. I had a hard time connecting with the main character.I find British literature a little more difficult to read and this book was no exception.
Review by MargaretdeBuhr
16/06/2015
Very uninteresting for me. Felt it was from a time period much earlier than it was. It read more like it would be a play or theatre production.