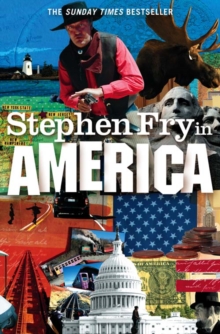 Stephen Fry In America
Paperback
Description
Britain's best-loved comic genius Stephen Fry turns his celebrated wit and insight to unearthing the real America as he travels across the continent in his black taxicab.
Stephen's account of his adventures is filled with his unique humour, insight and warmth in the fascinating book that orginally accompanied his journey for the BBC1 series. 'Stephen Fry is a treasure of the British Empire.' - The Guardian Stephen Fry has always loved America, in fact he came very close to being born there.
Here, his fascination for the country and its people sees him embarking on an epic journey across America, visiting each of its 50 states to discover how such a huge diversity of people, cultures, languages, beliefs and landscapes combine to create such a remarkable nation.
Starting on the eastern seaboard, Stephen zig-zags across the country in his London taxicab, talking to its hospitable citizens, listening to its music, visiting its landmarks, viewing small-town life and America's breath-taking landscapes - following wherever his curiosity leads him.
Stephen meets a collection of remarkable individuals - American icons and unsung local heroes alike. Stephen starts his epic journey on the east coast and zig-zags across America, stopping in every state from Maine to Hawaii.
En route he discovers the South Side of Chicago with blues legend Buddy Guy, catches up with Morgan Freeman in Mississippi, strides around with Ted Turner on his Montana ranch, marches with Zulus in New Orleans' Mardi Gras, and drums with the Sioux Nation in South Dakota; joins a Georgia family for thanksgiving, 'picks' with Bluegrass hillbillies, and finds himself in a Tennessee garden full of dead bodies.
Whether in a club for failed gangsters (yes, those are real bullet holes) or celebrating Halloween in Salem (is there anywhere better?), Stephen is welcomed by the people of America - mayors, sheriffs, newspaper editors, park rangers, teachers and hobos, bringing to life the oddities and splendours of each locale.
A celebration of the magnificent and the eccentric, the beautiful and the strange, Stephen Fry in America is our author's homage to this extraordinary country.
Information
Format: Paperback
Pages: 352 pages
Publisher: HarperCollins Publishers
Publication Date: 01/05/2009
Category: Television
ISBN: 9780007266357
Free Home Delivery
on all orders
Pick up orders
from local bookshops
Reviews
Showing 1 - 5 of 5 reviews.
Review by rightantler
16/06/2015
As a journey through the 50 states this is a good read. In many cases though the visits and write ups of some states were too short, it would have been nice to read more. I am looking forward to watching the TV series that the book supports.
Review by quantum_flapdoodle
16/06/2015
A delightful trip through the United States, where the author visited all 50 states (though giving a couple of them short shrift) in an attempt to try to figure out what America really is. I appreciate a book like this, which takes some time to appreciate the beauty of the country and what is good about it in a world where too many people think if one (or several) things are bad, all must be rotten. At first, though, I was worried this would be one of those books where he came in, visited people, found them nice, and wrote off all possibility that there might be some dark undercurrents; fortunately, this is not so. He does a pretty good job of catching part of the spirit of America, as good as can be expected in a whirlwind tour of short visits. The style is witty and often self-mocking, in a manner only the British can quite pull off, and he offers many profound insights. Now I am going to try to find the TV show that was the basis for this tour.
Review by aleene
16/06/2015
Stephen Fry traveled all states of the US for a BBC series. The book is a juxtaposition of anecdotes from each state. Some are interesting, some ar not. And in some cases the television version was better. It took me a while to go through the book (hence the rating), it is not interesting enough.
Review by Kate_Ward
16/06/2015
Lovely little bite-size travelogue of the 50 states. Only criticism, much like the tv show it accompanied, is that some states are woefully undersold.
Review by Arkrayder
16/06/2015
I loved this book, particularly Fry's turns of phrase and writing style. The only thing I found wrong with it, was the fact that it was too short! Some states seemed to only merit mere glances. Despite this I would recommend the book to anyone remotely interested in the USA.