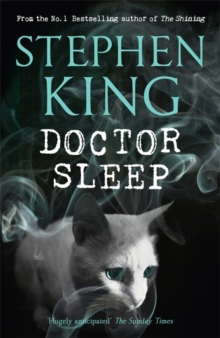 Description
An epic war between good and evil, a gory, glorious story that will thrill the millions of hyper-devoted readers of The Shining and wildly satisfy anyone new to the territory of this icon in the King canon.
King says he wanted to know what happened to Danny Torrance, the boy at the heart of The Shining, after his terrible experience in the Overlook Hotel.
The instantly riveting Doctor Sleep picks up the story of the now middle-aged Dan, working at a hospice in rural New Hampshire, and the very special twelve-year old girl he must save from a tribe of murderous paranormals.
On highways across America, a tribe of people called The True Knot travel in search of sustenance.
They look harmless - mostly old, lots of polyester, and married to their RVs.
But as Dan Torrance knows, and tween Abra Stone learns, The True Knot are quasi-immortal, living off the 'steam' that children with the 'shining' produce when they are slowly tortured to death.
Haunted by the inhabitants of the Overlook Hotel where he spent one horrific childhood year, Dan has been drifting for decades, desperate to shed his father's legacy of despair, alcoholism, and violence. Finally, he settles in a New Hampshire town, an AA community that sustains him and a job at a nursing home where his remnant 'shining' power provides the crucial final comfort to the dying.
Aided by a prescient cat, he becomes 'Doctor Sleep.' Then Dan meets the evanescent Abra Stone, and it is her spectacular gift, the brightest shining ever seen, that reignites Dan's own demons and summons him to a battle for Abra's soul and survival ...
Information
Format: Hardback
Pages: 500 pages
Publisher: Hodder & Stoughton General Division
Publication Date: 24/09/2013
Category: Horror & ghost stories
ISBN: 9781444761160
Free Home Delivery
on all orders
Pick up orders
from local bookshops
Reviews
Showing 1 - 4 of 4 reviews.
Review by claireh18
16/06/2015
s a Constant Reader of King, I was eagerly anticipating this sequel to The Shining. Sequels are a rarity for King, with the exception of The Talisman duo with Peter Straub and the brilliant Dark Tower series, so I must admit I was rather excited to read this book.Dan Torrance was a 5 year old child when The Shining ended. Here we catch up with him as an adult living an unassuming life, trying to leave his early childhood experiences behind him. He has to revisit the place of his nightmares as he helps a teenage girl in the age old battle of right and wrong.Reading The Shining isn't a prerequisite as this book mentions much of what happened all those years ago, as Dan recalls his early years. If you've not read The Shining and only seen the film, please take some time to read the book as Doctor Sleep follows on from this rather than the film of the same name.It's difficult to write a good review without giving too much away, but suffice to say that the battle is long and hard, with dirty fighting on both sides. Characters are lost along the way, some good and some bad, Dan's 'shining' is tested again and again as he battles against demons old and new.Unfortunately, I felt the book got a little lost around the middle section. I found myself skimming a bit as I wanted to know what happened, but I think the book could have been a bit shorter without losing anything. Having said that, I did really enjoy catching up with Dan and meeting some new characters. 4/5 stars.
Doctor Sleep is only my third Stephen King book, but definitely not the last. It follows on from The Shining, and we get to see what happens to Danny later in life. It is different in style from what I remember from The Shining, and relies more on the underlying story rather than going from scare to scare.And, who would have known, that King guy is really good at writing a story. Fortunately Doctor Sleep isn't "Danny, part 2", and plenty of new characters are introduced, and much of the story plays out without Danny being a part of it at all.The story seems perfectly paced, gets just complex enough to be interesting without getting annoying, never becomes predictable, and ends just on time. The book has some thrilling moments, but also some really beautiful ones. The characters are established well, and easy to care about.No, Doctor Sleep is not a book that will transform anyone's life, and it is not a book that sets out to make any deep points or statements. It is just a story, but an extremely well told and entertaining story, and, in my opinion, a better one than The Shining.
Review by calum-iain
16/06/2015
In the "Author's Note" at the end of "Doctor Sleep" Stephen King makes it clear that the novel "The Shining" is "the true story of the Torrance family" and not the Stanley Kubrick movie, which he dismissively shrugs off. He also states that sequels are never as good as the original. He might be right on that point, but "Doctor Sleep" is no casual, hacked-out follow-up to the original novel and its tale of psychic vampirism and alcoholism more than lives up to the excellence of the original novel. The story of "Doctor Sleep" opens with a cleverly composed resume of "The Shining", before the introduction of the adult Dan Torrance, who has grown to adulthood with his psychic powers intact. In an effort to block out these powers he has become a desperate and angry alcoholic, getting into fights, stealing from women and drifting from town to town, sleeping rough. He drifts into a small town where he eventually begins to get his life together joining Alcoholics Anonymous and getting a job as a porter in the local hospice, where his psychic talents, long suppressed by the booze, are used to help the sick and elderly residents die peacefully. Things seem to be going relatively well, for Dan until he starts getting telepathic messages from a teenager called Abra who has a powerful "shining" ability. Abra is being hunted by a roving band of motor home driving psychic vampires called the True Knot, who kill and consume children with a "shining". Given Abra's powerful "shine" the True Knot have targeted her. This forces Abra and Dan into a strange alliance and towards a dangerous showdown on the site of the former Overlook Hotel. This is another great read from Stephen King that is next to impossible to put down once you've started. It has links to the original novel, but is not constrained by that book with "Doctor Sleep" developing its own very clear and distinct personality. King's writing has a superb flow and rhythm, moving cleverly and naturally from one situation to the next, while subtly moving the plot forward and carefully developing his set of characters. As ever King displays a masterly touch in developing a very ordinary, very rich, day-to-day background and very normal situations into which he carefully slides his story. The horror in his tales is always exacerbated by the power of his scene-setting, the cleverness of his characterisations and his brilliant use of naturalistic dialogue. The story itself strikes a good balance between plot and character, with the narrative speeding up exponentially as it reaches its climax. The story of Dan Torrance's struggle with alcohol is told with honesty and understanding; King's own experience with the demon drink no doubt informing much of the narrative – King must be the world's least anonymous member of Alcoholics Anonymous. In its frank depiction of alcoholism you can't help but feel that there is a degree of auto-biography on these pages. In Abra he has come up with another fascinating character and I wonder if in 25 or so years' time, much as he did with Dan Torrance, will King get to wondering what became of the teenager with the powerful "shine"? The villains of the book, the True Knot King are a truly loathsome set of characters, and I suspect that anyone familiar with Kathryn Bigelow's 1987 horror movie "Near Dark" will see more than a hint of what may have inspired the Knot. "Doctor Sleep" is a gripping, suspenseful, entertaining novel, full of brilliantly observed characters and sly horrors, making it a very worthy sequel to a masterpiece of horror literature that was "The Shining". You cannot help but feel it was a very personal and heartfelt book for Stephen King, which added to the power and resonance of the overall story.
Review by Lukerik
27/08/2015
For over thirty years there was no sequel to The Shining and everyone was happy. Then one day Mr King was driving along and he got stuck behind a convoy of camper vans for eight hours and something in him snapped.I last read The Shining about five years ago and I think that's a good span before reading this. You need to remember the basic story and who lives and who dies. If you read it too soon after wards you're only going to be disappointed. It lacks the emotional intensity, moral ambiguity and successful literary ambition of The Shining. It over-relies on short term flash-back and elided conversation to maintain suspense in what is essentially a very basic story with bland characterisation.Taken on it's own terms though, there's much to enjoy. There are some genuinely chilling moments and the baddies are played well on settled people's fear of Gypsies. It's not racist, I stress, it just plays on those fears.