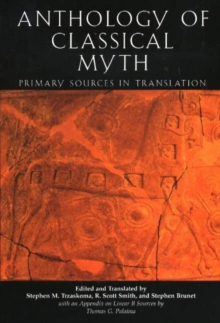 An Anthology of Classical Myth : Primary Sources in Translation
Paperback
Description
This volume is designed as a companion to the standard undergraduate mythology textbooks or, when assigned alongside the central Greek and Roman works, as a source-based alternative to those textbooks.
In addition to the complete texts of the Homeric Hymns and Hesiod's Theogony , this collection provides generous selections from over 50 texts composed between the Archaic Age and the fourth century A.D.
Ancient interpretation of myth is represented here in selections from the allegorists Heraclitus, Cornutus and Fulgentius, the rationalists Palaephatus and Diodorus of Sicily, and the philosophers and historians Plato, Herodotus and Thucydides.
Appendices treat evidence from inscriptions, papyri and Linear B tablets and include a thematic index, a mythological dictionary, and genealogies.
A thoughtful Introduction supports students working with the primary sources and the other resources offered here; an extensive note to instructors offers suggestions on how to incorporate this book into their courses.
Information
Format: Paperback
Pages: 576 pages, maps
Publisher: Hackett Publishing Co, Inc
Publication Date: 01/12/2004
Category: Folklore, myths & legends
ISBN: 9780872207219
Free Home Delivery
on all orders
Pick up orders
from local bookshops
Reviews
Showing 1 - 1 of 1 reviews.
Review by antiquary
16/06/2015
A very useful collection, especially if on does not have the Homeric Hymns or Hesiod's Theogony, as this includes both complete and selections from a wide range of other sources, some well-known literary sources (Ovid Horace) others much less known, including the minor mythographers. and lesser-known fragments of tragedies (the complete tragedies are deliberately omitted, as a the Homeric epics). There are appendixes on divine and mythic names in the Linear B tablers and examples of cult usages in inscriptions. Overall, it is a valuable collection of material. My only major objection to it is that it is arranged alphabetically by the names of the ancient author, which since the authors range over 1000 years in time and many different genres of material gives a very jumbled effect. I think arrangement either by date or by genre would make more sense. Apparently the expecstation is that this will be a classroom text and the teacher will assign selections. It is not really designed as a stand-alone coherent volume. Even in class, it would be more useful as a supplement than the main text..