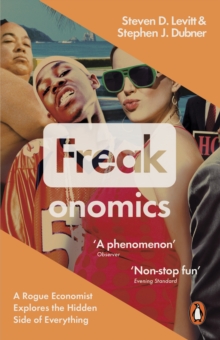 Freakonomics : A Rogue Economist Explores the Hidden Side of Everything
Paperback
Description
Assume nothing, question everything. This is the message at the heart of Freakonomics, Levitt and Dubner's rule-breaking, iconoclastic book about crack dealers, cheating teachers and bizarre baby names that turned everyone's view of the world upside-down and became an international multi-million-copy-selling phenomenon. 'Prepare to be dazzled' Malcolm Gladwell 'A sensation ...you'll be stimulated, provoked and entertained.
Of how many books can that be said?' Sunday Telegraph 'Has you chuckling one minute and gasping in amazement the next' Wall Street Journal 'Dazzling ...a delight' Economist 'Made me laugh out loud' Scotland on Sunday
Information
Format: Paperback
Pages: 336 pages
Publisher: Penguin Books Ltd
Publication Date: 06/04/2006
ISBN: 9780141019017
Free Home Delivery
on all orders
Pick up orders
from local bookshops
Reviews
Showing 1 - 5 of 24 reviews.
Previous | Next
Review by jcbrunner
16/06/2015
After all the hype, I was curious about Freakonomics. Firstly, there lies a misconception: Levitt's field of action is statistical analysis not economics. Therefore, he is no "rogue economist" but a social scientist with an excellent eye for large data sets. Secondly, the short book is interesting to read but leaves the reader not much enlightened. The book's origin as a magazine article shines through. Overall, a good airport read.
Review by tcarter
16/06/2015
I was expecting a lot of this book and it delivered. A good, quick, read, encouraging clear thinking and a questioning attitude to the platitudes and statistics peddled by those with a point to prove.
Review by bduguid
16/06/2015
Freakonomics is an entertaining but certainly not profound attempt to take the principles of economic theory and apply them to topics beyond the financial and commercial.Steven Levitt is adept at analysing large sets of data to tease out hidden trends and ideas that often go against conventional wisdom. And his journalist associate Stephen Dubner is equally adept at providing plenty of amusing narrative flow to mix the analytical with the anecdotal.The book's subject matter is diverse and down-to-earth - why do teachers cheat? Do estate agents serve their clients properly? What is the link between the crime rate and abortion? Are people basically honest? Each of these illustrates a larger economic theme - the power of incentives, the power of holding (or withholding) information, how fear distorts perception of risk etc.Much of the book comes across as somewhat lightweight, but in the main Levitt's points are well-argued however much they contradict the "obvious" explanation. There are a few occasions where his tangents get less enlightening (particularly a lengthy chapter on the influence a child's name has on their success in life) or offer only a fairly subjective take on data that could clearly be read to offer a very different conclusion.Nonetheless, I enjoyed the book - it's hardly life-changing, but it did a good job of sneaking in thought-provoking ideas under a glossy cover.
Review by defrog
16/06/2015
Fascinating thought exercises by economist Levitt, who applies economic tools to evaluate questions about how real estate agents work, why drug dealers live with their moms, why some kids do better than others in standardized tests, and (most controversially) whether Roe v Wade was responsible for the drop in crime in the 1990s. The upshot: so-called conventional wisdom is often wrong, and economics can reveal the truth of just about everything provided you have enough comprehensive data to work with. Admittedly, a lot of it is just playing with numbers, so no need to take his conclusions as gospel, but highly recommended if you want some tips on how to look at things in a different way. Too bad I got the one with the borderline racist cover.
Review by deargreenplace
16/06/2015
Best approached as a collection of separate essays, this is an interesting look at society and how things like crime figures can be interpreted.