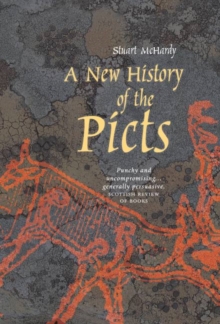 A New History of the Picts
Paperback
Description
When the Romans came north to what is now modern Scotland they encountered the fierce and proud warriors known as the Picts, who despite their lack of formal discipline and advanced weaponry, managed to prevent the undefeated Roman Army from conquering the northern part of Britain, just as they later repulsed the Angles and the Vikings.
A New History of the Picts is an accessible history of the Picts, who have been for so long the subject of wild speculation.
This controversial book contends that Scottish history has for too long been dominated and distorted by misleading suppositions.
Stuart McHardy asserts that the Picts were the descendants of the original inhabitants of the land, living in a series of loose tribal confederations gradually brought together by external forces to create one of the earliest states in Europe: a people, who after repulsing all invaders, merged with their cousins, the Scots of Argyll, to create modern Scotland.
Information
Format: Paperback
Pages: 192 pages, maps
Publisher: Luath Press Ltd
Publication Date: 01/04/2011
Category: British & Irish history
ISBN: 9781906817701
Free Home Delivery
on all orders
Pick up orders
from local bookshops