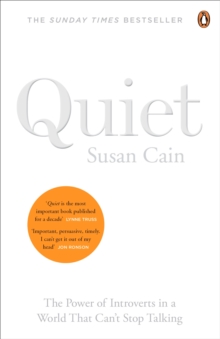 Description
Quiet by Susan Cain will change how you think about introverts forever A Sunday Times and New York Times Bestseller Our lives are driven by a fact that most of us can't name and don't understand.
It defines who our friends and lovers are, which careers we choose, and whether we blush when we're embarrassed. That fact is whether we're an introvert or an extrovert. The introvert/extrovert divide is the most fundamental dimension of personality. And at least a third of us are on the introverted side.
Some of the world's most talented people are introverts.
Without them we wouldn't have the Apple computer, the theory of relativity and Van Gogh's sunflowers. Yet extroverts have taken over. Shyness, sensitivity and seriousness are often seen as being negative.
Introverts feel reproached for being the way they are. In Quiet, Susan Cain shows how the brain chemistry of introverts and extroverts differs, and how society misunderstands and undervalues introverts.
She gives introverts the tools to better understand themselves and take full advantage of their strengths. Passionately argued, superbly researched, and filled with real stories, Quiet will permanently change how we see introverts - and how you see yourself. 'I can't get Quiet out of my head. It is an important book - so persuasive and timely and heartfelt it should inevitably effect change in schools and offices' Jon Ronson, The Guardian 'Susan Cain's Quiet has sparked a quiet revolution.
In our booming culture, hers is a still, small voice that punches above its weight.
Perhaps rather than sitting back and asking people to speak up, managers and company leaders might lean forward and listen' Megan Walsh, The Times 'Quiet is a very timely book, and Cain's central thesis is fresh and important.
Maybe the extrovert ideal is no longer as powerful as it was; perhaps it is time we all stopped to listen to the still, small voice of calm' Daisy Goodwin, The Sunday Times Susan Cain is the owner of The Negotiation Company, a firm that trains people in negotiation and communication skills. Her clients include Merrill Lynch, Standard & Poor, University of Chicago Business School and many of the US's most powerful law firms. She previously practiced corporate law for seven years with Cleary Gottlieb Steen & Hamilton.
She lives in New York with her husband and two sons. www.ThePowerOfIntroverts.com
Information
Format: Paperback
Pages: 352 pages
Publisher: Penguin Books Ltd
Publication Date: 01/01/2013
Category: Popular psychology
ISBN: 9780141029191
Free Home Delivery
on all orders
Pick up orders
from local bookshops
Reviews
Showing 1 - 5 of 6 reviews.
Previous | Next
Review by brochettes
16/06/2015
As a raging (quietly, on the inside) introvert, I found this book comforting and reassuring. I recognised many of the scenarios from personal experience, including attempts at faking extroversion; and the statistics that a third to possibly half of the people in any given group are in fact introverts does make me feel less alone in my feelings of awkwardness in the face of shouty sociability. So, in terms of making introverts feel better about themselves and pointing out the value of their different ways of approaching things, this is a nice book. If I have a big job interview or major nerve-racking life decision coming up, I may even reread this to help calm myself and bolster my self-esteem.However, I don't really see our western society ready to abandon its extrovert ideal just yet, or even making any major concessions. In fact, I can't really see all that many extroverts reading this book or taking many of the insights on board, certainly not the type of extrovert who gets to decide what noisy, open-plan office the majority of people get to work in , or who gets promoted for socialising better or tagging along on rowdy drinking sprees. Still, should I ever want to engage in an introverts v extroverts stand-off, I now have a handy list of names and examples of virtuous, successful introverts, and calamities we can blame on extrovert behaviours. Lovely.
Review by john257hopper
16/06/2015
This was a very worthwhile read for me, being a lifelong introvert. It describes how introversion is often seen as culturally unacceptable in western societies and can affect the life chances of children and continue to do so into adulthood. Particularly since the early 20th century, the ideal in society, education and the world of work has generally been seen as the outgoing, gregarious, dynamic go-getter, in other words the extrovert. While this book focuses on the United States (where it is said between one third and one half of people are introverts), the same cultural norm seems to apply in the rest of western society (though the author argues that in Asian societies, the characteristics of introversion are much more favoured). For example, in schools, the quiet child who does not put themselves forward in full class sessions - but may be very good in one to one situations or on paper or be an avid reader or artist or musician - is often seen as less capable than his or her peers; in work situations, the common office environment of open plan offices favours the extrovert over the introvert who is often affected by the over stimulation such an environment brings and finds small talk difficult; in relationships, the failure of an extrovert partner and an introvert partner to communicate effectively can lead to big misunderstandings as each does not understand the other's way of dealing with conflict and problem solving. In particular, the introvert's need for withdrawal to recharge mental and emotional energies is often misunderstood in a variety of contexts. A very important book in understanding myself and others.
Review by JonArnold
16/06/2015
From the subtitle of Quiet, you might expect a self-help guide for introverts. And towards the end of the book, it does edge towards that, demonstrating strategies for introverts to cope in a world which prizes the cult of personality and for how to cope with introverts.It's so much better than the self-help presentation might suggest though. Cain presents a cultural history of introversion, how it's become undervalued and marginalised, and some of the consequences of that. Cain's own introversion lends empathy to her writing, meaning the book never comes across as dry but instead is always fascinating – this is a quest to understand introverts, almost certainly starting with herself. And it's that passion to understand and explain the quiet people that makes this so absorbing and made me give my copy straight to my wife after I'd finished it. It's one of those rare books that, if you conform to the introverted personality type, you'll feel is written just for you and is speaking directly to you. A lot of the scenarios Cain presented were almost painfully familiar.It's a disservice to the author to simply think of this as a book for introverts though. It equally deals with extroverts by studying their opposite numbers, and often directly by how extroverts and introverts interact. This isn't a call to arms that we should suddenly change society to sweep extroverts from power and put introverts in their place (no, most of us introverts are happy to let them have the limelight). Instead, it's about understanding and communicating what introverts are often too shy to say, about how their undervalued strengths can contribute and complement those of extroverts. This is the sound of an introvert speaking quietly, but forcefully. And to a fellow introvert, it's a wonderful, persuasive sound.
Review by wyvernfriend
16/06/2015
A lot of this made me nod and blush and think about how I react to people and how I behave and makes a lot of sense to me. She also gives a lot of examples about how introverts are not valued by society but should be and that they should be accepted and helped as kids to find how to use their voice but respected for their skills.<br/><br/>If you want to understand introverts you could do worse than this book.
Review by sometimeunderwater
16/06/2015
Eh. As usual with this sort of thing, Cain is a lot better as dismantling popularly-held views than she is at creating new ones. She's right on about the over-valuation of extroversion (for example in schools and job situations) but really wishy-washy once she starts trying to create a taxonomy of introversion and putting people into boxes. I also don't buy the essentialism on display here; I don't agree that people trying to define themselves by these labels is at all helpful. I suppose I believe in introversion, but not introverts.