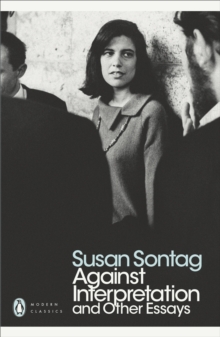 Against Interpretation And Other Essays
Paperback
Description
A series of provocative discussions on everything from individual authors to contemporary religious thinking, Against Interpretation and Other Essays is the definitive collection of Susan Sontag's best known and important works published in Penguin Modern Classics. Against Interpretation was Susan Sontag's first collection of essays and made her name as one of the most incisive thinkers of our time.
Sontag was among the first critics to write about the intersection between 'high' and 'low' art forms, and to give them equal value as valid topics, shown here in her epoch-making pieces 'Notes on Camp' and 'Against Interpretation'.
Here too are impassioned discussions of Sartre, Camus, Simone Weil, Godard, Beckett, Levi-Strauss, science-fiction movies, psychoanalysis and contemporary religious thought. Originally published in 1966, this collection has never gone out of print and has been a major influence on generations of readers, and the field of cultural criticism, ever since.
Susan Sontag (1933-2004) was born in Manhattan and studied at the universities of Chicago, Harvard and Oxford. She is the author of four novels - The Benefactor, Death Kit, The Volcano Lover and In America, which won the 2000 US National Book Award for fiction - a collection of stories, several plays, and six books of essays, among them Illness as Metaphor and AIDS and Its Metaphors.
Her books are translated into thirty-two languages. In 2001 she was awarded the Jerusalem Prize for the body of her work, and in 2003 she received the Prince of Asturias Prize for Literature and the Peace Prize of the German Book Trade.
If you enjoyed Against Interpretation and Other Essays, you might like Sontag's On Photography, also available in Penguin Modern Classics. 'A dazzling intellectual performance' Vogue 'Sontag offers enough food for thought to satisfy the most intellectual of appetites' The Times
Information
Format: Paperback
Pages: 336 pages
Publisher: Penguin Books Ltd
Publication Date: 01/06/2009
Category: Literary essays
ISBN: 9780141190068
Free Home Delivery
on all orders
Pick up orders
from local bookshops
Reviews
Showing 1 - 2 of 2 reviews.
Review by edwinbcn
16/06/2015
Penguin Books has included all of the work of Susan Sontag, including all essaistic work, in its series of Penguin Modern Classics. Against interpretation and other essays is the earliest collection of essays, published originally in 1966. Reading all volumes, six in all, one gets to know Susan Sontag herself pretty well, too. In an introduction or afterword in some of the collections of essays, Sontag looks back, and reflects on her style of writing or choice of subject matter at the time. While Sontag has a clear eye, and open, for what happens and develops in the cultural scene at home, that is in the United States, particularly in New York, her passion is with French and German literary culture, while her overall style and approach make her work attractive to international readers around the world.There is some merit, to read the essays backwards, so to say, i.e. start with some of the later volumes and turn last to Against interpretation and other essays. The later essays show Susan Sontag as a very contemplative, very mature and erudite writer. the essays in the later collections, for instance in Under the sign of Saturn. Essays tend to be longer, and the passion displayed in the choice of topic is expressed in depth, rather than scope. The later essays, focussing on writers, such as Artaud or Benjamin are very balanced compositions, which will inspire and interest readers both unfamiliar and familiar with the topic, at a length of 30 - 50 pages. The most recent essays tend to be book-length, such as Illness as metaphor, which is great because of its originality, and AIDS and its metaphors and Regarding the pain of others which seem too long, and losing unity and focus.Susan Sontag (1933 - 2004) studied English Literature, and pursued advanced higher education, closed with a doctorate in Philosophy. In 1958, she lived in Paris for a year, an experience she later described as "perhaps, the most important period of her life." Sontag has written both fiction and non-fiction. Her novels, also all re-issued by Penguin Classics seem to be undervalued.Against interpretation and other essays is passionate in its vigorousness and hunger to explore new themes and topics. Susan Sontag wrote that she would sometimes watch two or three films per day during those years in the early 1960s. She was to maintain a life-long interest in film and photography, and throughout her essaistic work there are many essays devoted to this branch of the arts. In her later career, Sontag was also active as a director, both on the stage and as a producer of films. Her approach to describing the French cinema is very analytic and besides technique, focused on French philosophy, tying trends in French thought, such as Sartre's existentialism to great film makers such as Godard. However, in her essays Sontag's focus is so much at depth and detail, that she fails to describe a more overall trend of so-called nouvelle vague as a binding element in her essays about the French cinema.Her interest in film and photography does not an interest in the theatre, as demonstrated in various essays drama, although drama in Sontag's essays is usually discussed in the broader context of literature and cultural philosophy.Written in the early 1960s, based on her experience during those years and the perhaps five or six years before that, Against interpretation and other essays focuses on cultural phenomena important or emergent during that period. There is a critical essay on Albert Camus's Notebooks and literary criticism on works by authors such as Michel Leiris, Sartre on Genet, and essays about Ionesco, "Going to the theatre" and "The death of tragedy".Against interpretation and other essays contains a number of landmark essays, such as "Notes on 'Camp'" (1963) and "Happenings: an art of radical juxtaposition", both essays in which Susan Sontag was one of the first to spot and highlight concurrent cultural trends during the 1960s. The essay collection begins with Sontag's two essays "Against interpretation" and "On style" which form a programmatic introduction to all of her essaistic work.The essays by Susan Sontag are very cerebral, and the choice of topics and her way of writing display a great erudition as befits a great author. The essays in Against interpretation and other essays, while originally published in 1966, have lost nothing in their power or importance as defining cultural trends. They are as important to readers who wish to develop a base of knowledge as an underpinning to understanding modern art today as they were half a century ago!An interesting detail, is the choice of the photo for the cover of the Penguin Modern Classics edition. It shows Susan Sontag as somewhat timid, but clearly holding her ground in a world dominated by man. In this early essay collection, Sontag went out to explore and develop her own, personal style. The essays speak of great passion and courage, daring to criticize even the greatest masters of arts in essays written with vigor. In Against interpretation and other essays showed herself as an author "with balls".Highly recommended.
Review by xuebi
16/06/2015
A seminal collection of essays and reviews by Susan Sontag that serve as one of the quintessential text of the 1960s, in which Sontag discusses art, theatre, literature and film, all with a critical eye. Some of the better essays include the title one (Against Interpretation, standing against the contemporary and still prevalent view that it is what art contains vis-à-vis meaning, rather than what it does or says), Notes on Camp, On Style, and One Culture and the New Sensibility. The other essays are mainly reviews of books and films that, while interesting, often do not reach the levels of the aforementioned essays. Nevertheless, for Sontag's views of art criticism and on style, these essays are worthwhile reading and still are important today.