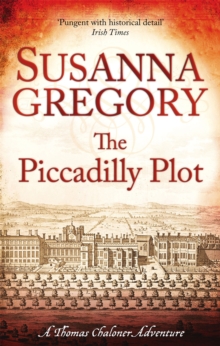 The Piccadilly Plot : 7
Paperback
Description
Thomas Chaloner is relieved to be summoned back to London.
His master, the Earl of Clarendon, has sent him to Tangier to investigate a case of corruption.
Chaloner will be glad to be home, to be reunited with his new wife, but the trivial reason for his recall exasperates him - the theft of material from the construction site of Clarendon's embarrassingly sumptuous new house just north of Piccadilly.Within hours of his return, Chaloner considers these thefts even more paltry as he is thrust into extra investigations involving threats of assassination, a stolen corpse and a scheme to frame the Queen for treason.
Yet there are connections from them all which thread through the unfinished Clarendon House...
Information
Format: Paperback
Pages: 496 pages
Publisher: Little, Brown Book Group
Publication Date: 18/10/2012
Category: Historical mysteries
ISBN: 9780751544282
Free Home Delivery
on all orders
Pick up orders
from local bookshops
Reviews
Showing 1 - 2 of 2 reviews.
Review by Romonko
16/06/2015
This is a highly complex historical espionage book. As usual Ms. Gregory uses her impeccable historical knowledge to craft a story around actual real historical people. She peoples each book with her own characters and the two mix and mingle, plot and counter-plot seemlessly. This book is a real page-turner. Chaloner is on his most dangerous mission ever and he's forced to face off against some truly evil villains. The setting is London 1860's. The Restoration is in full swing and King Charles is firmly on the throne. Chaloner is working on four separate mysteries, but the more he digs into them, the more they appear to be connected. And as he gets closer to unmasking the villains, his life is put in danger, not once, but several times. Ms. Gregory's main strength is her impressive plotting skills. This story has more twists and turns than a Victorian labyrinth. I invite all to climb aboard the Thomas Chaloner train if you love historical mysteries. This is one of the best series out there. I love it just as much as her Matthew Barholomew series which I also read faithfully.
Review by drmaf
16/06/2015
The second series of Susannah Gregory's historical crime mysteries, following her Matthew Bartholomew Chronicles set in 14th century Cambridge, takes the reader to London under the reign of Charles II. The hero, Thomas Chaloner, is a former Parliamentary spy now eking out a living under the Restoration as an agent for the Earl of Clarendon. Chaloner is a resourceful individual, skilled in espionage and weaponry, and he needs to be, because there are an inordinately large number of people who don't like him, and not a few who want to kill him. He also has a wife he's not sure about and a houseful of surly servants. From the seemingly simple task of finding out who's been stealing bricks from his master's new mansion, he winds up in a labyrinthine mystery involving English diplomatic manoueverings in North Africa, the slave trade and a plot to discredit the Queen, which he duly solves, with a little help from his friends, after escaping from numerous life-threatening situations in the nick of time. I had originally dipped into this series at the start, but found it somewhat disappointing after my enjoyment of the Bartholomew series, feeling that Gregory was more comfortable dealing with the 14th century, however, this 7th entry has been a pleasant surprise, a much more confident outing, with humour, pathos and high drama in equal quantities. Chaloner is a likeable character, perhaps more so than the rather vapid Bartholomew. His supporting ensemble is perhaps less engaging, however, this is only the 7th iteration of the series, whereas the Bartholomew series, topping 19 books, has had much more development time. On the strength of this book, I doubt I will be re-visiting the earlier books in the series, however, I will certainly seek out the next entries. Worth reading.
Also in the Adventures of Thomas Chaloner series | View all