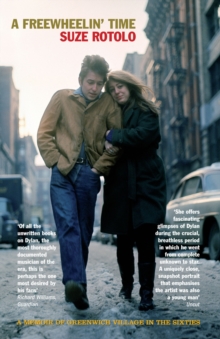 A Freewheelin' Time : A Memoir of Greenwich Village in the Sixties
Paperback
Description
'I met Bob Dylan in 1961 when I was seventeen years old and he was twenty...' So begins the acclaimed memoir of Suze Rotolo, the woman who was Bob Dylan's girlfriend in the early sixties.
She reveals the romantic story of their sweet but sometimes wrenching love affair and its eventual collapse under the pressure of Dylan's growing fame.
Despite having never previously raised her head above the parapet to write about her time with him, people are probably more familiar with Rotolo than they might think: it is she who is pictured arm in arm with Dylan on the iconic sleeve of his 1963 sophomore album, The Freewheelin' Bob Dylan.
Set during the time when Dylan was writing the soundtrack to the cultural revolution of the 1960s, this is a unique and remarkable narrative of a place and time when art, culture and politics all seemed to be conspiring to make America a freer, more equitable place.
With a supporting cast that includes Fidel Castro, Che Guevara, Phil Ochs, Joan Baez and Andy Warhol, this is essential reading for Dylan fans and anyone fascinated by the Sixties.
Information
Format: Paperback
Pages: 384 pages
Publisher: Aurum Press Ltd
Publication Date: 25/09/2009
Category: Rock & Pop music
ISBN: 9781845134433
Free Home Delivery
on all orders
Pick up orders
from local bookshops
Reviews
Showing 1 - 1 of 1 reviews.
Review by elkiedee
27/08/2015
Suze Rotolo is best known as Bob Dylan's girlfriend at the start of his career, but this memoir shows that there's so much more to her than that. It is clearly marketed as a bit of Dylanology, with the famous album cover photo of the couple on the front cover of the book, but it's as much a memoir of a young woman growing up and making a life for herself.I enjoyed her portrait of the period. She was a red diaper baby - her parents were communists - and brought her up with a commitment to social change and justice and an ability to think for herself. By 17 she was living independently of her family and earning a living with a variety of casual jobs while pursuing her interests in art, reading, music etc.Her relationship with Dylan lasted a few years though they only lived together briefly for various reasons. He also had affairs with others including a very public liaison with Joan Baez, and in the end they went through a slow and painful split. But this is no kiss and tell memoir - she writes about it all in a very dignified way.There are also stories which have little to do with Dylan, such as her trip to Cuba with a group of students to test the US government ban on travel to Cuba. After this Rotolo became a bit disillusioned with the politics of her upbringing and of the New Left, and dropped out of political activity.Recommended reading particularly if you're interested in the 60s, the music or the history of the American left.