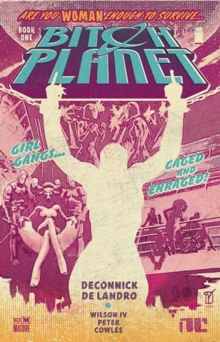 Bitch Planet : Extraordinary Machine Volume 1
Paperback
Description
"...one of the most unique and subversive artifacts of pop culture in recent memory." - Salon.com "Seldom do comics burst onto the scene and shatter our worldview by being entirely poignant, raw, and captivating - but then, most comics aren't Bitch Panet." - Entertainment Weekly Eisner Award-nominated writer Kelly Sue DeConnick (Pretty Deadly, Captain Marvel) and Valentine De Landro (X-Factor) team up to bring you the premiere volume of Bitch Planet, a deliciously vicious riff on women-in-prison sci-fi exploitation.
In a future just a few years down the road in the wrong direction, a woman's failure to comply with her patriarchal overlords will result in exile to the meanest penal planet in the galaxy.
When the newest crop of fresh femmes arrive, can they work together to stay alive or will hidden agendas, crooked guards, and the deadliest sport on (or off!) Earth take them to their maker?
Information
Format: Paperback
Pages: 136 pages, illustrations
Publisher: Image Comics
Publication Date: 20/10/2015
Category: Science fiction
ISBN: 9781632153661
Free Home Delivery
on all orders
Pick up orders
from local bookshops
Reviews
Showing 1 - 2 of 2 reviews.
Review by DanieXJ
10/11/2015
I don't read a lot of strictly 'M for Mature' sort of comics, but this was by Kelly Sue DeConnick and so no matter the rating I knew I had to read it. And I wasn't disappointed.It's a story about a planet that's been nicknamed 'Bitch Planet'. The "residents" are all female prisoners who are there for being various levels of 'non-compliant'. They get a chance to participate in something called Duemila (or Megaton depending where you're from). It's a sport I think, and looks very violent (and generally only plaeyd by men). There were also other cool subplots too.I really liked so much of this TPB. I loved the art, it had so many layers. The characters like Kam and Penny were ultra cool as well, as were all the reveals in the plot of the story, they all came at the perfect times. IT was an awesome comic as well as being a very pointed commentary on different parts of modern life especially modern life as we women have to live in it.I got this advanced galley through Netgalley on behalf of Image Comics and Diamond Book Distributors.
Review by wyvernfriend
02/03/2016
In a world where women have to be compliant and the alternative is a planet of all women, referred to as Bitch Planet, where a little hope is offered to some of the women to escape by taking part in a brutal game. The various women in the background at events in the story are almost interchangeable but the women on the prison planet are all different. Scarily close to a possible future.