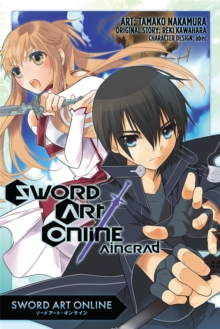 Sword Art Online: Aincrad (Manga) : Aincrad
Book
Description
In the year 2022, gamers rejoice as Sword Art Online - a VRMMORPG (Virtual Reality Massively Multiplayer Online Role Playing Game) like no other - debuts, allowing players to take full advantage of the ultimate in gaming technology: NerveGear, a system that allows users to completely immerse themselves in a wholly realistic gaming experience.
But when the game goes live, the elation of the players quickly turns to horror as they discover that, for all its amazing features, SAO is missing one of the most basic functions of any MMORPG - a log-out button.
Now trapped in the virtual world of Aincrad, their bodies held captive by NerveGear in the real world, users are issued a chilling ultimatum: conquer all one hundred floors of Aincrad to regain your freedom.
But in the warped world of SAO, 'Game Over' means certain death - both virtual and real...
Information
Format: Book
Pages: 384 pages, Illustrated throughout
Publisher: Little, Brown & Company
Publication Date: 25/03/2014
Category: Manga
ISBN: 9780316371230
Free Home Delivery
on all orders
Pick up orders
from local bookshops
Reviews
Showing 1 - 1 of 1 reviews.
Review by Robin.D..Green
10/11/2015
Usually I try to read the book before the movie. But in this case, I watched the anime first before reading the light novel. Only time will tell if that has affected my feelings for the novel. (Once I get to the novels dealing with the story line that haven't been in the anime yet.) Overall, I enjoyed the anime much more than the light novel. In the anime, it progresses as they clear each floor, even though they don't show each floor's boss battle. In the novel, I felt that they showed very little of this. You go from the beginning to a couple duels and battles and then to the main boss battle, which was supposed to happen at the 100th floor but instead happened at floor 75. Or at least I felt it happened like this. I think the story of SAO is very intriguing. Once I saw the first anime episode, I was hooked. But if I left it to just reading the novel, I wouldn't have progressed beyond the first one. But since I enjoyed the anime so much, I will have to read the novels.