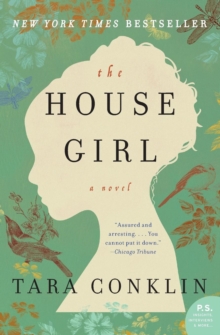 The House Girl: A Novel
Paperback
Description
The House Girl, the historical fiction debut by Tara Conklin, is an unforgettable story of love, history, and a search for justice, set in modern-day New York and 1852 Virginia. Weaving together the story of an escaped slave in the pre-Civil War South and a determined junior lawyer, The House Girl follows Lina Sparrow as she looks for an appropriate lead plaintiff in a lawsuit seeking compensation for families of slaves.
In her research, she learns about Lu Anne Bell, a renowned prewar artist whose famous works might have actually been painted by her slave, Josephine. Featuring two remarkable, unforgettable heroines, Tara Conklin's The House Girl is riveting and powerful, literary fiction at its very best.
Information
Format: Paperback
Pages: 400 pages
Publisher: HarperCollins Publishers Inc
Publication Date: 05/11/2013
Category: Historical fiction
ISBN: 9780062207517
Other Formats
EPUB from £3.99
eAudiobook MP3 from £20.99
Free Home Delivery
on all orders
Pick up orders
from local bookshops
Reviews
Showing 1 - 5 of 17 reviews.
Previous | Next
Review by beckyhaase
16/06/2015
THE HOUSE GIRL by Tara ConklinJosephine is a 17 year old slave in anti-bellum Virginia while Lina is a twenty something up and coming lawyer in present day NYC. The lives of these two become entwined when a wealthy Black client of Lina's law firm starts a "slave reparations" law suit that becomes entangled with an art dealer's contention that Josephine is the true artist and not her widely acclaimed mistress. Both life in a high powered law firm and life in the slave owning South are presented believably. Lina and Josephine are both sympathetic and well-drawn characters. The story line for both is engaging. While the sub plot involving Lina's mother is rather thin and too neatly concluded, the artistic element is a link for the two stories.Book groups will have a variety of subjects to discuss; some very superficial and entertaining and others quite serious and profound. Race relations now and then permeate both stories. The question "Who is Caucasian and who is Black?" may form the body of the discussion. The value of a piece of art and how the artist's name recognition determines price is another point for discussion. Motherless children and how they and their families cope could form another topic.
Review by jmoncton
16/06/2015
The House Girl is a novel with two parallel stories - the first about a 19 year old slave girl, Josephine Bell living on a plantation in 1852, and the second follows Lina Sparrow, an ambitious first-year lawyer who has been assigned to a class action suit involving reparations for the descendants of American slaves. It might seem that a new author would struggle with recreating a believable narrative for a plantation slave, but this was not the case. Josephine's story was heartfelt and filled with vivid descriptions. I loved this portion of the book. I definitely got a real sense of the horrific conditions and treatment of the slaves and although it is unrealistic, it made me really want the modern day class action suit to result in something, even if it was an official government apology for the wrongs inflicted on the slaves. But I struggled with the modern day story. It almost felt like this book was written by two different people. As much as the historic part was rich with description and the characters were complex, the modern day story was flat. There were several coincidences and subplots that made what could have been a deep and powerful book seem trite and more of a 'chick lit' read. Promising, but not good enough.
Review by Coltfan18
16/06/2015
Lina is a corporate lawyer and is assigned to find descendants of slaves to get reparation for them. She learns of Josephine, a slave who may be the artist of paintings credited to her owner Lu Anne Bell. This book is their story of the current day research and the past of Josephine's life. Some parts of Josephine's life may be hard to read, but you like her and her spirit. I liked the book and both main characters.
Review by brangwinn
16/06/2015
A author who knows their craft can make the unbelievable seem believable. Being able to track artwork to a slave and not the slave owners is an interesting plot. The story moves seamlessly between now when Lisa, a lawyer, is tracking down information to support the right of slaves to work of their ancestors, and the slave who has done the painting. It is a good, satisfying read, and that is what I want from a book.
Review by Schatje
16/06/2015
Alternating chapters tell the stories of two women. In 1853, Josephine Bell, a seventeen-year-old slave on a Virginian tobacco plantation, plans her escape to freedom. In New York in 2004, Lina Sparrow, a young attorney, is looking for a good lead plaintiff for a class action suit seeking reparation for the descendants of American slaves. The two stories intersect when Lina hears about a folk artist whose paintings are thought to actually be the work of her house girl Josephine. Lina sets out to do genealogical research to determine if Josephine had any descendants. Josephine's story - her life and her fierce determination to escape from servitude as a house slave – is compelling. The reader cannot but feel sympathy for her circumstances. Unfortunately, the author's decision to tell the last part of Josephine's story using a witness's letter distances the reader from her and lessens the emotional impact of the narrative. Lina's story is much less interesting. The reparation case is really far-fetched, and her research is advanced by a series of coincidences that stretch credibility. Just as she seems to reach a dead end, a document lands in her lap which gives clues that have eluded numerous scholars. In the end a letter written by a peripheral character conveniently explains everything. Of course, this crucial document reaches her only at the last minute when an archivist has a change of heart. Lina is not a believable character. She is able to change the minds of the archivist and her candidate for lead plaintiff yet she is totally passive at work and lets her boss walk all over her? She works hard at searching for evidence of Josephine's descendants, yet she knows virtually nothing about the death of her mother 20 years earlier. Never did she actually conduct a search into her mother though she was an aspiring artist who had received some publicity? The reader is expected to see parallels between Josephine and Lina's determination, but Lina just comes across as flat next to the house girl. Lina is a naïve, sheltered and unfocused young woman, and her story is bland.The novel would work well as historical fiction if the focus had remained solely on Josephine and her story had been told directly without the inclusion of long missives from witnesses. Removing the Lina narrative would have eliminated most of the many coincidences and a weak character who does not inspire any emotional connection. The adding of the romance element in Lina's chapters only added to the impression that the author was trying to write a commercial blockbuster which seems to necessitate such an element. This book has strengths but considerable weaknesses. It should have been subjected to considerable revision.
Also by Tara Conklin